About Long Island
Long Island is rapidly becoming one of the country's most popular vacation destinations. Our beaches and wineries are the main attractions, but there's more to Long Island than just a glass of wine at sunset. Although that is one of my favorite things...
At 110 miles long and roughly 20 miles wide, this is the largest island on the East Coast of the United States and offers plenty of things to do all year round.
Summer brings out the boaters and fisherman, the bathers and beach bums.
Winter brings out the skiers and skaters, and if it's cold enough the ice boaters.
The seasons in between offer the perfect weather for hiking and camping.
And if you're bored with all of that you can always visit a museum or two, hang out at your favorite pub, or enjoy a good meal at one of Long Island's many fine restaurants.
What You'll Find Here
The Sea
Naturally, since we live on an island, the sea is an important part of our history and culture. Boating, beaches, and recreational fishing (especially for snappers) are popular summertime activities here. There are also lighthouses, whaling and maritime museums that keep us connected to our rich nautical past.
You'll find seafood on menus in most restaurants, but most of it is not local. If you want local fish go to the fish markets in Freeport, Port Jefferson, the North Fork, the Hamptons, and Montauk.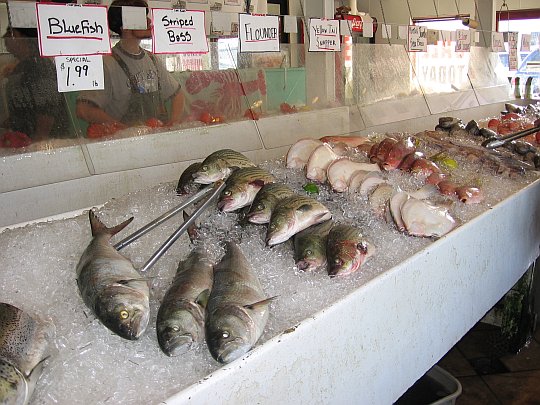 Fresh fish at a market on the Nautical Mile in Freeport.
Because local fish can be seasonal you may not find it on the regular menu, so be sure to check the specials or ask your waiter. Some of the more common local fish you'll find here are:
Clams
Oysters (Blue Points variety)
Blue Claw crabs & soft shell crabs
Fluke
Flounder
Lobster
Striped Bass
Weak Fish
Black Fish
Black Sea Bass
Sometimes a restaurant will have fish that you've never heard of. That's okay. Just because a fish isn't mass market popular doesn't meant it isn't good. Chances are if it's on the menu in a restaurant it's very good.
Skate, sand shark, and blowfish are sold in the local fish markets, but are not usually served in restaurants. If you do happen to come across any of these in a restaurant, try them, they're excellent.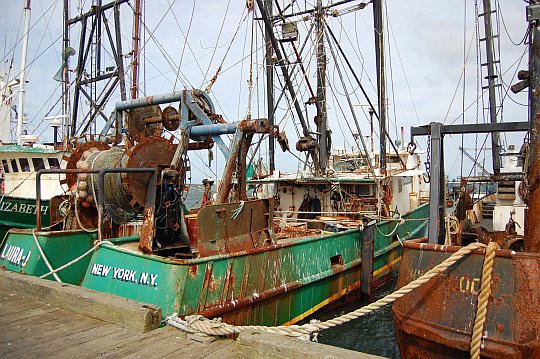 Shinnecock: Some of these boats haven't left the dock in years.
Sadly, the commercial fishing industry has been in decline for some time. There are still plenty of fishermen around, but waning fish stocks resulting in stringent federal and state regulations and opposition from sport fishing groups have made it increasingly difficult for these folks to earn a living.
Billy Joel (a native Long Islander) brought national attention to the situation in 1989 with his song, The Downeaster Alexa.
Renowned author and former fisherman Peter Matthiessen elegizes our baymen and waning fishing industry wonderfully in Men's Lives: The surfmen and baymen of the South Fork, a book I highly recommend if you're interested in the craft and character of fishermen.
Over the years many old fishing towns have evolved into summer hot spots with restaurants and bars replacing the shipyards and fish markets.

Looking north on the main strip in Greenport. The water is just behind me.
Greenport and Port Jefferson for example are former shipbuilding towns that are now packed with places to eat, drink, dance or hear live music, all within walking distance of the ferry dock.

Woodcleft Avenue (the Nautical Mile) in Freeport is another popular seaport. Literally a mile long, the Nautical Mile is a waterfront road lined with fishing boats, bars, restaurants and shops.
The whaling days in Cold Spring Harbor are over, but this tiny town draws visitors with a couple of good restaurants, a fish hatchery, and a whaling museum.
The best way to enjoy places like these is to grab a friend, park your car and walk--slowly. [Top]

Long Island Wine
Our East End is blessed with a microclimate that is excellent for growing wine grapes. Since our first winery opened almost 30 years ago, our wines have been popular here and have steadily gained world wide recognition.

Tasting room and gift shop at Pindar.
Most tasting rooms are open 7 days a week and are a great way to taste the local wines. Read more about Long Island wine tasting. [Top]
Agriculture
Grapes are not the only things growing out east. For 350 years agriculture has been an important Long Island industry. In fact, Long Island has the most productive farmland in New York State.
Up until the Hargraves' planted grapes in the early 70's, potatoes were the major crop with a wide variety of fruits and vegetables grown for the New York City and the local markets.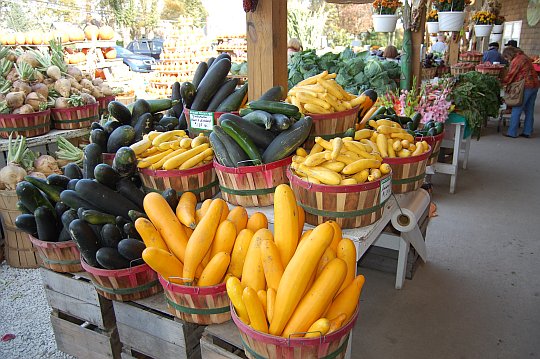 Open air farm stands like this one are a common sight.
Today the potatoes are all but gone, but you'll still find numerous farm stands offering fresh fruits and vegetables, home made pies, fresh milk, eggs, cheese and butter.
Although not as big as it used to be Duck farming is a major industry here grossing $25 million in sales annually. Long Island Duck is known the world over and I find it amusing that some of our Peking duck is actually shipped back to Hong Kong. [Top]
Long Island's Regional Cuisine
A lot of stuff grows out east. The high quality and easy availability of Local fish, vegetables, wine and duck have made these ingredients very popular with the Long Island chefs and restaurateurs.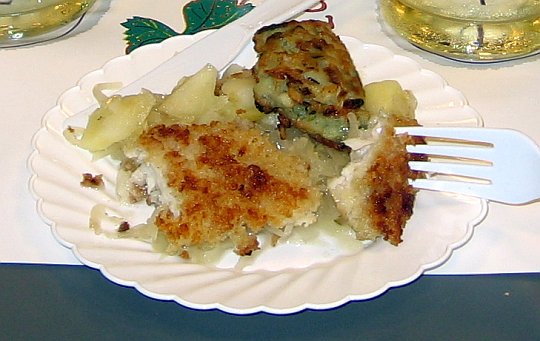 Striped bass with apples, sauerkraut washed in a Long Island reisling, and a potato pancake.
As a result of their unique use of these fresh Long Island ingredients a regional cuisine has emerged. An excellent book on the subject is Chef John Ross's book The Food and Wine of the North Fork. [Top]
Long Island Beaches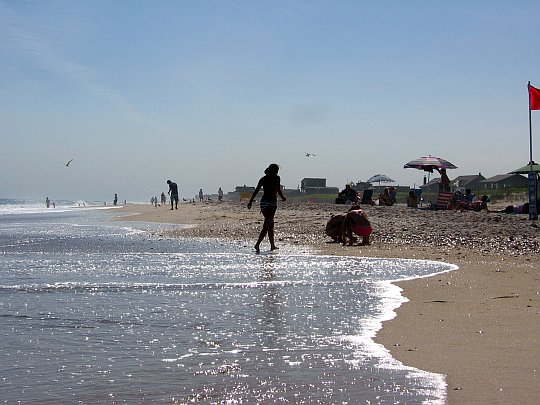 Gentle waves and soft sand stretch 100 miles along the South Shore
People travel from the far corners of the planet to visit our most popular beaches: Jones Beach, Fire Island, Long Beach, the Hamptons, and Montauk Point. Each one offers something different and sometimes a little of everything. Read more about Long Island beaches. [Top]
Golf
Like Golf? With 130 courses, saying golf is popular here is an understatement. A great many of those courses are world class not only in difficulty but in beauty as well.
The 2002 U.S. Open was held at the Black course at Bethpage State Park Golf Course. Designed by noted golf course architect A.W. Tillinghast, the Black course is one of the most challenging and beautiful in the world.
But you don't have to be a pro to play golf here. You can find golf courses here suited to any skill level and, depending on the course you may also find people sleeping in their cars to get a tee time. [Top]
Baseball
Who's more passionate, the golfers or the baseball fans? That's a tough call, but I can tell you that baseball here on the island is not to be missed.
Our new Citibank Park stadium is home to Atlantic League champions, The Ducks and offers a baseball experience that's hard to beat.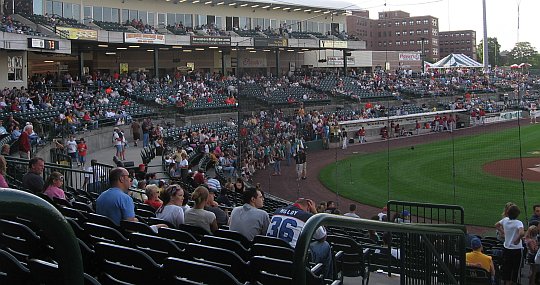 You'll have a good view of the action no matter where you sit.
A trip to Citibank Park is like going back in time. With only 6002 seats the stadium is spacious and nearly every section offers an excellent view of the action. This is what baseball used to be—a fun, friendly, inexpensive family activity. Something you can do on a Saturday afternoon without wasting the day traveling or stuck in traffic. [Top]
Lodging
There's no shortage of great hotels, motels, B&B's, summer rentals and rental cottages on Long Island. I can't list them all here, but here's a few to consider...
At the very top of the list is Oheka Castle in Huntington. It is indeed a castle as the name suggests and is the site of many celebrity weddings. As far as I know it's the only hotel on the island that is open for tours as well as lodging.
The Allegria Hotel in Long Beach has been getting some great reviews. It sits right on the boardwalk facing the ocean, offers 24 hour in-room dining and a long list of other 4 star amenities.
The Garden City Hotel is probably our most well known and luxurious. Near the western end of Long Island and only 18 miles from New York City the Garden City Hotel is an excellent choice if you're staying in Nassau County and plan on visiting Manhattan. If you plan on visiting long Island's East End during your stay you might want to consider a hotel further east.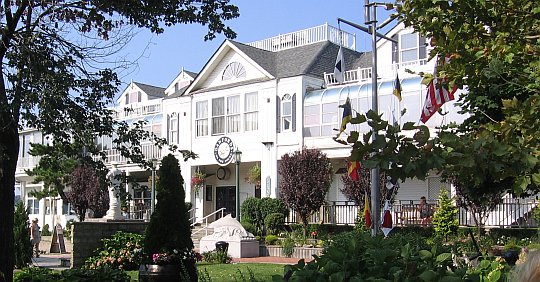 Just a small part of Danfords.
Danfords hotel and restaurant in Port Jefferson is more centrally located and is a good place to stay if you plan on visiting points east and west. Overlooking Port Jefferson harbor and right next to the Bridgeport/Port Jefferson Ferry dock, it's the perfect place to stay if you're coming in by ferry from New England. There is also a marina behind the hotel so you can come here with your own boat too.
If you want to hang out in the Hamptons or Montauk point, then of course, there's the famous Gurney's Inn. A truly incredible place located right on the beach.
On the North Fork there are several hotels in Greenport that are worth checking out. [Top]
Pizza
People say that there's nothing like New York pizza. Well, that's true and the pizza on Long Island is excellent and easy to find. To give you an idea how much pizza we consume, in my neighborhood alone there are 5 pizzerias on a 1 mile stretch of Main Street.
Standard fare is what we call the regular pie, or regular slice if ordering by the slice. This is good old pizza with sauce and cheese. On this simple theme you will find slight variations from shop to shop. The pies will all look the same, but there's nuance--thick crust, thin crust, well done, lightly done, different sauce...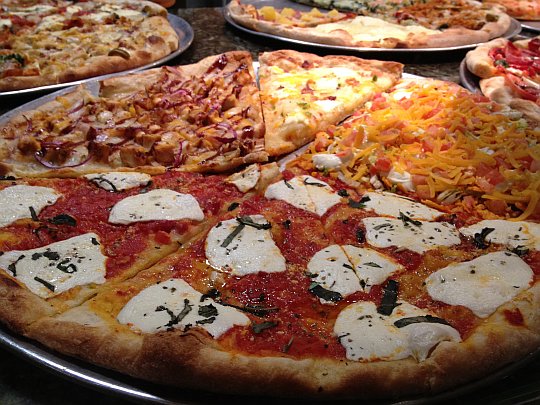 Pizza at Bella Bambina's in Oakdale. Clockwise from top: Baked potato, taco, margarita, and BBQ chicken slices.
Beyond the basic pie there are the specialty pies. The margarita slice for example is tomato, basil and slices of mozzarella cheese. Another popular pizza is the grandma slice, which is mostly sauce with little to no cheese. Pizza without cheese may sound strange, but it's a special sauce with garlic and nice size tomato chunks on a thin crust. It doesn't need the cheese and it's excellent!
Then there's pizza gone wild. Pineapple, taco, bacon cheeseburger, and hot wings pizza are some of the wild pies you can find here. There's almost no limit to what you can put on a pizza. It's all good...
Wash that pie down with a Coke or a beer and it's heaven. [Top]
Hey, I thought this was an Island?
Another thing you might notice is for the most part, Long Island doesn't really look like an Island. As far as islands go, Long Island is huge. You'll be driving on parkways, expressways, highways--all manor of paved roads.
You won't see water unless you're near the coast and because Long Island is long and narrow, the coast is either pretty far away (if you're driving east or west) or very close (if you're driving north or south). I used to eat lunch on a small beach near work. 5 minutes there and 5 back, it was a great way to recharge before going back to the boss.
If you happen upon an old fishing town you'll see the water, smell the salt air, hear the wind in the rigging and start to experience the nautical charm we're famous for and I love so much. [Top]
Map of Long Island
Here's a couple of maps that point out some areas of interest and provide additional information.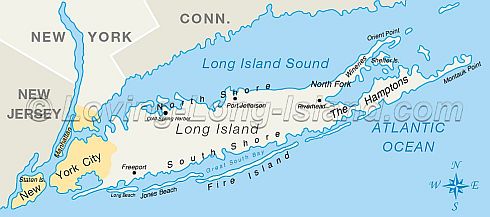 Click for larger image. (Opens in new window)
And here is some general information about getting around.
Long Island is a great place to live, work and vacation. There are very few places on the planet that have so much to offer.
Have fun!
---
Have A Great Story, Fond Memory or Special Photograph You'd Like to Share?
If you love Long Island as much as I do I know you can't wait to share your wonderful experiences here with everyone.

Tell us all about it by creating your own page on Loving-Long-Island.com
Visitor Contributions
Click below to see contributions from other visitors to this page...