Long Island Maritime Museum
West Sayville, Long Island, NY
The Long Island Maritime Museum is dedicated to preserving Long Island's maritime history. And they're doing a good job of it too. The 14 acre grounds are home to 3 working boat shops, a period oyster house, a baymen's cottage, a large small craft display, a research library, gift shop, etc...
If anything defines Long Island it's our maritime heritage. Since the island was first settled by the American Indians ages ago fish, boats, and the sea have been vital aspects of our culture.
From small canoes to large whaling ships boats of all shapes and sizes have provided Long Islander's with food, transportation, and more recently, sport.
Like houses boats have limited life spans. Unlike houses however, boats tend to disappear rapidly once they've outlived their usefulness. They'll rot and be consumed by the earth, or sink to the bottom never to be seen again. In either case they're gone forever.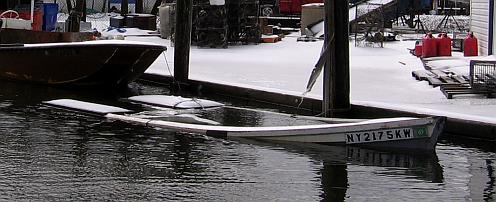 Case In Point
---
The sunken boat above was designed and built 40 years ago by a local master specifically to fish for spearing. Although not beyond repair the work needed was more than I could handle, so I declined the boat when it was offered to me.
The boat was eventually taken by a fisherman who is still using it as a spearing boat. How much longer it will last, and what will happen to it next is unknown, but hopefully it will end up at the Long Island Maritime Museum.
---
So, If we want to maintain a connection to our nautical heritage and learn the secrets of Long Island's bygone boat builders it is extremely important to preserve or at least document the old boats of days past.
And, to fully appreciate the boats it is also important to understand why the boats were built, who built them, and how the boats were used. 
Preserving this body of maritime history is what the Long Island Maritime Museum does.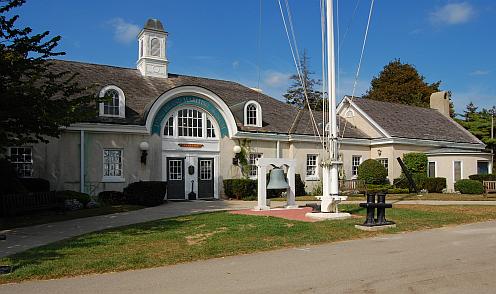 The Long Island Maritime Museum main building used to be a garage on the former Meadowedge estate of Mrs. Florence Bourne Hard.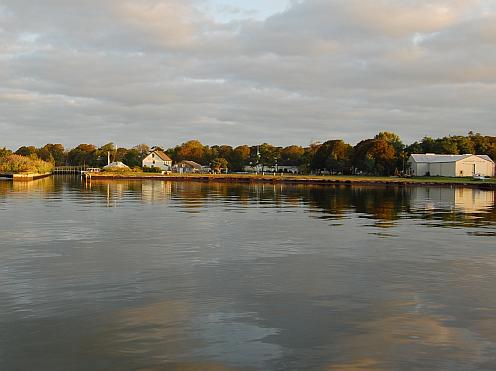 As seen from the bay. Boat basin, boat shops, main building, small craft building.
The Long Island Maritime Museum's sprawling grounds on the shore of the Great South Bay is naturally attractive and, of course, the coastal setting makes it the perfect place for a maritime museum.
I come here whenever I feel the need for water, boats, and fresh air. My first stop is always the main building. I pay the small fee to get in and then wander about admiring the exhibits.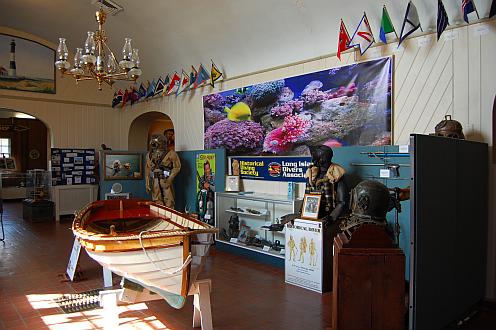 The main building houses the permanent and rotating exhibits, research library, and ship's store (gift shop). Here you'll see a great collection of half models, life saving equipment, model boats, information about shipwrecks, etc…
The small boat in the picture above was built at the museum and is the raffle prize for this year's Halloween boat burning. Every year at the end of October a big old wooden boat is set ablaze creating a gigantic bonfire.
Don't worry, the boats burned are not historically significant and are well beyond restoration. If you've got a relic in your backyard you might consider donating it for the next fire.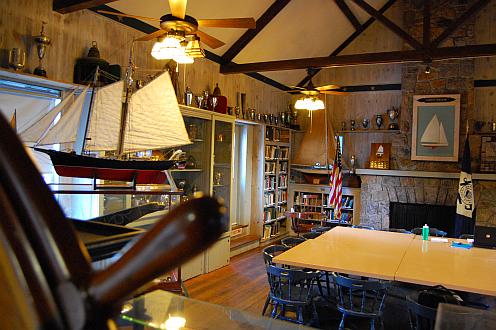 One small corner of the beautiful library. There are more books and materials archived on the second floor.
The library holds hundreds, maybe thousands of books on navigation, maritime history, boats and boat plans. It's sometimes hard to believe that this used to be a garage and machine shop.
When I'm done in the main building I usually walk the grounds for a bit. There are 2 large gazebos on the property used to shelter boats from the elements. The boats seem to come and go depending on what's going on at the museum and in the boat shops. Sometimes they are packed with boats, sometimes they are empty...
At the Long Island Maritime Museum entranceway there are a couple of old, large ship bells and a large flagpole in front of the main building. The view of the Great South Bay is majestic. Standing there, taking it all in, I can't help but feel inspired. A picture doesn't do it justice, and so, there isn't one.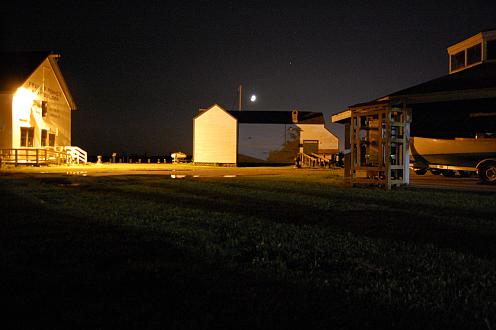 Under a setting moon... Frank F. Penny boat shop, William Rudolph Oyster House, gazebo with boats.
No matter how many times I've seen it I always check out the William Rudolph oyster house. This is a permanent exhibit that never changes, but I have to see it anyway. Step inside this building and you step back in time.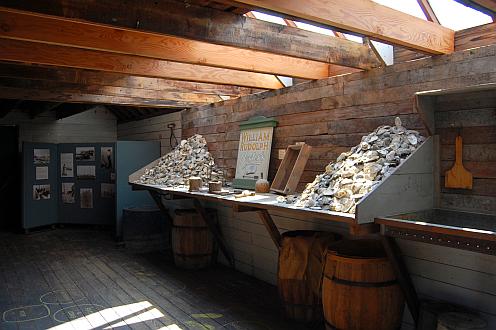 Working by light of day, shuckers stood at this bench hours on end and were paid by the pound. 1 bushel of oysters would typically yield 1 pound of oyster meats.
This oyster house was in use for almost 50 years until the hurricane of 1938 wiped out the oyster industry. There were once many of these cull  houses on Long Island's south shore, but almost all of them disappeared with the oysters. The William Rudolph Oyster House was designated a National Landmark in 2001.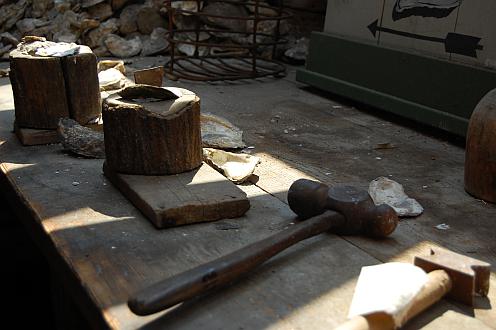 Tools of the shucking trade.
My next stop is the Frank F. Penney boat shop, and this is where the action is. Inside this wood-heated shop volunteers build and restore wooden boats. The sound of tools and the smell of cut wood is enticing enough, but what I really like to see is how much progress they've made on each project since my last visit.
The Long Island Maritime Museum welcomes new volunteers to help with these projects. No experience is required just the willingness to be there and participate.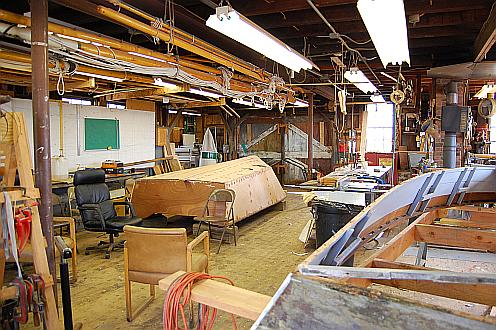 Inside the boat shop.
There are currently two small boats in the shop undergoing restoration. I'll keep an eye on these until they are finished, then keep a lookout for the next project.
Every detail of boat construction fascinates me and I love to see the steps required to bring a boat back from the brink. I'm always amazed by how precisely two pieces of wood can be fitted together.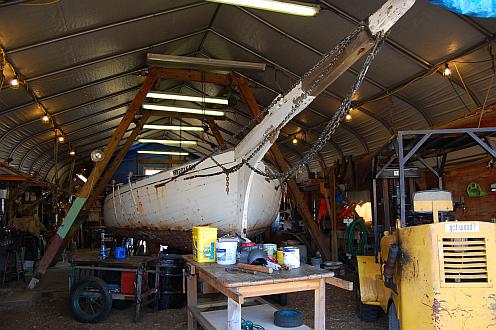 Modesty in the immodest state of disrepair.
Right next to the boat shop is a large tent that resembles an aircraft hanger. Inside, the famous oyster sloop Modesty is undergoing restoration. 
Modesty, a national historic landmark, was built in 1923 to dredge oysters and scallops in the Peconic Bay. She is considered the best surviving example of the northern sailing oyster dredgers that worked Long Island's north shore during the eighteenth and nineteenth centuries. Her restoration will take years and a lot of money. Donations are always welcome.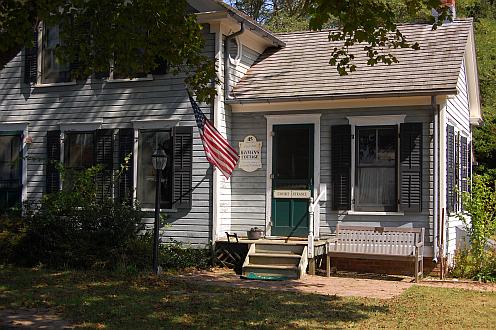 On the east side of the Long Island Maritime Museum grounds are the small craft exhibit building and the baymen's cottage. Built in 1890 this small cottage was home to Leonard P. Beebe, his wife, and seven children.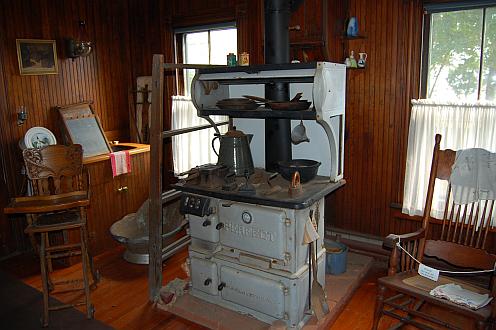 Cooking at this stove must have brutal during the sumer months.
This is a charming home, but small for a family of 4 let alone 9. There is no bathroom, refrigerator, or even running water. Heat came from one small stove in the living room. Put this house on the beach and I'd almost be willing to live in it, but 100 years ago people had no choice.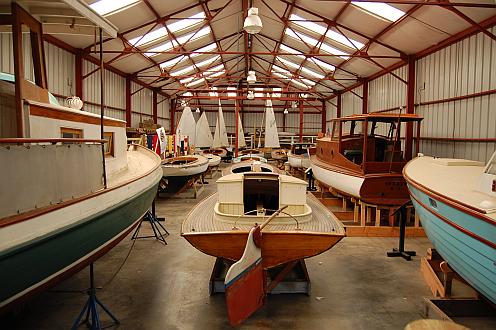 The south wing of the small craft building
Inside the small craft building there are dozens of boats of all shapes, styles and sizes representing the work of Long Island's most important boat builders. In spite of the name some of these boats are pretty darn big.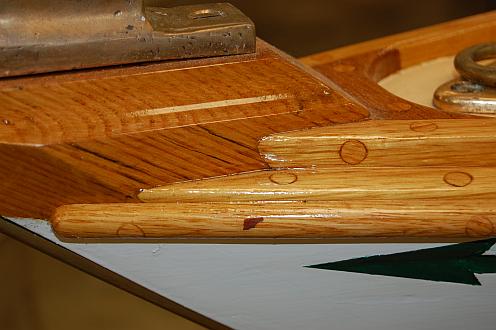 Some nice joinery work on Querida, a 34' R class sloop built in 1909.
I spend most of my time at the museum in this building admiring and examining these amazing wooden boats. If you're interested in detail, this is the place to find it. You can study props, shafts, joinery, sheer lines, garboards, you name it.
So that's a quick peek at the Long Island Maritime Museum. Of course, words and pictures can't do justice to any museum, so to really see it you have to visit.
Also be sure to check their events calender for the seafood festival, boat burning, kite flying contest etc...
Long Island Maritime Museum
86 West Avenue
West Sayville, NY
631-447-8679
(40' 42.42' N, 73' 05.70' W)
Additional Information
When you've finished exploring the Long Island Maritime Museum you might want to have a bite at Kingston's Clam Bar right next door.
If you like fishing, Long Island history, nostalgia, or are one of those people who can't get enough of sand, sea and surf, then Men's Lives, The Surfmen and Baymen of the South Fork is a book you might enjoy.