Summers Revisited
by Roe
(Rye, NY)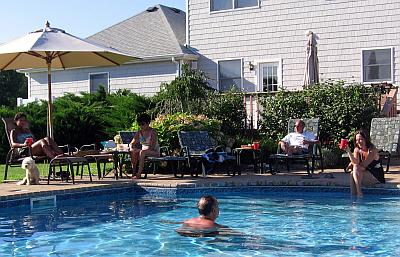 Cooling my toes in the pool
When looking at this website and listening to your lament about Labor Day and summer past, I choked up a bit, while thinking of ways to make summer last. You see I too have a passion for summer and am always saddened to see it end.

Summer seems to heighten all my senses and everyday brings a gladness and fresh start. It is a time for celebration that lasts the entire season, not just a special holiday, but three months of beaches, mainly Long Island Beaches, barbeques, sunshine, boating, and flip flops. There is something special about having my tan, toes exposed and the sound of the flip flop of a favorite summer shoe.

So when the summer wind starts to blow and the sun shines brightly, I pack my flip flops and multiple bathing suits and head out with my dear friend Gina to her summer home on the North Fork of Long Island. This is where I find the makings of a perfect summer.

In fact, I must admit that when looking back at past summers, my head fills with memories of very special friends and the town of Southold in particular. For the past 6 years I have celebrated my summer birthday with lobsters, oysters, a special coconut cake and even Mrs. Jo's famous pizza.

Whether it is sitting by the pool with a cocktail in hand or strolling a private beach, a gentle and sometimes not so gentle wind kisses my face and I find happiness and a peaceful feeling. You see the special friends I speak about are more like family. They know the adversity I have to autumn and winter and we try to make the most of every summer.

So it will be these memories I hold on to once again to sustain me through the next seasons as I anxiously await for the long days of summer to return. In the meantime, on a bright note, summer is just 9 months away!