Greenport Hotels
Greenport, Long Island, New York
This is a quick guide to the Greenport hotels. You'll find a photograph and description of each one, a relative price indicator, and some notes about amenities and location.
Even though I already spend a lot of time on Long Island's North Fork, once a year I take a weekend mini-vacation in Greenport staying at a different hotel each time.
It's relaxing, fun, and very rejuvenating. The worst thing though, is having to leave...
The following information is based partly on personal experience, partly on the experiences of other people, and partly what I've learned from each Greenport hotel's website and owners.
For more about Greenport accommodations please see the information at the bottom of this page regarding other places to stay in Greenport.
Enjoy!
---
Drossos Motel $$
Drossos Motel offers 15 units on neatly landscaped grounds along with the Tic Tock miniature golf course, snack bar and frozen custard stand. If that weren't enough, it's also one of the least expensive Greenport hotels.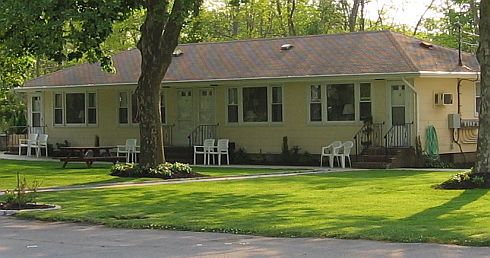 A typical unit at Drossos Motel
This Greenport hotel has been family owned and operated for over 50 years and is a great place for a family getaway.
Drossos Motel is Located on Rt. 25 near Albertson Lane, about 1 mile west of Greenport Village.
Amenities
Maid Service
Color Cable TV
Smoke-Free Motel
No Pets Allowed
18 Hole Miniature Golf Course on premises
Family Arcade on premises
Completely Equipped Kitchen Facilities
Beautiful Grounds - Relaxing Atmosphere
Snack Bar & Frozen Custard Stand on premises
Centrally located to Excellent Restaurants
Boating, Shopping, Fishing, Swimming, Theater nearby
Close to Long Island Sound and Peconic Bay Beaches.
Drossos Motel
Route 25
Greenport, NY
631-477-1334
The Greenporter Hotel $$
Located on Front Street in Greenport Village The Greenporter Hotel is less than a half mile walk to just about everything you'll want to see in Greenport.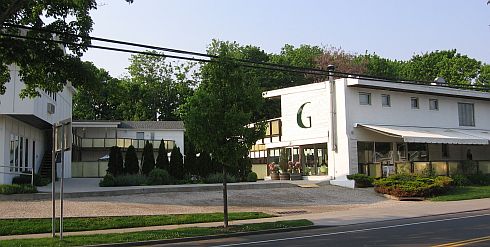 Front View of The Greenporter
Features include heated swimming pool and jacuzzi, a French bistro serving award winning cuisine, a wine bar offering over 45 wines by the glass, and an in-room spa menu offering holistic skin and body care making this one of the more unique Greenport hotels.
On the downside the hotel and rooms are decorated in a spartan, modern style which many of the guests I spoke to did not find appealing. I haven't seen it myself so no comments from me.
The Greenporter Hotel
326 Front Street
Greenport
631-477-0066
Harborfront Inn at Greenport $$$$
The Harborfront Inn is newest of the Greenport hotels. I've stayed here myself and loved it.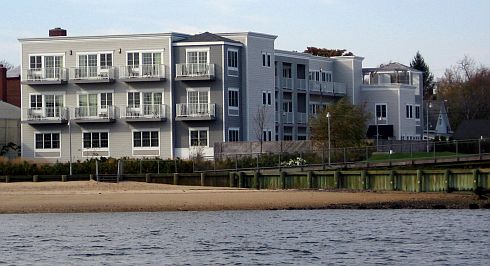 Harborfront Inn overlooking Greenport Harbor and Mitchel Park
This place is clean, nicely furnished, and the bathrooms are smartly designed with the traveling couple in mind. (There's plenty of room for the two of you to get ready without bumping into each other or fighting over the mirror.)
Business travelers will appreciate the high speed Internet access in all rooms and the 1500 square foot conference center. All will enjoy the private balconies, fitness center and water views.
The Harborfront does not have an on-site restaurant, but coffee, bagels, doughnuts and muffins are served each morning in the lobby.
The Harborfront Inn is located on Front Street in the heart of Greenport Village which means you won't need a car once you're here. Of course, if you plan on leaving the village to tour the wineries then a car is a must.
Harborfront Inn at Greenport
209 Front Street
Greenport
631-477-0707
The Shady Lady Inn & Restaurant -
Closed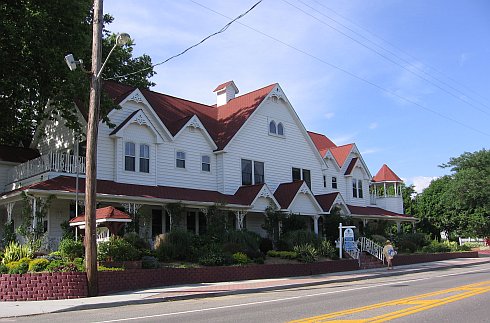 Formerly one of the most stately Greenport Hotels.
The Shady Lady Inn is currently up for sale and consequently closed. This is what it was:
This incredible Victorian mansion offers what is considered the most elegant lodging on the north fork.
8 romantic rooms with gas fireplaces (some have balconies) are dramatically decorated in Gay Nineties Victorian style (over the top, not modest).
Two dining areas, The Scarlet Room, and The Pine Lounge offer guests a choice of atmosphere and menus, and the cigar lounge is the perfect place for an after dinner drink and smoke.
Menus cover seafood, chicken and steak (steaks are very good) and the extensive wine list offers 90 wines, 25 of which are from Long Island wineries.

The Shady Lady Inn & Restaurant
305 North Road
Greenport
631-477-4500
The Silver Sands Motel $$
This scenic motel is set right on Peconic Bay facing Shelter Island and just a short drive from Greenport Village. Silver Sands offers beach cottages, 2 bedroom apartments and single bedroom motel units.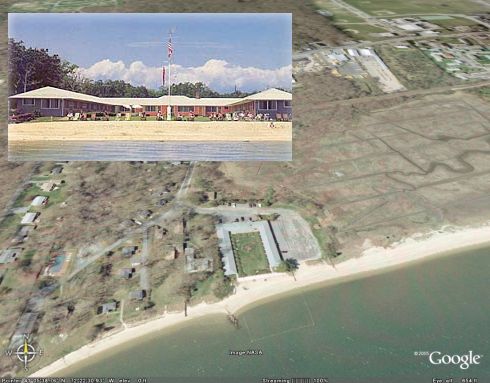 Aerial and beach front views of the Silver Sands Motel.
Guests will enjoy a complimentary breakfast each morning and full use of the grounds, private beach and swimming pool. Rooms include cable TV and refrigerators, but do not have Internet access.
Silver Sands Motel is isolated enough to give you the peace and quiet you're looking for yet offers easy access to Greenport Village, the vineyards and the farm stands making it the ideal base for your Greenport getaway.
The Silver Sands Motel
70930 Silvermere Road
Greenport
631-477-0011
The Sirens' Song Carriage House $$$$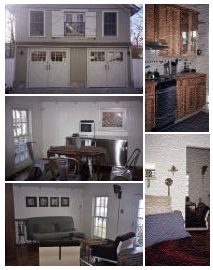 This unusual place can't really be considered one of the Greenport hotels, but it's a place to stay in the heart of Greenport, so it deserves mention here.
The Sirens' Song is a state of the art duplex apartment in a historic carriage house.
The one bedroom apartment features a full kitchen and bath, Internet access, living area with sofa that sleeps 2, and a private garden.
A welcome breakfast for two at a local café is included.
The Sirens' Song Carriage House is just a short walk to Greenport Village.
The Sirens' Song Carriage House
516 Main Street
Greenport
631-477-1021
Sound View Inn $$$
The Sound View Inn features a quarter mile of private beach overlooking the Long Island Sound, all weather tennis courts, swimming pool and sauna. All rooms offer a private porch overlooking the Sound, private bath, kitchenette, and satellite TV.

The Sound View Inn is also the home of the acclaimed Sound View Restaurant. Serving local seafood and duck, pork, lamb, pasta and steak, the Sound View Restaurant is ideal for guests who enjoy fine food on the water and would rather not drive home after dinner.
Amenities
All units either 2 Twin Beds or 1 King Bed and a double Sofa Sleeper. Private Bath, Satellite TV, In-Room Telephone with Data Ports, Individual Heat/AC, Kitchenettes, and a Private Porch overlooking Long Island Sound. All porches have Chaise Lounges, and Table and Chair Sets
1/2 Room Suite is a Bedroom and Sitting Room Area, with a Kitchenette and 16 feet of Sliding Glass Doors opening onto a Private Porch
1/2 Room Suite is 1 Bedroom with Walk-in Closet, Living Room, Kitchenette and 16 feet of Sliding Glass Doors opening onto a Private Porch
All units accommodate a maximum of 4 persons
Bedroom 2 Bath Suites Available for Adults Only
1400 Feet of Beach Front Luxury
Chaises, Deck Chairs and Umbrellas are available
Outdoor Pool/Sauna in Prime Season Only
Surf Fishing
Fax Service Available on Premises
Daily Maid Service
Restaurant & Cocktail Lounge
Mobil Guide Quality Rating
Sound View Inn
57185 Route 48,
Greenport
631-477-1910
Sunset Motel $$
Another of the less expensive Greenport hotels.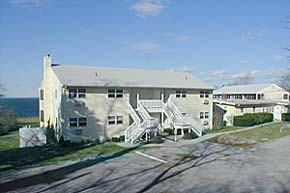 Like the Sound View Inn the Sunset Motel is located right on the beach overlooking Long Island Sound.
The Sunset Motel offers bedroom units, studio units with kitchenettes and 1 bedroom suites with full kitchen.
Most units have a private screened porch, and all have air conditioning. Choice of twin, double or queen size beds.
For dinner the Sound View Inn is right down the road.
Amenities
All Rooms have Private Bath, Color TV, Refrigerator, Individual Heat/AC, and a Sun Deck
Beach Front Luxury
Chaises, Deck Chairs and Umbrellas are available
All Weather Tennis Courts nearby
Surf Fishing
Daily Maid Service
Sunset Motel
62005 Route 48,
Greenport
631-477-1776
Townsend Manor Inn and Marina $$
The Townsend Manor Inn is the oldest of the Greenport hotels. The building itself dates back to the whaling days of the early 1800's when it was the private residence of wealthy sea captain, George Cogswell.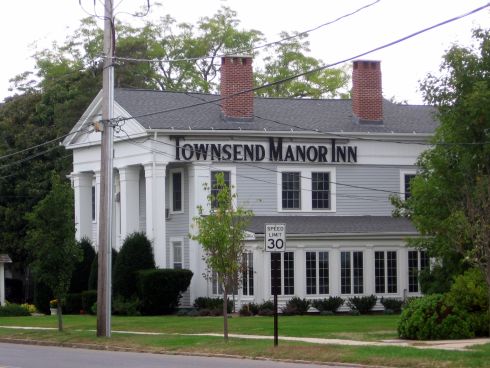 Front view of the Townsend Manor Inn.
It changed hands several times after his death and has been operating as an inn since 1926 when Lillian Cook Townsend opened it as Ye Olde Townsend Manor Inn.
This Greenport hotel offers lodging in the main building as well as in three private cottages. Rooms in the main building feature flat screen satellite TV, high speed Internet, spa tubs, pillow top beds, and other amenities.
The cottages offer accommodations ranging from quaint in the Gingerbread House to deluxe in the Captain's House.
With a swimming pool and restaurant & lounge you really have no reason to ever leave the grounds. But if you do like to wander Greenport Village is less than a half mile walk away.
The Townsend Manor Inn also has a 50 slip, deep water marina that can accommodate boats up to 55 feet in length. Marina features dockside water, gas, ice, television hookups, bath/showers, and picnic areas.
During my stay in this hotel I found the service friendly and the restaurant convenient. Although all the rooms in the main building have been renovated and are clean, the layouts reflect the age of the building in that the bathroom in my room was small and the closets, which looked like converted book cases, had no doors.
All things considered you really can't beat it for the price.
Townsend Manor Inn
714 Main Street,
Greenport
631-477-2000
---
A guide Greenport Bed & Breakfasts