Massapequa Memories
by Anonymous
(Texas)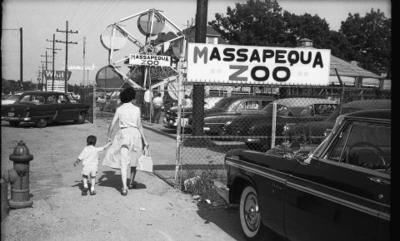 Massapequa Zoo by Evelyn B.
I graduated from Alfred G. Berner in Massapequa in 1975!!! Moved away from Long Island to another state and married.

I am happy where I live now...well..I guess so.

It's been over 20 years or so, but I will never forget Massapequa. I try to visit when I can and catch up with some old friends and family.

I will always be proud of Massapequa and miss it very much (but don't miss the snow).

I miss Jones Beach, parks, etc....
I miss the food, All American hamburgers, the local pizza and Chinese restaurants, the ice cream shop on Broadway near the train tracks...

I catch up with old friends and family, and one thing is for sure: my Long Island accent will always stay with me. And I am proud of it because where I live now, everyone knows I am from up north...

Hey... Even Massapequa has a lot of famous men and women, like Steve Guttenberg and Jerry Seinfeld... So that is something to talk about around the water cooler here where I live.

I would of never guess that 20 years or so I was gonna leave, but I have made a new home. But Massapequa is my number one home.

So if anyone is from class of 1975 and you are still living either on your old street or still in Massapequa some where...Good for you. Just keep protecting our beautiful town.

I'll see ya soon...