About Us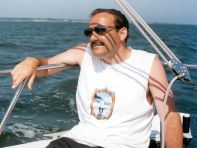 Well, us is really just me.
I boot up the computer in the morning and shut it down at night. I write all the content, take all the pictures, wash the dishes and do the laundry.
Yep, Loving-Long-Island.com is pretty much a one man show.
From time to time I do get a little help from my teenage offspring, and if you have teenagers at home you know what that's all about. It's almost easier to have them not help.
Still, while I'm driving the car it is handy to have someone reading directions or taking pictures. (So I can keep both eyes on the road and both hands on my burger.)
Loving-Long-Island.com was born out of a true, long term love affair with Long Island that started when I was a kid. I grew up in Massapequa but practically lived on the beach. Our family vacationed on the North Fork, in the Hamptons and on Fire Island.
During the summer most weekends were spent on our boat, anchored in Zach's Bay or tied to the dock at Tobay. The surf, the clear blue skies, the expansive sandy beaches--I felt like I was a million miles from home, yet I was home.
That's what's so magical about Long Island; our vacation playground was (still is) our very own backyard. To live in a place where you'd like to go on vacation is a wonderful feeling. How could I not love it here?
By the way, when I say "vacationed" I don't mean it the way you think. My father never had paid vacation time from work, so all of our vacations were really just 4-day weekends. It was all we could afford and all the more reason to not waste time traveling.
Loving-Long-Island.com is updated on a continual basis. My goal is to encourage Long Islanders to explore their home and inspire travelers to put Long Island on their vacation itineraries. Over time I hope to bring my visitors more and more useful information about Long Island in a friendly, easy to read way.
I'm always looking for ways to improve this site, so your comments and suggestions are always welcome.
I hope you enjoy my site, but more importantly...
I hope you enjoy Long Island!
Best regards,
Bill Drago (a.k.a. The Long Island Guy)
Publisher, Loving-Long-Island.com
Where To Next?