Greenport
Long Island, NY
It doesn't get any saltier than Greenport. A former shipbuilding and whaling town, it is now the most popular destination on Long Island's north fork with people visiting to shop, dine, taste wine and just take in the salt air on the waterfront.
The whaling ships are long gone, but Greenport is still home to a modest commercial fishing fleet and has retained much of its old nautical charm.
Vestiges of that bygone era abound and with every step you take in this folksy little village there's something to see, do or surprise you.
I've been vacationing here since I was a kid. We'd cruise the family boat all the way from Seaford and dock at Sterling Harbor Marina or the Townsend Manor Inn.
I was at the helm with my dad every minute of the voyage. It was my job to spot the buoys (amazing how good my eyesight was back then). As I got older I became navigator and pilot, and my dad spent less and less time on the bridge.
Fond memories, but those days are long gone. Now I visit Greenport by car. The trip takes me right through Long Island wine country, so of course I stop in at a few of my favs before finally landing in Greenport.
Once I'm in town I find a place to park and walk, walk, walk.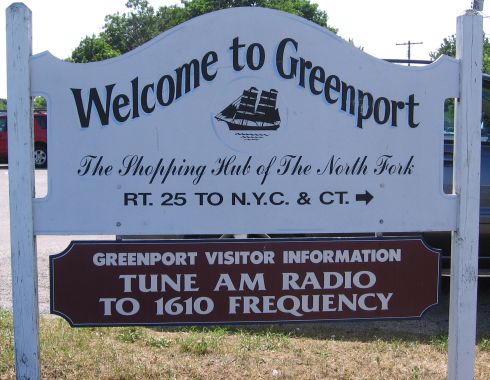 Things To Do
Greenport is similar to some of the other nautical towns on Long Island such as Port Jefferson or Freeport's Nautical Mile in that there are a lot of small shops, restaurants, and assorted things to see.
But this town bests them with the addition of a blacksmith shop, a beautiful park with an antique merry-go-round, and a ferry to Shelter Island that runs every 12 minutes from dawn until midnight. Not to mention the option of several boat tours, and a live schooner tour.
Restaurants
There are a boatload of restaurants in Greenport. I can't list them all here, but I can tell you about some of my favorites. Some Greenport restaurants close during the winter, so before you make the trip you might want to make a phone call first.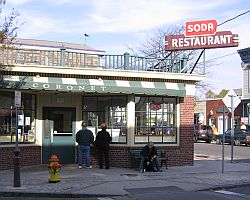 For breakfast I like The Coronet on the corner of Front St. and Main St.
The Coronet is diner style food in a simple atmosphere. You're in and out quick and you won't leave hungry.
The RhumbLine Pub on Front St. is one of my favorite places for lunch. This restaurant features pub style décor and menu as well as a full menu offering steak and fresh seafood for dinner.
The food and service are good and there's a decent selection of beer on tap. Sometimes I find it hard to leave.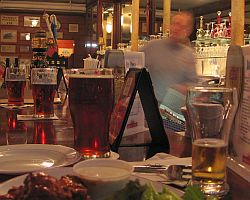 In the early evening before eating dinner I usually find myself at Claudio's Restaurant for a beer and an appetizer.
Left: Pint glasses lined up at the bar in Claudio's.
Founded in 1870, Claudio's is the oldest restaurant in the country under continuous management by the same family. I think that's pretty cool.
The menu features appetizers, steak, seafood and 2 pound lobsters. Great place if you like a little history with your food. (Claudio's is open from mid-April to December 1st)
Dinner in always hard for me. With so many good choices it's always hard for me to decide which Greenport restaurant to enjoy my dinner in.
Barbecue Bill's on Front St. serves up Texas style Barbecue with a smile. I really love this place. The BBQ smells so good and the food and service are great. There's outdoor dining upstairs and cool model trains steaming around the ceiling.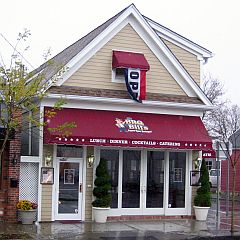 Some excellent wings at Barbecue Bill's
Bay and Main Restaurant and Lounge on the corner of Bay Ave. and Main St. is a causal little place serving original fish, steak, chicken and pasta dishes. The food and service are excellent and the fireplace is perfect on a cold night.
Aldo's Coffee on Front St. is my favorite stop for coffee. I know, they've finally succeeded in opening a Starbucks (right across the street in fact), but that seems a little trendy for a town like this, doesn't it?
I like the authenticity at Aldo's. Call it rough around the edges of you will, but if you want a good cup of fresh roasted, fresh ground coffee, Aldo's is the place.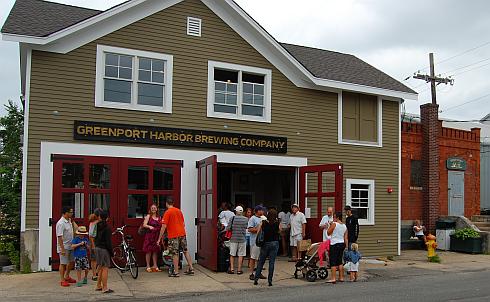 Greenport Harbor Brewing Company (next to the jail behind Sweet Indulgences) is a great way to refresh those taste buds worn out from a day of Long Island wine tasting.
This latest addition to the Long Island beer scene is the brain child of partners Rich Vandenburgh and John Liegey who, together with John Harvard's brewmaster DJ Swanson, produce some really great beer. Their signature brew, Harbor Ale is my favorite.
Shopping
Oh yeah, there are places to shop here. I'm not much of a shopper myself (I'd rather wander the piers and admire boats), but I do have some favs.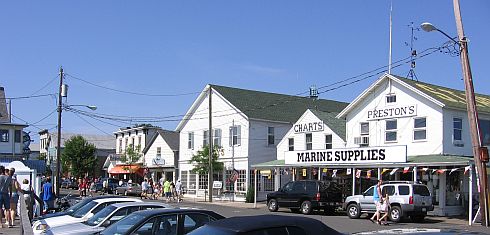 Main Street in Greenport. Claudio's Restaurant is barely visible on the far left. Claudio's Clam Bar is on the dock I was standing on to take this picture.
Preston's Chandlery at the end of Main St. was established in 1880 and has been in continuous operation there ever since. Preston's carries everything you might need for you boat, a ton of nautical gift items, and a bookstore as well. Don't miss it. Anyone will tell you, you can't visit Greenport and not stop in at Preston's.
Sweet Indulgences on the corner of Front and Main is Greenport's largest confectioner. That's right. It's all about the chocolate. I am very much in love with their chocolate covered orange peels. I know, it doesn't sound good, but trust me, they're great. I promise you won't leave this store empty handed.
White's Hardware on Front St. It's a hardware store. I'm a guy. Need I say more?
But seriously, there are more shops than I can list here and there's something for everyone. You can literally spend all day poking your head in and out of the shops in Greenport.
People
During my last trip here I had the unexpected pleasure of running into Warren McKnight, Long Island's ubiquitous banjo player.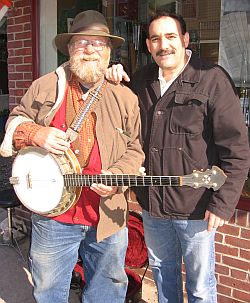 There he was in front of White's hardware on a crisp October afternoon filling the streets of Greenport with music.
That's not unusual for Warren who, much to the enjoyment of those around him, plays his banjo in public every chance he gets.
Warren is a real pleasure to listen to and I get a thrill from guys like him, who are passionate about what they do and live for the preservation of their art.
Warren was kind enough to pose for a picture with me and I made a contribution to his cause.
Speaking of art and preservation, make sure you visit the village blacksmith, Ron Grabowski. He runs the blacksmith's shop at the edge of Mitchell Park where on Saturdays during the summer you can watch him demonstrate the (almost lost) art of iron work.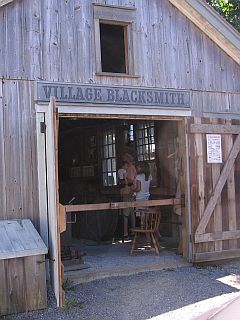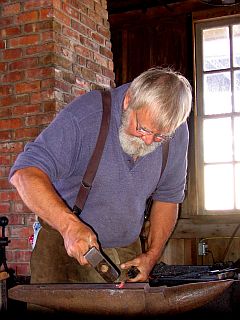 Inside the shop visitors look on as Ron works a piece of red hot iron just pulled from the forge.
Boat Tours
I have not yet had to chance to take one of these boat tours. They sound great and I am looking forward to the time when I can just hop aboard and set sail for a few hours.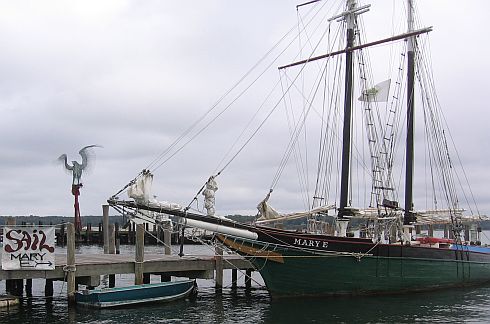 The Mary E. with giant bronze osprey sculpture, Morning Call, standing guard.
The Mary E. is a 75 foot, 100 year old schooner (Greenport's official tall ship in fact.) captained by jazz great Teddy Charles. (How's that for something unexpected?) The Mary E. sails daily for around $38/person and you can help hoist sails, take the helm or just hang out and relax.
Glory is Long Island's only electric passenger vessel. Perfectly quiet and fume free, Glory cruises at a very relaxing 5 knots.
This beautiful reproduction of an 1890's fantail launch sails 5 times a day on 45 minute tours of Greenport Harbor.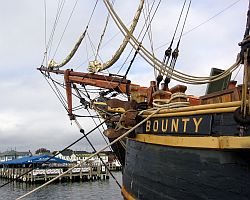 The H.M.S Bounty is an 18th century style tall ship carrying 10,000 square feet of canvas and 10 miles of running rigging.
Built in 1960 for the film, "Mutiny on the Bounty" and also used in Johnny Depp's "Pirates of the Caribbean", she is considered one of the last of her kind.
The Bounty has spent the past 40 years touring the world and is now docked permanently in Greenport where she is open for tours.
Museums
The East End Seaport Maritime Museum is always a must-see when I'm in Greenport.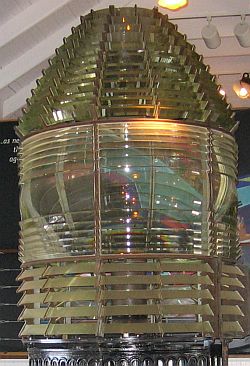 The big attraction for me are the giant Fresnel lenses. These lenses were used in old lighthouses to concentrate the lantern's light and beam it out to sea.
The museum is located at the end of 3rd street right next to the ferry terminal.
Jail and Police Museum on 3rd St. is a 1917 Jail featuring memorabilia, pictures and historic items from the Greenport Police Department.
The Railroad Museum of Long Island proudly displays artifacts related to the development of Long Island's rail system.
The museum is located opposite the ferry terminal. (Look for the giant snowplow painted to look like Jaws.)
Mitchell Park
Mitchell Park offers an antique carousel, ice skating rink, and plenty of wide open space on the water. The carousel, complete with brass ring is another don't-miss stop on your Greenport itinerary.
Last time we where there my daughter won the brass ring three times in a row. (What are the odds?)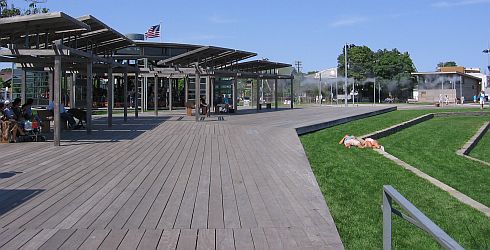 Mitchell Park is the place to relax and take in the salt air. What appears to be smoke is actually water mist sprayed from 10' tall pipes to help cool the air.
Shelter Island
If you haven't found enough to do in Greenport you can take your car on the ferry located on 4th St. and visit Shelter Island. The ferry runs every 15 minutes from dawn until midnight all year round.
Lodging
There are a number of nice hotels and bed & breakfasts in Greenport, so you should have no trouble finding something that suits your budget and taste. If you're visiting during the fall, winter or early spring you shouldn't have any problem booking a room at the hotel of your choice. If you're visiting during the summer, it pays to book very early or you might come up short.
I've stayed the Harborfront Inn and the Townsend Manor Inn. Both of these Greenport hotels are nice, but they offer two very different experiences.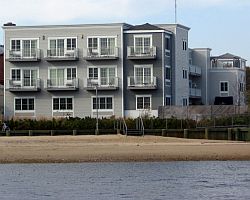 The Harborfront Inn is a brand new, upscale hotel overlooking the water in the heart of Greenport.
The rooms are big, clean, bright and nicely decorated. The bathroom in our room was perfectly designed so two people could get ready at the same time.
There's no restaurant or room service, but the Harborfront does offer fresh bagels, muffins and coffee for breakfast.
And, since the Harborfront Inn is right on Front Street, a good meal is just a short walk down the street.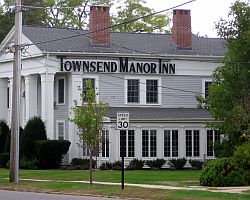 The Townsend Manor Inn is one of the oldest hotels in Greenport and although the rooms have been updated, the bathrooms are small and the floors tilted.
However, the Townsend Manor Inn is on the water, has a swimming pool, a decent restaurant and bar, and nice grounds that are perfect for an evening stroll on the water.
The staff here is very friendly and made us feel right at home. The restaurant comes in handy when you just want to roll into bed after a hearty dinner or want to have the extra cocktail without having to worry driving.
Directions
The heart of Greenport is located at the intersection of Route 25 (Front Street) and Main Street, roughly 22 miles east of Riverhead, 9 miles west of Orient Point.
By Car
The simplest way to get here is to take the Long Island Expressway to the very end. That puts you on Rt. 58 (Old Country Road) eastbound.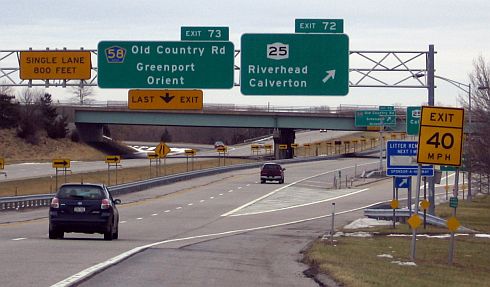 Take exit 73, not 72.
Now you have two choices:
Scenic/winery Route
This is the way to go if you really want to get a feel for Long Island's north fork. You'll travel through the heart of every town between Riverhead and Greenport, and you'll pass plenty of wineries too.
Stay on Rt. 58 until it turns into Rt. 25.
Continuing east on Rt. 25 until it ends. (about 24 miles).
Faster Route
This is slightly faster, more direct way of getting here. You'll pass a few nice wineries yet avoid the traffic on 25.
Stay on Rt. 58 for about 3 miles after exiting the expressway
Turn left on Northville Turnpike (Rt. 43).
Continue on Northville Turnpike for about 2 miles until it ends.
Turn right. You are now traveling east on Sound Avenue (Rt. 48).
Continue on Rt. 48 for about 18.5 miles.
Turn right on Main Street.
You're here.
By Ferry
New London/Orient Point Ferry
Call the ferry company for schedule & Fares: 631-323-2525
After docking in Orient Point take Rt. 25 West for approximately 9 miles. Turn left on Main Street. (You'll see signs along the way).
Port Jefferson/Bridgeport Ferry
Call the ferry company for schedule & Fares: 631-473-0286.
Best to consult a map for detailed directions from Port Jefferson.
If you'd like to visit by boat check out my guide to Greenport Marinas.
Additional Information