Cold Spring Harbor
Long Island, NY
Cold Spring Harbor. The name rings a bell even in those unfamiliar with Long Island. It's home to the world famous genetics lab. It was the name of Billy Joel's first album. Lindsay Lohan grew up here (Well, she's still growing up, but we won't go there…) And John Lennon had a home here.
Despite the notoriety, this picturesque, sleepy little town remains humble and is an excellent destination for a Long Island day trip.
About
The name Cold Spring Harbor refers to the freshwater springs running north through the area and into the harbor. It can be traced back to the English who called it Cold Spring after they bought some land here from the Matinecock Indians in 1650.
The Matinecocks, already living here for a very long time, called the area Wawapex, which means "place of good water." The community was officially named Cold Spring Harbor in 1825 with the establishment of its first post office.

Things to do
Cold Spring Harbor is a very small town, but what it lacks in quantity it makes up for in quality. The whaling museum and fish hatchery are both fun and educational, and Main Street, while only 2/10 of a mile long, offers visitors a choice of 2 outstanding restaurants, a few sandwich shops, and a handful of specialty stores.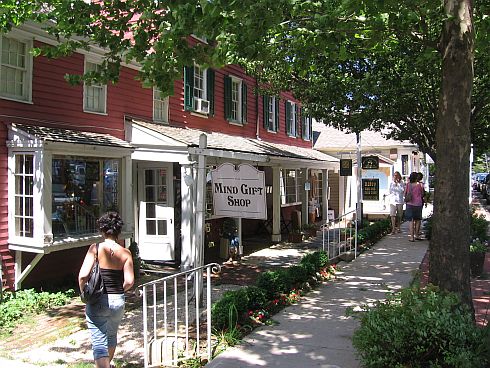 A sunny afternoon in the historic district on Main Street.
On a typical trip to Cold Spring Harbor I'll visit the fish hatchery first then, if I'm not too hungry, visit The Society for the Preservation of Long Island Antiquities museum gallery. Coming from the fish hatchery the SPLIA is the first thing you'll come to on Main Street.
After lunch I like to browse the shops slowly working my way towards the whaling museum, which is about 750 feet east of the last shop.
This will easily consume an entire day.
Ready? Here we go…
Cold Spring Harbor Fish Hatchery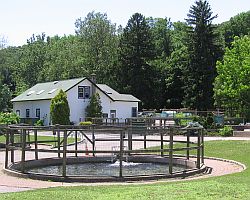 The Cold Spring Harbor Fish Hatchery has been raising trout here for the past 125 years.
The entire process is on display in outdoor ponds teeming with fish. The ponds are fed by artesian wells that generate fresh water at a constant 52 degrees all year long.
The hatchery also has indoor exhibits that house the largest living collection of freshwater fish, reptiles and amphibians in New York State.
Perhaps the best part about the hatchery is that you can actually fish for trout. Bring your favorite rod and reel or rent one and catch and keep brook, brown and rainbow trout for a $5.00 fishing fee plus $4.00 a pound. Not a bad deal!
Not into fishing? For a few dollars you can buy a quart of food pellets to toss into the ponds. Kids really get a kick out of watching the feeding frenzy as the trout go nuts for their food.
And the there's the gift shop…
Expect to spend at least an hour, more like two, at the Cold Spring Harbor Fish Hatchery.
Saint John's Church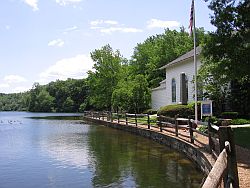 When you're done at the hatchery you'll want to climb the stairs at the south end of the parking lot to see Saint John's Episcopal Church and the pond next door.
Built in 1835 St. John's Church has been serving the community for close to two hundred years. It's hard to believe there's anything on Long Island that's that old and still functional, but here it is and it's a beautiful sight.
No matter what your religion you'll find the church and grounds tranquil and romantic, the perfect place for holding hands, reflection, and solitude.
The Society for the Preservation of Long Island Antiquities
This non-profit organization is dedicated to preserving all facets of Long Island's past. Their gallery is open 7 days a week, and the exhibits change throughout the year so you never know what you're going to see.
A recent exhibition, Long Island That Might Have Been, explored unrealized plans for Long Island's future. Remember the bridge across Long Island Sound?
Another exhibit featured beautiful photographs from Mary Ann Spencer's The Barns of the North Fork.
The SPLIA gift shop (every museum has a gift shop) is an excellent source of books and other items relating to Long Island's past.
By this time I've worked up an appetite and I'm ready for lunch. That brings us to…
Main Street
Less than a quarter mile in length the historic district on Main Street in Cold Spring Harbor is just the right size to keep you busy for a while, but not take up your entire day. After all you do need time for the whaling museum.
But first things first: food.
There are 5 places to eat on Main Street. 
Bedlam Street Fish and Clam Co.
Deriving its name from the mayhem on Main St. during the whaling days, Bedlam Street features upscale cuisine in a comfortable setting of plank floors, mahogany trim, and old brick. 
The sidewalk tables with umbrellas are perfect for taking in the sights on sunny days.
As the name implies the focus is on fish, but burgers, pasta, soup, greens, chicken and steak are also served. In my experience the food and service here are excellent.
Grasso's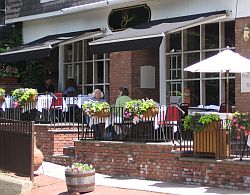 On the opposite side of the street at the far end of Main is Grasso's Restaurant.
Formerly an Italian restaurant, Grasso's now mixes it up with seafood, steaks, and Italian cuisine.
The dining room is spacious and bright, and the outdoor seating is quite comfortable on terraced street side patios.
If you're a fan of jazz then be here at night, Wednesday through Sunday, to enjoy some truly outstanding jazz artists.
Other Places to Eat
Lighter (and less expensive) fare can be had at the General Store Coffee House (a.k.a. Secret Garden) on the far west side of Main Street and The Little Red Barn on the east side (across from Grasso's).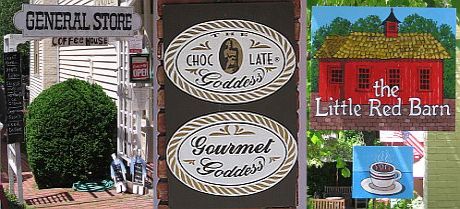 Both of these snack shops offer wraps, sandwiches, coffee and ice cream at reasonable prices, and have indoor/outdoor seating areas.
The eclectic Gourmet Goddess centered on Main Street offers sandwiches, chocolate, ice cream and gifts.
Of course there's more to Main Street than just food. Last time I was here my daughter and I spent a good part of the afternoon meandering in and out of the dozen or so specialty shops that line the street.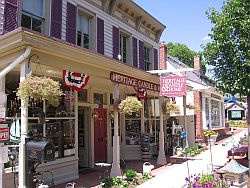 (While I was admiring some scrimshaw she was haggling price on a ring in the hopes of getting it low enough to sucker me into buying it for her. Nice try, Mandy. Better luck next time…)
I can't describe all the shops here, but you'll find antiques, candles, miniature dollhouses, artwork, and trinkets—pretty much what you'd expect to see in an historic whaling town.
In December the town goes all out for Christmas. There are horse drawn carriage rides, actors strolling the streets in Victorian costumes, free concerts, pictures with Santa, chestnuts, cider and so on.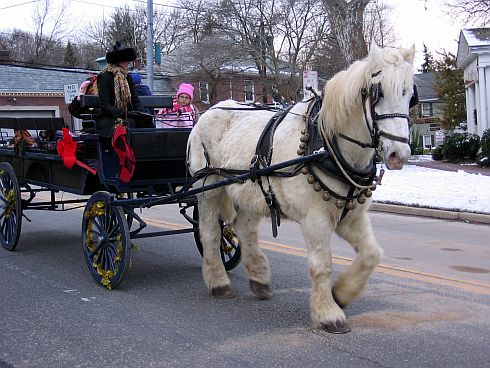 Mr. Callahan pulls a carriage through the snowy streets of Cold Spring Harbor
When you're done on Main Street a short walk west brings you to…
The Cold Spring Harbor Whaling Museum
A whaling museum is about as close as most people will ever get to a Nantucket sleigh ride and the Cold Spring Harbor Whaling Museum has done as good a job of any in bringing the whaling era to life.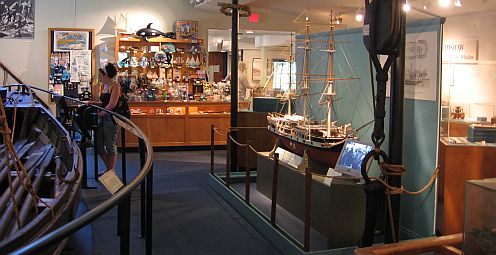 Filled with all manner of whaling related artifacts (including a fully equipped whaleboat) the museum is a great place for kids to have fun and grownups to see what the days of whaling were all about.
Touch real whale bones, see scrimshaw, ivory, and ambergris. And browse room after room of exhibits preserving New York's and Long Island's maritime and whaling past.
If you're interested in whaling or maritime history at all, this is the place… 
Cold Spring Harbor State Park
On the shore opposite the fish hatchery is the 40 acre Cold Spring Harbor State Park. As the trailhead of the Nassau-Suffolk Greenbelt trail this is a great place for hiking, cross-country skiing, and snowshoeing.
With red-tail hawks and great horned owls living here full time and flocks of migratory songbirds during the fall and winter the park is also a great place for bird watching.
---
So there you have it. Cold Spring Harbor offers something for everyone and is conveniently located on the north shore in the center of Long Island. Next time you find yourself sitting around the house wondering what to do, take a short drive here.
Directions
The places in Cold Spring Harbor that I've written about here are on Route 25A about 2 to 3 miles west of Route 110.
Read the directions then have a look at my Cold Spring Harbor map for more information.
From Points West
Take Northern State Parkway or Long Island Expressway east to Route 106-107 (exit 35 on NSP, 41 on LIE).
After about 1 mile bear right at the fork. You are now heading north on Route 106.
Stay on Route 106 for about 3 miles until you reach Route 25A. Turn right (east) on 25A and continue for about 4 miles.
You'll see the fish hatchery on your right.
If you're not stopping at the hatchery continue for another mile and a half or so until you come to Main Street. Park on the street or look for the municipal parking lot on your right.
From Points East
Take the Long Island Expressway (495) west to Exit 49 North (Route 110).
Continue on Route 110 for about 6 miles.
Turn left (west) on Main Street in Huntington which is Route 25A.
Continue about a half a mile on 25A and bear right at the fork.
After about 1 mile you'll see the whaling museum on your right.
Continue another 2/10 of a mile to the municipal parking lot on your left.
Additional Information
For even more fun check out the new Cold Spring Harbor Villiage Website, or enjoy former Long Islander Ron Shaw's memories and photographs.
Not far from here is the amazing Oheka Castle in Huntington.