Montauk Point
Long Island, NY
by Lisa Mancuso
Montauk Point. Some call it the end, to others it's the beginning. But no one will deny that it's one of the most beautiful places on Long Island.
Last summer, my husband and I were in desperate need of a quick get-a-way, so we left the kids behind with grandma and headed east for the weekend.
It's funny, we used to come here all the time and loved it, but we hadn't been here in a very long time.
Well, last year, we fell in love with Montauk all over again and vowed to take the kids back the next time. So, this summer, that's just what we did.
My husband and our two teenage daughters, plus the older one's boyfriend and I spent a week in Montauk and we all agreed that it was one of the most relaxing, fun family vacations we've taken in a while.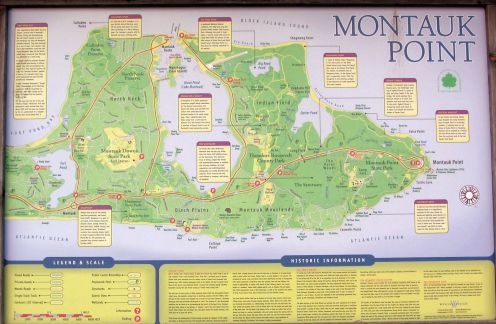 Roadside maps like this one are common here.
There was something for everyone to enjoy: beautiful beaches, of course, great restaurants, plenty of activities that included everything from horseback riding to shopping to sightseeing. Best part, we didn't have to worry about how much our suitcases weighed or how we were going to get to the airport. We just packed up the car, jumped on the LIE and took it to Rt. 27 heading east to Montauk.
Things to Do
Whether you're there for the day, a weekend or a week or two, there are plenty of things to do. Spending time on the beautiful beaches is probably the most popular activity and there are so many great beaches in Montauk. Some of the beaches require parking permits such as Ditch Plains Beach and Gin Beach. Others such as Kirk Park Beach and Nick's Beach have free parking.
You can rent or purchase boogie boards, surf boards, beach chairs and more in a few shops in town. If you're feeling adventurous, you can take surfing lessons real surfers in action. Or, you can do what I did and just sit in your chair and get lost in a good book or two.
At Uhlein's Marina and Boat Rental you can rent boats by the hour or for the day, as well as jet skis, water skis and more. You can also book charter tours there and at Star Island Yacht Club.


Hotels on the beach on a hazy day in Montauk.
One cool thing you can do at night on the beach is build a bonfire – it's absolutely legal and very popular with families. The first night we got there, my husband and I went onto the beach and for miles, all you could see were the lights of the bonfires all along the beach. Again, you'll find everything you'll need to create your bonfire -- bundles of wood, small shovels for digging your hole, even s'more-making supplies -- in most of the local shops and supermarkets. Definitely have to do that at least once.
If you are into horseback riding, there are a few stables where you could take a trail ride. My husband, daughter and her boyfriend went one morning for an hour and a half ride that included a half hour ride on the beach. They went with Deep Hollow Ranch, which is supposedly "the oldest cattle ranch in the USA." Rita's Stables also offers trail rides. While they don't take you on the beach they do offer more family and kid friendly rides as well as a petting farm. Bike riding is also popular in Montauk, whether you bring your own or rent from a local shop such as Montauk Bike Shop for the hour or the day.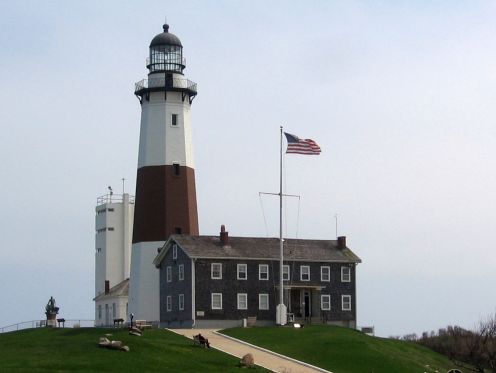 The Montauk Point Lighthouse.
Of course, a visit to Montauk would not be complete without a visit to the Montauk Lighthouse, the fourth oldest lighthouse that is still active in the United States. We did that one afternoon, all of us climbed to the top - except my older daughter who has a thing about heights. There is a museum you walk through first where you can learn about the lighthouse and then up the 137 steps to the top where there is an incredible view awaiting you.
Restaurants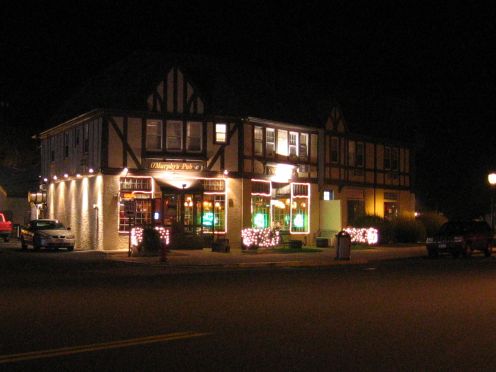 O'Murphy's Pub is great for steaks, rib and beer.
Whether you want a quick cup of coffee or a full five-course meal, there are so many restaurants to choose from. We didn't venture out too much for breakfast since at our hotel, The Royal Atlantic, a full breakfast was included each morning in their restaurant the Last Hope Lagoon & Wine Bar.
It was very good. But my husband usually walked every morning early to get the paper and he would grab a cup of coffee at a different local bakery each morning. John's Pancake House has been in Montauk forever and is known for its great breakfast and the Montauk Bake Shoppe had great scones. A new place for we tried that offers specialty coffee drinks and really good gelato is Coffee Tawk.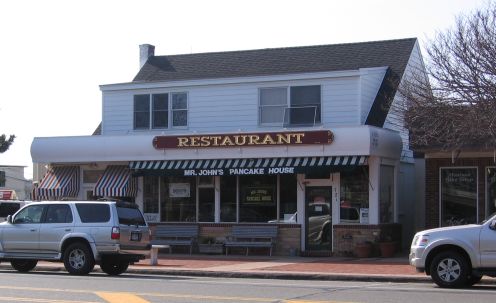 John's Pancake House.
For lunch, we usually ate on the beach. We either got something from the hotel beach bar or our room had a full kitchen so we were able to keep food for sandwiches and snacks, which worked out great. One afternoon, when the weather wasn't the best, we drove over to the Star Island Yacht Club & Marina.
The restaurant there was excellent; we ate out on the deck overlooking the boats in the marina. Nice boats, but if you really want to be impressed, head to the Montauk Yacht Club across the street. That's what we did and boy, were there some incredible boats docked there. We saw one boat, or yacht, I guess that had to be five stories high. There was a full crew on board and two other "smaller" boats on the front deck. The owner said it was from the Cayman Islands.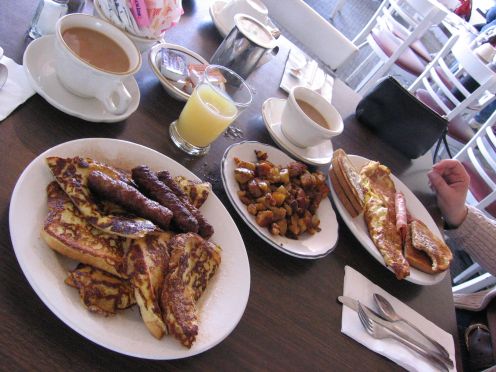 Breakfast at Anthony's Pancake House is also very good.
Anyway, back to restaurants. We also tried a new restaurant that I had read about, Navy Beach. It's located on Fort Pond Bay. The view is absolutely breathtaking. You can have drinks right on the beach while you're waiting for your table. The food was good, but to be honest, a little too fancy for our kids. And it was very crowded.
We ate at Manucci's one night; very good Italian food. We had Chinese food in a little place in town, as well as seafood at the Cross Eyed Clam Bar and Grill. Quite a few of the restaurants in town advertise "you hook it, we cook it." Since nobody in our party went fishing, we never had the chance to try that, but sounds like fun.
Nick's, a restaurant and bar right on the beach not too far from our hotel was always crowded. Never got the chance to eat there, but have heard good things about it. On our last night we drove to Gosman's Dock. There are shops and restaurants and an ice cream parlor. It's sort of touristy, but fun to go anyway.
Lodging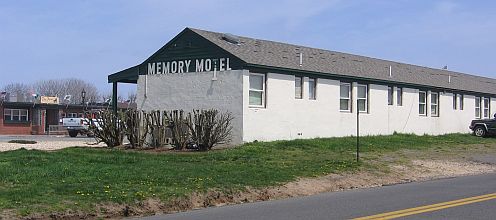 The Memory Motel, immortalized by the Rolling Stones, still stands.
As I mentioned, we stayed at The Royal Atlantic and although it's not fancy, it was very clean and spacious, and the location was perfect. It has different types of accommodations to choose from, from beachfront rooms to one and two bedroom efficiencies to condominiums. Not everything is right on the beach, but it is only a short walk from your room to the water. And there are two nice pools and the restaurant.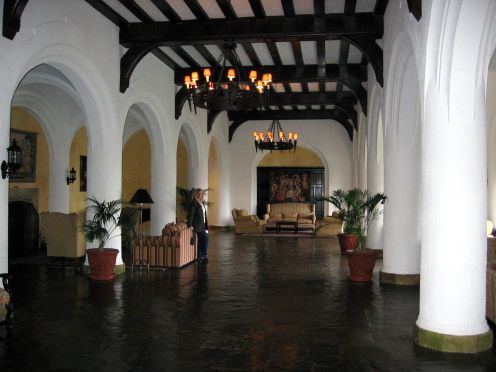 The Montauk Manor is huge, beautiful and less expensive than the beachfront hotels.
There are of course, many other hotels all along the beach. I've also heard the Wavecrest Resort is nice. There are also houses available to rent and many local real estate offices in town are happy to help you with that. We enjoyed staying within walking distance of town, but there are other hotels, such as The Montauk Manor, and the Tipperary Inn, that are a little more removed from the hustle and bustle of the crowds.
But honestly, we were there July 4th weekend, and never felt like things got too crazy. Since there are so many beaches, restaurants and places to stay, the crowds are never overwhelming and other than the rain, there is not much that is going to spoil your stay in Montauk.
Where To Next?
Return to Loving Long Island home page.