The Food and Wine of the North Fork
Historical Anecdotes and Recipes
Chef John Ross
In The Food and Wine of the North Fork Chef John Ross takes us on a culinary tour of Long Island's north fork and a trip down memory lane.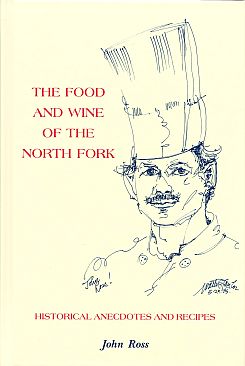 Chef Ross started his first restaurant over 30 years ago at the same time Alex and Louisa Hargrave founded Long Island's first vineyard.
The coincidence may have seemed insignificant at the time, but as Mr. Ross was eyeing local farms and fisherman as a source of high quality ingredients for his restaurant, the wine was maturing at Hargrave Vineyards. It wasn't long before Mr. Ross was sufficiently impressed to include it on his wine list.
The coming together of local produce, fish, duck and Long Island wine along with fine chefs like John Ross who could combine these ingredients into great food have, over the past 30 years, transformed Long Island's north fork into a distinct culinary region.
In The Food and Wine of the North Fork Chef Ross explores this transformation, sharing with us the histories of 65 north fork restaurants and selected recipes from his noted restaurants, Ross' North Fork Restaurant and The Rotisserie.
His book is divided into two sections. The first part is the recipe collection, which covers fish, duck, poultry, meat, vegetables, soups, breads and deserts.
This section includes short discussions about the main ingredients and a wine recommendation for each recipe. Mr. Ross is careful to note that his suggestion is merely a starting point and not meant as the definitive wine choice for that particular dish.
The beads are based on something called Cornell Bread, a modified bread recipe developed by Dr. Clive M. McCay at Cornell University in the 1930's in an effort to improve the overall nutritional quality of bread. Dr. McCay's recipe simply calls for the addition of 1 tablespoon each of soy flour and non-fat dry milk, and 1 teaspoon of wheat germ to each cup of four.
Although more nutritious than regular bread Chef Ross used Cornell bread in his restaurants mainly because he liked the texture and flavor.
More information about Cornell Bread can be found in The Cornell Bread Book, a booklet published in the 1950's by McCay and his wife, Jeanette.
I haven't tried making any of these recipes myself yet, but I have tasted some of them prepared by Mr. Ross himself—A green grape appetizer, local striped bass breaded with sauerkraut, potato pancakes, roasted duck, a vegetable ratatouille with roasted Jack Be Little pumpkins, and pumpkin chardonnay soup. All excellent!
Originally, Ross wanted to call his book Restaurant Graveyard, a title that would certainly have caught my attention, but his publisher wouldn't have it. They compromised by making that the title of the book's second part.
In Restaurant Graveyard, subtitled Historical Anecdotes and Fond Memories of North Fork Restaurants, Past and Present Ross gives us a look at how Long Island's north fork restaurants have evolved over time, changing owners and fare and sometimes disappearing altogether.
In all 65 restaurants are chronicled with plenty of pictures and even some reprinted menus.
I have to say, the stories in this part of the book fascinate me. Some of the north fork's restaurants go way back. Claudio's in Greenport for example, is the oldest restaurant in America under continuous management. Opened in 1870 by Manuel Claudio it is now operated by 5th generation family members.
And The Townsend Manor Inn, while not quite as old is just as historic. Built in 1835 as a whaling captain's home it was converted into a restaurant by Lillian Cook Townsend in 1926. In 1954 it was taken over by the Gonzales family and run by them ever since.
So there you have it. In The Food and Wine and Wine of the North Fork you get the Long Island regional cuisine defined, and its history as well.
This is another one of my favorite rainy day, open it to any page and just start reading kind of books.
The Food and Wine of the North Fork
Historical Anecdotes and Recipes
by Chef John Ross
Maple Hill Press
October 2005, 6" x 9", $24.95
Note: This book can be hard to find. It is usually in stock at Borders Books in Riverhead (631-284-2222), Bohemia (631-244-7496), and Syosset (516-496-3934). Even when the book is in stock, it shows out of stock on the Borders website. You have to call your local store directly and ask them to check for you.
---
If you're a fan of of Long Island's North Fork you may want to have a look at these excellent books:
The Barns of the North Fork - Inventory and beautiful photos.
by Mary Ann Spencer
The Vineyard - The founding of Long Island's first vineyard.
by Louisa Thomas Hargrave
---
Back to Best Long Island Books