25 East at Danfords
Port Jefferson, Long Island, NY
25 East at Danfords combines excellent food with beautiful views of Port Jefferson harbor. And, they serve breakfast 7 days a week.
Although I've been to Port Jefferson many times, it's been almost 30 years since I've eaten here. No reason in particular, it just hasn't happened. On a recent road trip however, all the pieces fell into place and I found myself sitting at a table in 25 East, the restaurant at Danfords On The Sound hotel and marina complex.
I'm not real happy with the name, 25 East. Naming a restaurant after its address is not only trendy, but shows a certain lack of imagination. If a restaurant can't get the name right, I have to wonder about the food. And that's not the only trendy thing I saw. But sometimes, following the crowd is not necessarily a bad thing.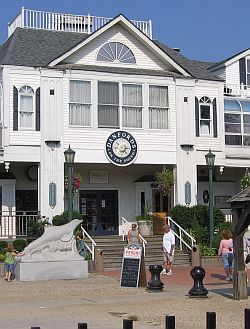 Years ago our long Island palates were not very sophisticated. In many cases eating out meant pot roast and mashed potatoes, huge portions of deep fried foods, and some ice cream or cheesecake for desert.
Left: The main entrance is in a beautiful courtyard next to the ferry terminal.
Not that there's anything wrong with comfort food (I eat my share), it's just that through the years we've learned to enjoy a wider variety of somewhat more imaginative foods. Sushi anyone?
As our taste buds become more sophisticated, so do the menus. Or is it the other way around? At any rate, this is a trend I was happy to see Danfords fully embracing.
The menu here is excellent, offering New American fare with some easy standbys like burgers & fries, and fish & chips. Prices are reasonable with entrées in the mid $20's.
I started with their Fried Calamari Pepperonata appetizer. I like to order calamari when trying a restaurant for the first time because it's so easy to overcook. If they get the calamari right, I'm hopeful for the rest of the meal.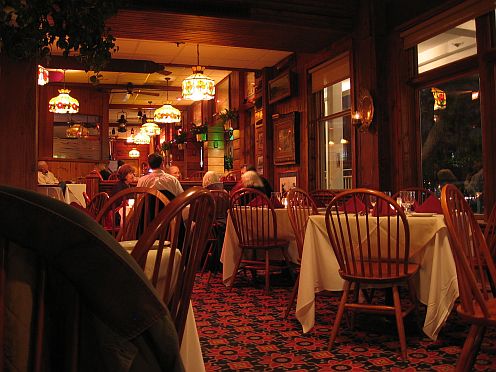 The dining room looking towards the entrance.
While waiting for the appetizer I had a chance to look around. Gladly, little has changed here since my last visit. Wood paneled walls, Tiffany lamps and carpeting give Danfords a warm, homey feel so comforting in the winter. Plenty of windows provide ample views of the harbor and a nice breeze in the summer. Not surprisingly, the overall feel is nautical. A large model ship in the lobby pulls it all together.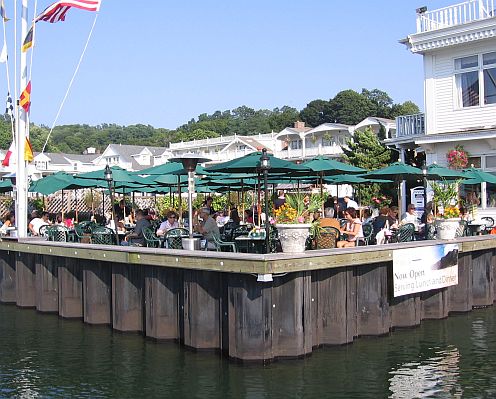 Outdoor seating is perfect for those beautiful summer afternoons.
The calamari appetizer was prepared with cherry pepper rings fried along with the squid and served with fresh lemon, traditional marinara sauce, and a chipotle remoulade. Cooked perfectly and nicely seasoned I ate most of this dish with the fresh lemon alone. The marinara sauce and remoulade were good, but unnecessary. I was very happy with this dish. So happy in fact, that I went back a few weeks later and had it again. And it was just as good.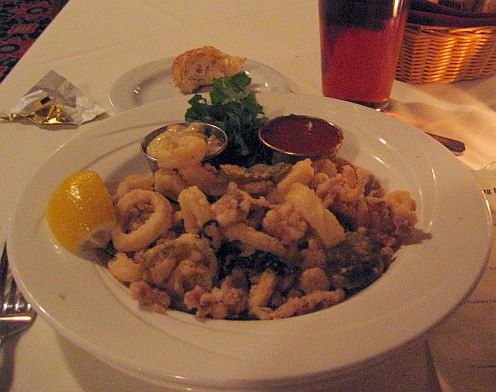 Perfect calamari.
My second course was the Wild Rice, smoked ham and Boursin stuffed chicken served with ratatouille and demi-glace. I wasn't quite as impressed with this as I was with the calamari. The chicken looked great and was wonderfully seasoned, but was unbelievably hot inside and bordering on overcooked. The ratatouille and demi-glace were very good, but the demi-glace just didn't seem to work with the seasonings on the chicken.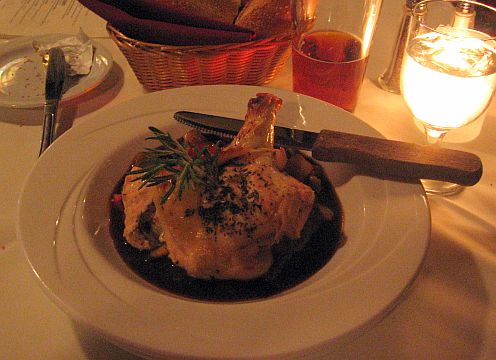 Not so perfect chicken.
I cut up the chicken to stop further cooking and as long as I kept it off of the demi-glace it was enjoyable. The Boursin cheese, smoked ham and wild rice stuffing was excellent.
Desert, a chocolate raspberry bread pudding, was next and the home run of the meal. Served with a warm white chocolate glaze and topped with vanilla ice cream, this desert was simply outstanding.
I love chocolate. I love raspberries. I love the way raspberries and chocolate go together. And I love bread pudding. To say I was in heaven is an understatement.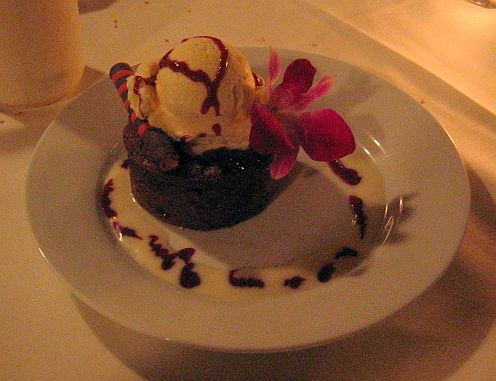 Fantastic desert.
Bread pudding has such a marvelous texture. Cake-like but so much more interesting, it's a perfect medium for the rich flavors of chocolate and raspberry.
An edible orchid, something I've never had before, adorned the desert making it all the more interesting. The orchard has no flavor, but has a nice texture somewhere between supple and crisp. I ate the orchard one petal at a time with a piece of bread pudding and swirled in the white chocolate glaze. Delicious!
The service I received was very good. The waitress and hostess were helpful and attentive. I like eating here.
Danfords also serves breakfast 7 days a week and brunch on Sundays.
25 East at Danfords
25 East Broadway
Port Jefferson, NY
631-928-5200
Additional Information
Return to Long Island Restaurants