Fire Island
(Long Island, NY)
Fire Island is one of the most peaceful, yet exciting places on Long Island.
From the tranquil wilderness area on the eastern end to the vibrant, seaside communities to the west, there's something here for everyone.
Located on Long Island's south shore, this pencil thin sandbar is roughly 31 miles long, about a half a mile wide at it's widest, and just a few hundred feet wide at it's narrowest.
Fire Island's warmth, beauty and serenity become apparent immediately after stepping off the ferry.
You'll feel yourself slowing down, breathing deeper and smiling more. The absence of motor vehicles seems to reinforce the effect.
But slowing down doesn't mean boring. Fire Island is loaded with natural attractions, bars, restaurants, beaches and shops, so you and your family will have plenty to see and do.
There are 17 or so unique communities on the island that swell with residents and tourists each summer. There are even two gay communities that draw thousands of visitors every year.
Cherry Grove and Fire Island Pines are well known for their predominately gay population and sometimes outrageous nightlife. But, if you're straight, these communities are still well worth visiting for their beautiful architecture, well kept homes and excellent restaurants.
Although most of the people you'll meet on here are either locals or summer residents, visitors come from around the world. It is not uncommon to hear people speaking in foreign, sometimes unidentifiable (by me anyway) languages.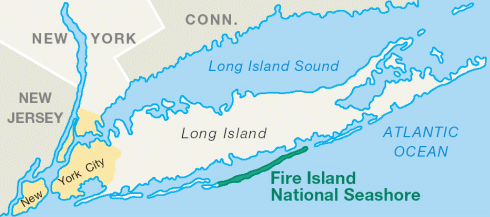 Map courtesy of the National Park Service. Right click and save for detailed map.
---
Major Attractions

When you have 31 continuous miles of the finest sand in the world, of course the beach is going to be one of the main attractions however, a lot people do visit just for night life or to get away for a day without going near the beach.
The Fire Island Lighthouse is stunning. First lit in 1858, the beam is visible for 24 miles. Lighthouse tours are given daily on the hour and they actually let you walk around outside on the catwalk!
Kismet is just a short walk east from the lighthouse. This little appetizer of a town is a good introduction to what the island offers and will make you want to see more.
Atlantique marina and beach is popular destination for day trippers and weekend boaters.
The Sunken Forest at Sailor's Haven is a 250+ year old maritime forest nestled between two large dunes that give it the appearance of being below sea level. On the 1.5 mile boardwalk you'll wind your way through a forest so beautiful it almost makes me cry.
Sailor's Haven also hosts a snack bar, gift/supply shop, visitor center, marina, and public bathing and bathroom facilities.
Ocean Beach is the most popular town on Fire Island. It has more bars, shops, and restaurants than any other community, so this is the spot for nightlife, dining and shopping. There's even a movie theater.
Davis Park is the easternmost community on the island. A short walk west from Watch Hill, this family oriented, yet fun community is the home of the famous Casino restaurant, the only restaurant here facing the Atlantic Ocean.
Watch Hill is a much larger version Sailor's Haven and is located much further east. Visit watch Hill instead of Sailor's Haven if you live near or east of Patchogue. Be sure to visit the Casino restaurant in Davis Park when you get hungry.
Taste of Fire Island is a seasonal program promoted by the ferry company and several noted restaurants. Pay one price for dinner, ferry and parking.
What to bring
If you going to spend time on the beaches here bring everything you would normally bring for a beach outing and make sure you bring warm clothes for nighttime. Long pants are escpecially helpful at dusk if there are mosquitoes around.
You may also want to bring a canvas bag for shell collecting or to keep the goodies you pick up at the various Fire Island shops.
Getting Here
There are two ways to get to here: By car via Robert Moses State Park field 5, or by ferry. Car is fine if you're just visiting the lighthouse, otherwise ferry is the way to go.
The Sayville Ferry goes to the Pines, Cherry Grove, Sunken Forest/Sailor's Haven and Water Island.
The Bay Shore Ferry will get you to Ocean Beach and all towns between Kismet and Ocean Bay Park.
The Davis Park Ferry services Davis Park and Watch Hill only.
The Watch Hill Ferry (631-475-1665) is run by the National Park Service and only goes to Watch Hill.
Getting around on is usually done by foot. A lot of people use bicycles and if you really have to go far you can call the Fire Island Water Taxi, 631-665-8885.
Best time to visit
The best time of year to visit is between Memorial Day (End of May) and Labor day (beginning of September.)
---
Important Stuff

Respect Privacy
Fire Island is populated by a large number of summer and full time residents. Their homes are beautiful, sometimes whimsical, and that makes them very interesting. Please respect their privacy by staying on the board walks and out of their yards. Keeping the noise level down is appreciated too. Thanks!
Stay Off The Sand dunes
The dunes on Fire Island are very fragile and once eroded are extremely difficult to restore.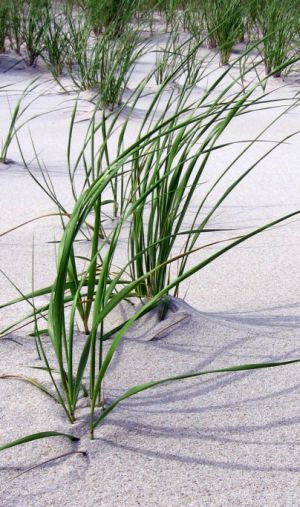 For the most part Fire Island is really just one giant sand dune, so no dunes, no island.
Dunes are formed when blowing sand is trapped by beach grass. The root systems of these plants migrate through the trapped sand holding it together.
Walking on the dunes crushes the roots and can release large amounts sand from the dune. The resulting scar will erode further in wind and rain.
There are cuts through the dunes in each town that allow transit from bay to ocean, please use them and help preserve Fire Island.
Besides, you really don't want to get caught on the dunes. You will incur a wrath like no other by the person who catches you, be fined by the local police, and probably come home with a good case of poison ivy.
Stay Away From Piping Plovers
Piping Plovers are an endangered shore bird that nests on Fire Island. They lay eggs on the sand in shallow nests lined with small stones and shells. On the beaches near the dunes you will see roped off plover nesting areas with signs explaining that it is a federal offense to disturb these nests.
---
Musings
I have a lot of favorite places on Long Island, but this is definitely my favorite of favorites. For me it just doesn't get any better, but it's hard for me to explain why.
Maybe it's the ocean. No matter where you are on this island you can hear the surf. At night it's ghostly, but comforting. In the early morning calm it seems to beckon.
The first thing I do in the morning is grab my coffee and walk down to the beach. I can't help it, I have to go. And I'm not the only one who does this.
There are others and we recognize each other. As if members of a secret society, we exchange a look that seems to say, "Ah, you're going down to the ocean aren't you?"
There's just something about the calm, early morning ocean that pulls us in.
Or maybe it's the people. It seems as though everyone is your friend on Fire Island. I attribute this to a lack of stress on the island.
Almost everyone is on vacation and in such an amazingly beautiful place what's there to be nasty about? On Fire Island, more than any other place on Long Island, laughter is the sound heard most often.
Maybe it's the short season. The island is "open" all year long and there are a good number of full time residents, but for the most part it's deserted during the winter.
Things don't really start hopping until the end of Memorial Day and by Labor Day it's all but over. 15 weeks folks, that's all we get.
After that the weather is unpredictable and a lot of things are closed. The ferries are still running so you can stretch the season. But even though it's still warm out you can almost feel winter and the burden it brings closing in.
The excitement is gone and the season is over (the locals are grateful.) The feel is very different after Labor Day…
Well, I can't figure why it's my favorite of favorites, but Fire Island is a place that is truly greater than the sum of its parts.
Have a Favorite Story About Fire Island?
Please DO tell!
For summer fun there's no place like Fire Island, and no one ever leaves without a story to tell or picture to share.
Don't be shy, other people really do want to read your stories and see your photos.
The topic can be anything Fire Island related that you think others would be interested in reading.
Click here if you're ready to tell your story.
Or...
Read the Fire Island stories others have written.
Need help getting started? Here are some story ideas to jog your brain:
Are you a regular?

Please share your Fire Island travel tips. You favorite things to do, places to shop, favorite dinner, music and party spots, your favorite towns or quiet beaches. What are your tips for getting here? Train, taxi and ferry hints are always appreciated.
Get here by boat?

Where are your favorite places to dock or anchor? Tell us about your favorite restaurant to visit by boat. Do you fish near Fire Island? We'd love to read your fishing stories and tips for catching the big ones. Running aground in the shallows is a drag, so navigational tips are appreciated too.
Summer resident?

Do you rent, own, or do the sharehouse thing? How'd you find such a perfect place? What's it like spending the entire summer in such a beautiful place? How's the commute to work everyday?
Year-round resident?

Now that's cool. Tell us why you like living here all year round. What do you think of the summer crowd? How do you spend the winters? What words of wisdom can you offer anyone wanting to move off the mainland?
Summer job?

Now I bet

YOU

have some stories to tell. How'd you find the job? What was your best/worst/funniest day at work? Any tips for others seeking summer jobs on Fire Island?
Favorite photograph?

Send us your best shot. You know the one... We'd love to see it.
And remember, you can send in as many stories as you like. 
Your Fire Island Story
Use this form to type your story and/or send in a picture.
What Others Have Said About Fire Island
Click the links below to read contributions from other visitors to this page...