Jones Beach
Long Island, NY
By Robin Vogel
The Jones Beach ocean, which has been there as long as we can remember, listens and keeps our secrets, as it always has...
Every Mother's Day, our family tradition remains the same—my husband, son and I have lunch at All American Burger in Massapequa, drive to the Beach, play a game of mini golf, then stroll the boardwalk and reminisce about our lives.
I describe the time I got lost here when I was eight and lifeguards at all different stations held me up high at their stations, blowing their whistles in my ears so all parents missing a child would look up to see if I was theirs.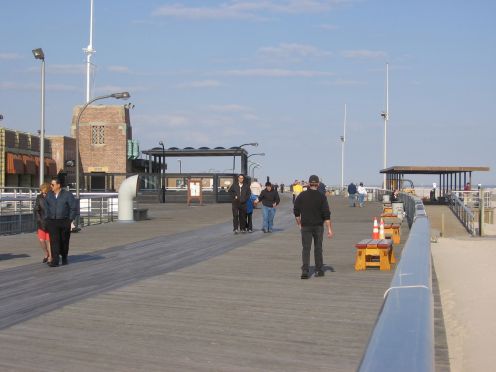 The seemingly endless 2 mile boardwalk
My husband regales us with tales of his favorite concerts at the Jones Beach theater, while Brad talks of volleyball and shuffleboard games with friends and picking up girls on hot July days. I wouldn't trade it for the most expensive Mother's Day brunch anywhere!
As I mentioned in Jones Beach: An American Riviera, thanks to the foresight of Robert Moses, this beautiful park has been around since 1929, creating lasting memories and traditions for millions of grateful beachgoers. 
While the Indian Village, archery and ice skating are no longer offered, anyone who has never visited Long Island before would still be impressed by the varied and exciting activities available here.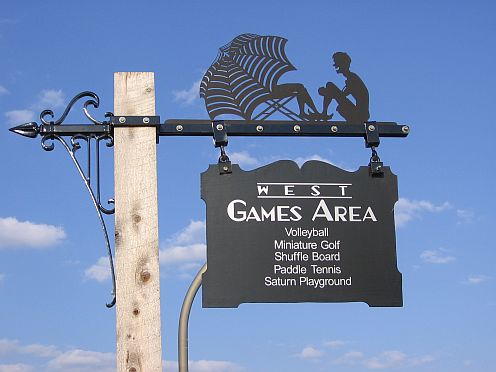 Whimsical signs announce the activities in each area of the beach..
Jones Beach offers 6 1/2 miles of oceanfront beach, a half mile of bay side beach (safe for kids), and 2 huge swimming pools. You can surf cast at the west end of the park and observe migratory birds and native plants in the undeveloped wilderness areas. Boaters can arrive by boat and dock in the boat basin.
Kids and adults will love the Theodore Roosevelt Nature Center where you can learn about the sea shore, sand dunes, marine animals, butterflies, beach plants, ship wrecks, whale bones and more.
Umbrellas are available for the sun-shy and lifeguards are on duty all summer long.
Twice a year during spring and early summer Jones Beach features its Horseshoe Crab Walk Family Adventure. Horseshoe crabs have been on earth since before the dinosaurs, and this gives participants the opportunity to explore the lives of these amazing creatures.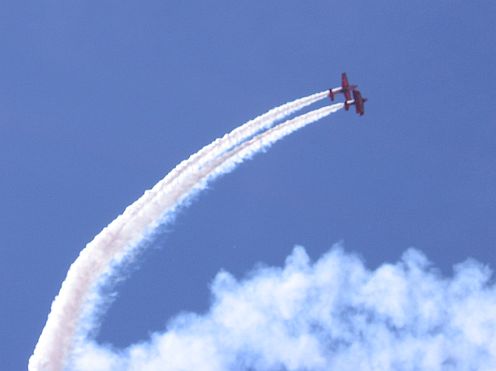 Stunt pilots perform during the annual air show.
The immensely popular, thrilling Jones Beach Air Show is held annually on Memorial Day weekend, and the lineup feature the US Navy Blue Angels Jet team as well as some of today's best civilian and military aerobatic performers.
My son tells me that Field 4 is a great place to meet good-looking girls, and I'll take his word for that... Also available is mini-golf, pitch-and-putt, beach volleyball, a beach shop, first aid, main concessions for your eating and drinking pleasure (including Friendly's). And there are picnic tables where you can sit down with food from home or whatever you've purchased.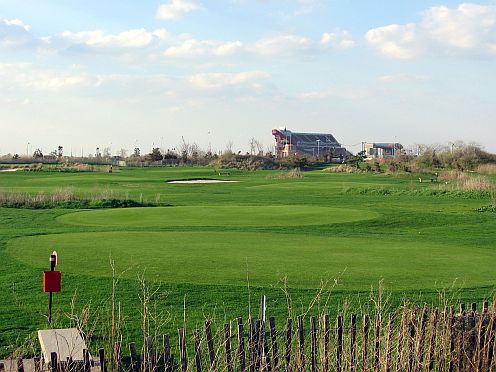 Golf course with the theater in the background.
The Boardwalk Bandshell, is the site for events for every age and taste: Latin dancing Sunday nights, with Andy Andy, Frankie Negron and La Kalle Explosion. Tuesdays are for children and everyone, and include Tell Tale Storytellers, Toxin, and Lido Soul Review.
Wednesdays are reserved for Line Dancing, with Sherry Palencia. WBLI presents Live Thursdays, with such groups as Somehow Sorry, 7th Layer, Dirty Bath Water and Craving Strange. WCBS-FM celebrates Saturdays with Soul Be It, X-Session, and Easycore Yuto. With such a wide variety of music, it's no wonder the Bandshell is such a popular place on warm summer nights, for dancing or just listening.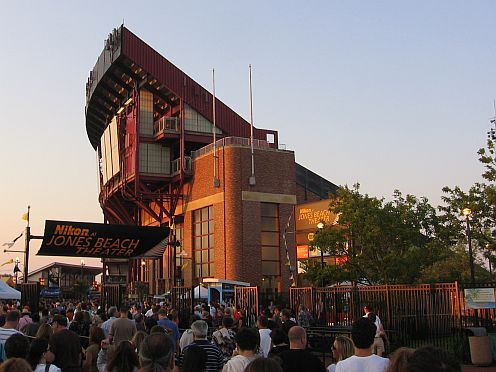 Side view of the Jones Beach theater.
Speaking of warm summer nights, the Jones Beach Theater has quite a lineup of amazing performers—Procol Harum/Jethro Tull (a personal favorite), Foreigner/Styx/Kansas, Scorpions, Yes/Peter Frampton, American Idols Live, Doobie Brothers/Chicago, 311/The Offspring, Meatloaf, Santana/Steve Winwood, John Mayer/Train, Rush, Sting, Goo Goo Dolls/Switchfoot, Cosby, Stills and Nash, Jimmy Buffett & the Coral Reefer Band, Jonas Brothers/Demi Lovato, Phish, Christina Aguilera, Sublime/Rome. 
There are more, but you get the idea—the list is enough to blow the mind of anyone who enjoys great music.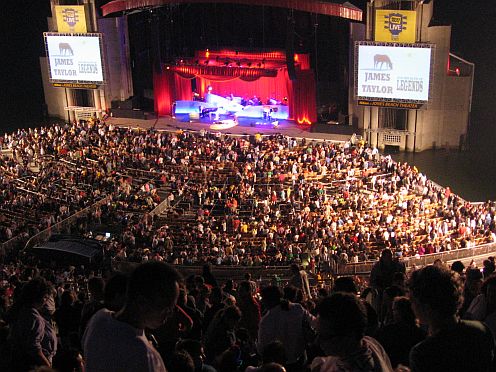 James Taylor
There's something for everyone here--baseball, softball, volleyball, tennis; you can play with a team or sit, watch and cheer games in progress.
Two imposing bathhouses feature Art Deco architecture, if that interests you, and the landmark water tower you encounter when you drive around the traffic circle, now being refurbished, was modeled on the campanile of St. Mark's Cathedral in Venice. I still remember the excited chill I got when I drove there shortly after getting my driver's license at 17.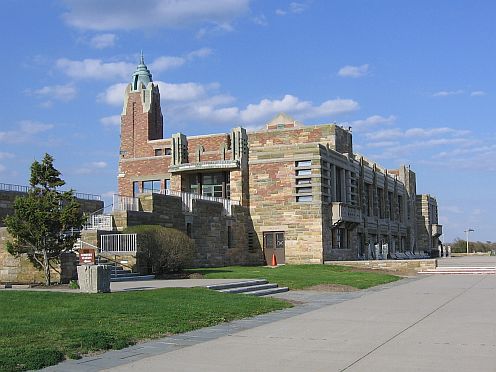 One of 2 huge bathhouses.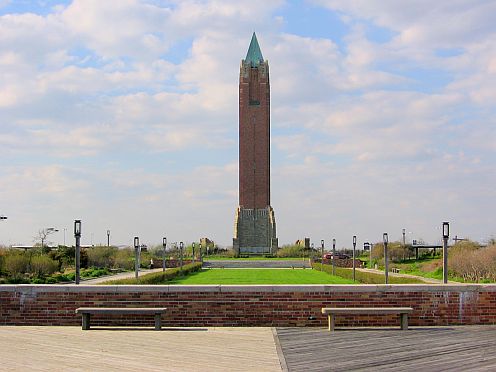 The water tower holds 315,000 gallons of water and supplies all the fresh water needs of the State Park.
There are radio-free areas where you can stretch out and lie quietly in the sun, enjoy your own food, take off your bathing suit if you desire, take a shower, rinse the sand from your feet, or bring your child to the magnificent Saturn playground.
Jones Beach has a two mile boardwalk and the Castles in the Sand photo collection at the East Bathhouse which depicts the development of the Park. When walking with my family on Mother's Day, we stopped to check out the fascinating photos, amazed to see what used to be available to do when the park first opened.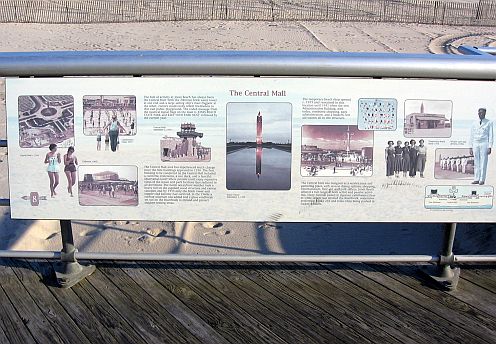 Castles in the Sand plaques along the boardwalk detail the rich history the park.
The park is accessible by car, boat, bicycle, and in the summer season by bus. Most visitors arrive by car via the Meadowbrook State Parkway or the Wantagh State Parkway. A significant portion of visitors take the LIRR to Freeport and then a bus to Jones Beach, or take advantage of the LIRR Beach Package. Boaters often anchor on the bay side of Jones Beach (i.e. "Zachs Bay").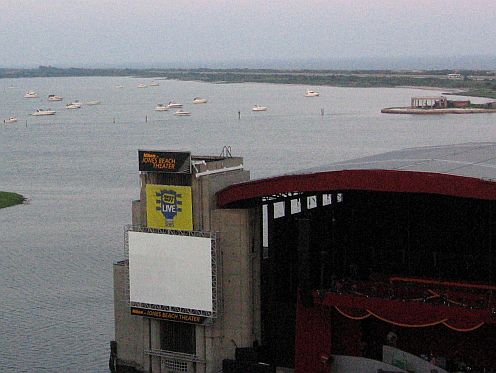 Boats in Zachs Bay behind the theater.
A Greenway alongside the Wantagh State Parkway allows bicycling, skating or walking about four miles from Cedar Creek County Park on Merrick Road into the State Park.
My best friend, Sharon, and I often visit Jones Beach in the early evening during the summer. We grab Chinese food, bring it to one of the tables and watch the sun set over the ocean in a glorious panorama of reds, oranges, purples and yellows.
We remember when we used to be unmarried, thinner, looked great in bikinis and sang together as we strolled along the Jones Beach boardwalk. I tell her about the time I lost the top of my bathing suit in the water and had to wait for my friends to bring me a towel. The guys on the beach were daring me to walk in topless, but I didn't have the guts. Sharon and I laugh until we cry, wishing we still had bodies that looked good in bikinis.
The Jones Beach ocean, which has been there as long as we can remember, listens and keeps our secrets, as it always has.
Additional Information
More about Long Island beaches.