Long Beach
Long Island, NY
Article and photos by Brigitte Surette
Long Beach....the name conjures up images of sun, sand, surf and fun. This resort community located on Long Island's south shore, doesn't disappoint as this "city by the sea" offers visitors, city dwellers and residents a laid-back atmosphere with a small-town, welcoming attitude.
As a recent transplant from the South, I'm more than impressed by this strip of land flanked by the Atlantic on one side and the bay on the other, not to mention its close proximity to New York City; a mere 45-minute train ride.
Really, what could be better?
The East End
Park Avenue is the "strip" and center of town on the East End. It's lined, on both sides, with specialty shops, restaurants, bars and just about everything you could want. There's beautiful grass covered medians in the middle of a six-lane road, as well as ample parking lots that allow free two-hour parking.
The neighborhoods sandwiched in between the beach, the city and the bay are tree-lined with sidewalks offering an eclectic mixture of architectural styles--single and two-family homes, condominiums, and apartments.

East end of Park Avenue.
Long Beach Bagel Café serves up about every kind of freshly-made bagel you could think of and Long Beach Bicycle Shop right next door sells, repairs and rents bikes (which in my opinion is the best way to get around here).
We biked in one morning, picked up bagels and coffee and then went next door where I got a cool, vintage bicycle bell. If a sit-down big breakfast of comfort food is more to your liking, Ocean Diner is a just that--a wonderful diner reminiscent of days past. Many locals favor this diner and it's just what you'd expect. Good eating at a good price.
For lunch, try Cha-Ba's--excellent Thai food; and for dinner, Nick's Tuscan Grill has oh-so-delicious Italian/American fare with above average service, the friendliest staff and a very decent wine list.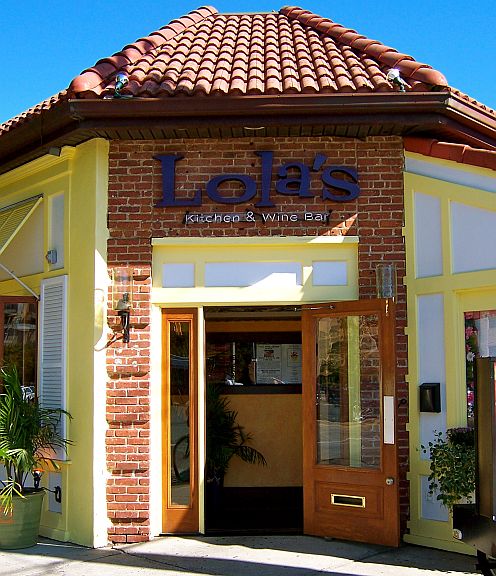 Lola's, formerly Angelfish and TKOPS 180 before that, offers 25 wines by the glass.
La Bottega is another great Italian restaurant that serves lunch and dinner and for Ladies' Night (Thursday nights with specialty drinks and dinners $15 and under) as well as Sunday brunch that has one to three dollar cocktails, Lola's is the place to go. Great ambiance, great food and great staff.
There are a number of wine and liquor stores scattered throughout town, but my favorite is Park Avenue Wines and Liquor. This small, iconic fixture of Long Beach has an excellent selection of wine to fit any budget. The staff knows their stuff and there's always barrels of discontinued wine (starting at about six bucks) located near the door.
We purchased a few bottles of wine for a gift for a friend, took them down the street to Sweets for Shore, where they packaged everything together--wine, Swiss chocolates, and gourmet sundries--all wrapped up beautifully in a gift basket.
Next door to Park Avenue wine is the Healing Oasis in case you want to get in a relaxed state before enjoying a nice beverage and The Coffee Nut next door to that, is a funky little coffee shop that's an alternative to Star Bucks (also located on Park Avenue) that smells divine with coffee, espressos, lattes and pastries. Depending upon who's behind the counter, you may hear jazz or heavy metal playing.
Long Beach Cinema 4 is the city's art deco-ish theater located on Park at Long Beach Road. Up the road a bit is Kennedy Park located in front of Long Beach City Hall where The Farmer's Market is held every Wednesday and Saturday, sometimes, with live music.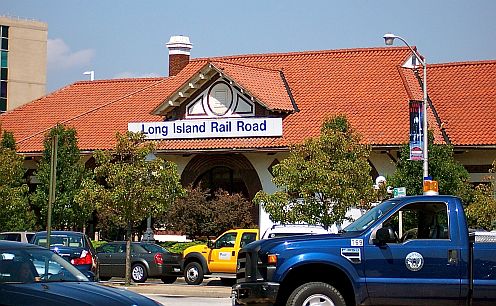 One of the LIRR's nicer looking train stations.
Within walking distance is Walbaums, Long Beach's largest grocery store, the public library and the Long Island Railroad (LIRR) that takes residents/visitors into into Penn Station. Tip: Grab a slice of pizza and drink across the street at Geno's Pizza before going into the city to tide you over--two slices with drinks will run you around seven bucks.
For quick grocery shopping, try Associated Marketplace, a small upscale grocery that has freshly baked breads and gourmet foods and for fresh fruit, visit the Fresh Fruit Bowl--you'll feel as if you're in Manhattan!
The West End
When Park Avenue becomes West Park, you're in the West End. The West End, known as the "trendy" end of Long Beach, has a more shabby-chic beach feel. It's where the younger crowd (20 and 30-something's) live, play and visit. The residential streets have post World War II bungalow-type homes that set very close to one another, with million dollar plus mansions along the bay side. A couple of blocks over, toward the beach, is Beech Street, where the action and nightlife are.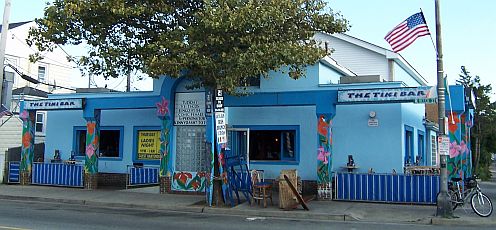 The Tiki Bar
I've not explored the West End as much as the East, but locals tell me some of the best places to eat are Minnesota's and Caffee Laguna. There's several more restaurants, bars and shops scattered on both sides of Beech Street.

Beech Street.
The streets are usually swelled with cars, walkers, and bikers during the summer months. If you stop by the Tiki Bar, you'll feel as if you're in the islands with its brightly colored exterior, open bar and ska music playing in the background.
Popztarz has the best homemade ice cream, gelatos and smoothies if you'll strolling by on a warm day and need something cold and non-alcoholic.
Vito's on the Beach is a popular hangout on the West End located at the west end of Long Beach's phenomenal boardwalk. You'll hear classic rock playing, waves crashing and the sounds of people having a great time.
The Beach and the Boardwalk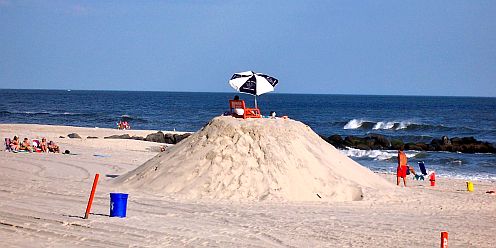 Lifeguards on a mound of very fine sand.
During the summer months, several lifeguards sit atop mini sand mountains up and down Long Beach's wide, expansive shoreline. Over three miles long, there's ample room for yearly visitors and the hundreds of Manhattanites that arrive by train every weekend.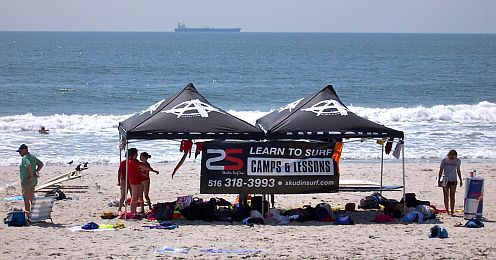 You can pick up a daily beach pass for $12 or a season pass for $30. Non-residents pay a bit more, but once you visit Long Beach, you'll see why. Long Beach rivals some of the most beautiful beaches in the world.
White, powdery sand against sapphire-blue skies, and just the right amount of breeze make it a northeastern paradise. The summer weather is usually perfect, middle 80s with low humidity. You can even take surf lessons -- yep, it's right there on the beach.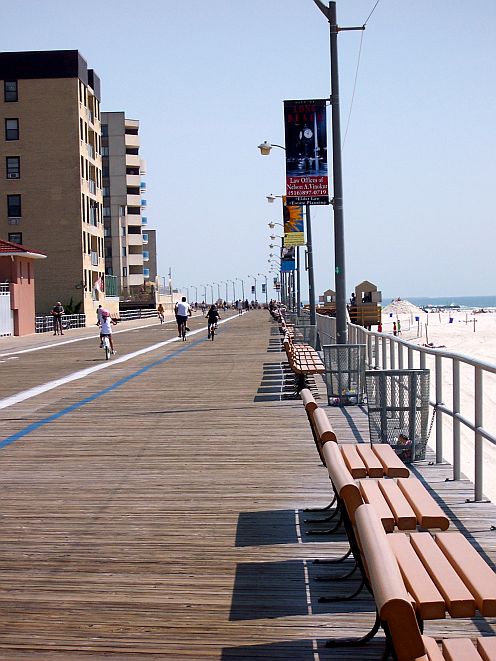 Long Beach's boardwalk (over two miles long) is busy with activity throughout the year. Young, old, joggers, cyclists, and everyone in-between walk, run and ride up and down its wooden slats. Numerous benches, facing the ocean stretch out along its perimeter for people to sit a spell or take in a glorious sunrise or sunset.
During July and August, there's the annual Arts and Crafts Festival where vendors set their tents up, displaying their wares; jewelry, clothing, paintings and the like. The Long Beach Free Summer Concert Series begins in July and ends in September. Every Monday, Wednesday and Thursday at 8 p.m. throughout the summer, there's every kind of music, from rock to reggae and it's FREE.
There's plenty of ocean-view apartments and condos that loom over the boardwalk, many of which are going through redevelopment, and these residents are both fulltime and seasonal. You're going to pay top dollar to rent those that have incredible views, but there are some more budget-friendly digs in the nearby neighborhoods.
Where to Stay
Long Beach is known as a resort town so hotel choices aren't plentiful, as most visitors stay in summer homes, condos and apartments. To find a place you can study the classifieds or work with a real estate office.
Since I was relocating from South Carolina I chose the latter and worked with Maria Aramanda, a longtime resident and owner of Gull Realty. Her office covers all of Long Beach and she can help you find a place to buy or rent (long term/short term) that fits your budget.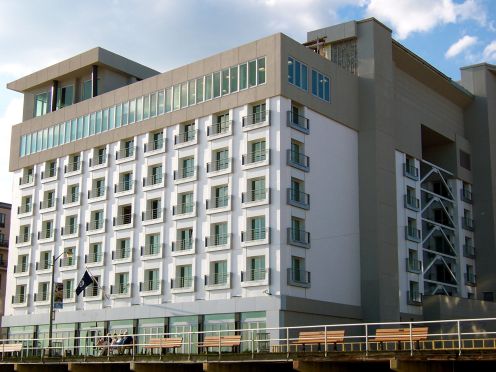 The Allegria Hotel is on the beach facing the ocean.
The new cool jewel of Long Beach is The Allegria that faces the Atlantic along the boardwalk. We visited before moving here and stayed in this ultra-modern hotel that has a restaurant, bar, spa and salon, and wine-tasting room. The lobby has lots of white, light, chrome, rattan furniture and cushy couches scattered throughout with a fireplace to complete the ambiance.
It's a four-star hotel and the rooms, although on the small side for a regular room, are very nice. Lots of blond wood, flat-screen tv's, a fridge, small couch and cool lighting. They offer good discount rates for government and military folks.
Jackson By the Beach offers a more economical stay ranging from $99 to $129 for a one-night stay. Located on East Broadway, its accommodations are much more modest compared to The Allegria.

The bay side of Long Beach.
Although I'm a newbie to Long Beach, its charm and the people that live here make me feel right at home. Perhaps it's because it's one of Long Island's older, more established communities and my southern roots feel an affinity with its small-town temperament. Maybe it's that delightful dichotomy of traditional, home-spun sentiment so close to one of the world's busiest and greatest cities. For me, it's just one more reason to love Long Island.
Additional Information
If you like Long Beach you might also like the Nautical Mile in Freeport or the salty town of Greenport on Long Island's north fork.
If it's sand, sea, and boardwalks you're after then Jones Beach, sometimes called an American Riviera, is the place to be.
Return to Long Island beaches.