The Nautical Mile
Freeport, Long Island, NY
The Nautical Mile in Freeport is one of my favorite places to enjoy an afternoon on the water. An odd combination of restaurants and workboats, open-air bars and fish markets, live music and foghorns; it's a blend of nautical charm and street fair revelry I find hard to resist.
About the Name
When I was a kid and before I ever came here I was stumped by the name. I just couldn't comprehend the double meaning and kept wondering why anyone would want to go see a mile. I get it now, but just in case you don't…
The Nautical Mile is the unofficial nickname for Woodcleft Avenue, the road that runs along side Woodcleft Canal in Freeport.
Roughly a mile long and lined on both sides with all manner of maritime mayhem, it is called The Nautical Mile because of its length (don't tell anyone, but it's really about 25% short) and its character.
The look and the feel
If you haven't been here in a while you may be in for a surprise.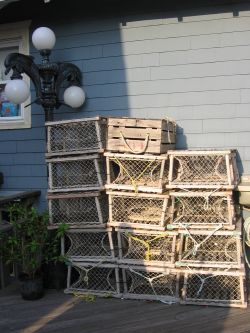 Thanks to a successful revitalization effort by the village of Freeport, the present day Nautical Mile is a far cry from the old days.
You might remember flooded streets and broken sidewalks. Now you'll find a beautiful brick esplanade, park benches, planters, a fountain and attractive outdoor museum displays.
Although the Nautical Mile is now more visitor friendly it hasn't turned into a tourist trap.
After all, it is home to Freeport's charter and commercial fishing fleet, and is the center of one of Long Island's oldest maritime communities.
Behind the cosmetic upgrades is where the fishermen work. In other words, it still smells like fish--In a good way of course.
Things to Do
The Nautical Mile is alive with the sights, sounds, and smells of the sea. Like the neighborhood park it's not so much a place to be entertained, but a place to entertain yourself.
Walk the Esplanade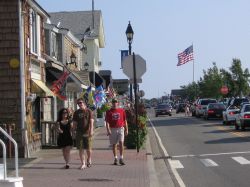 On a sunny day you can walk the esplanade for hours (well, I can anyway).
I like to take it all in and I do a good bit of people watching too. My first stop of the day is always one of the outdoor eateries.
I'll find a place that isn't too crowded, belly up to the bar and have a drink. Beer, Coke, whatever, and if it's around lunchtime I might have a light snack. All the while I'm enjoying the boat traffic up and down the canal.
There's usually a band playing and if they're any good I'll stick around until they take a break. Then it's off to the next place and the next band.
Restaurants
Dinner is always on my Nautical Mile to do list. There's no shortage of restaurants here and they serve more than just fish--you can get whatever you're in the mood for and then some.
Here are some recommendations, but by all means do some exploring. There are almost 2 dozen restaurants on the Nautical Mile each with a personality all its own:
Bracco's Clam and Oyster Bar
Bracco's is very casual and has quite a large outdoor dining area.

If you want fresh fish, this is the place as it comes directly from their own boats at Cap't Ben's Fish Dock right next door.

There's nothing gourmet about Bracco's, just good fresh food baked, steamed or fried.

Otto's Sea Grill
Man, this is THE hangout. Bikerish, but friendly Otto's offers indoor and outdoor dining and decent food.

The outdoor area has two bars and a very small stage for the band. There's even a dance floor.

If you're looking for nightlife give Otto's a try.

E.B. Elliot's
This is the newest entry and most upscale restaurant on the Nautical Mile dining scene.

Menu offerings range from burgers and fries to award winning steak, slow roasted prime rib and seared ahi yellow fin tuna.

You can enjoy your meal from a second story balcony with a clear view right down the canal or the large outdoor dining area. E. B. Elliot's is a classy place and of course, not cheap.
Ice Cream & Miniature Golf
Got kids? You might want to take them to the Crow's Nest Miniature Golf course or take them to one of the ice cream shops for some ice cream (they can't complain about all the time you're spending in the gift shop when they're mouths are full).
Try: Ralph's Italian Ices or Pip's Ice Cream Parlor.
Marinas
Men can look at boats in ways that make women jealous...
With boatyards, marinas and boat dealers (okay, yacht brokers), along the length of the canal the Nautical Mile is the perfect place to fantasize about the boat you might someday own.
Some marinas are gated, so be careful you don't get locked in. Yes, it's happened to me. Luckily after a short time a boat owner with a key showed up and let us out.
Fish Markets
For some people the fish markets are just ugly, smelly places, but for me they are heaven on earth.
I love looking at all the different fish spread out on the ice. I love the wet floors, the smell, the lobster tanks and the bushels full of blue claw crabs. There must be something in my blood.
If you like fresh fish, this is the place to buy it.
There are three fish markets on the Nautical Mile offering everything from catfish to snappers, bluefish and tuna, clams, cockles, crabs, lobster and oysters, mussels, squid and octopus, scallops, conch, steamers and flounders.
The list is almost endless. It's off the boat fresh and it's all delicious.
Live Music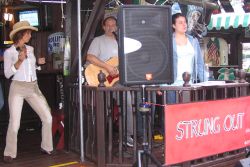 Most of the eateries on the Nautical Mile have live music. It's not hard to find, just keep your ears open and go with what you like.
More than the food it's usually the music that draws me in to a particular place.
One Sunday afternoon while my girlfriend and I were enjoying a beer at Otto's, I found myself standing in the way of a band (Strung Out) setting up their equipment.
Suzin, the band's manager, simply informed me that since I was standing in her dancing spot, I'd have to do the dancing instead. That was the start of a snappy banter (Suzin is quite the spitfire) that went on all night long.
And, we got to meet a celebrity...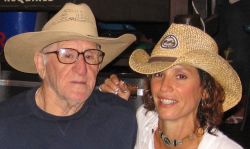 Rocco Abbondola (a.k.a. Rocky The Dancer) showed up!
Left: Rocky and Suzin take a break between sets.
What? You've never heard of him?
That's okay, neither did we, but he's someone we'll never forget.
Gift Shops
No seaside attraction would be complete without gift shops. You know, the kind where you can buy a starfish or a kite or a painting by a local artist? The Nautical Mile has a few, but my favorite is Frank's Art Shack.
The place is packed so full of stuff it's hard to walk, the prices seem reasonable and there are a lot of nice photographs and artwork for sale.
Cruises & Charter Fishing Boats
Several cruise boats and a fish load of charter and party boats hail from the Nautical Mile and Guy Lombardo Boulevard on the opposite side of Woodcleft Canal.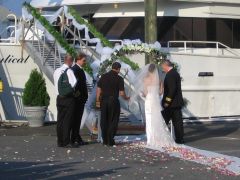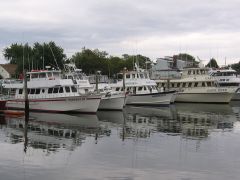 There are too many boats to list here, but you can go for a dinner or casino cruise or even have your wedding afloat. And, you can charter a boat for any kind of fishing you like.
Of course, for things like this it's best to make reservations ahead of time.
Lodging
If you're visiting Long Island and want to stay near the Nautical Mile there are two hotels in Freeport to choose from:
Freeport Motor Inn & Boatel (516-623-9100)

Yankee Clipper Motor Inn (516- 379-2005)
Getting Here & Parking
Getting to the Nautical Mile is not as hard as these directions make it seem. The route is clearly marked and all you really have to do is follow everyone else once you get off the parkway.
Meadowbrook Parkway south to Merrick Road west.
Left on Mill Road.
Left on Henry Street (South Main Street)
Right on Atlantic Avenue.
Left on Guy Lombardo Boulevard
Right on Front Street.
Left on Woodcleft Avenue.

Once you get here start looking for a parking space. If you don't see any or don't like parking on the street, look for the municipal parking lot on your right about halfway down.
If there's nothing available there, you can park legally on the side street west of Woodcleft Avenue. Just drive through the parking lot and you'll see it.
Where To Next?
Even more things to do on Long Island