Long Island Beaches
Long Island beaches are famous throughout the world for their long stretches of fine white sand, moderate surf and temperate water.
They were were declared best beaches in America by The Travel Channel, and best beaches in the world by Dr. Beach.
As far as I'm concerned Long Island beaches are the best in the world, period.
With over 400 miles of coastline Long Island has some of the most beautiful beaches you'll find anywhere.
From the rocky north shore to the sandy south shore, Jones Beach to Montauk, Long Island beaches offer something for everyone.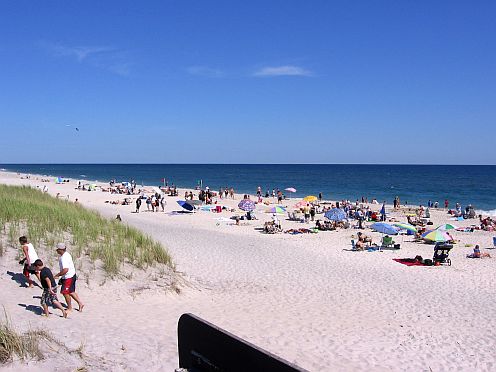 A day at the beach
What makes Long Island beaches so good?
In terms of sun, sand and surf all the south shore beaches rate equally, but if you're looking for a little more than just sand the best Long Island beaches are here:
---
Great sand
Long Island beaches have beautiful, fine white sand that feels great on your feet and is perfect for volleyball, sleeping, building sand castles, and digging.
Walking on the soft, dry sand is rather difficult, but is a great workout if you want to burn some extra calories. The wet sand by the surf is cool and firm enough to jog on--a great way to get from one beach to another.

Soft, smooth sand as far as the eye can see
Keep your eyes peeled for pretty shells. You'll see the usual assortment of clam, crab and scallop shells and during certain times of the year you will see shark, skate and snail egg cases. Sometimes, if you're lucky you'll even find small, quarter sized sand dollars.

Picking up the pretty ones from a gold mine of sea shells
Great tan
Want a great tan? This is the place. On Long Island beaches the sun literally rises and sets around you (now how often does that happen?)
Long Island beaches face south, which is somewhat unusual since most east coast beach face east. This southern exposure means you can lie on your blanket facing the ocean and get a beautiful, even tan as the sun moves from left to right around you. Don't forget the sunscreen!
Comfortably refreshing Atlantic Ocean water
Let's face it, for some people the water is never warm enough. The rest of us will find the ocean water comfortable and refreshing.
The same southern orientation that gives you a great tan protects Long Island beaches from the cold currents flowing down from the north, letting the water warm up nicely throughout the season.
The water temperature peaks from around mid July to mid September, but the water is certainly swim-able earlier and later in the season.
Moderate surf
You won't find real heavy surf here. Most Long Island beaches have moderate surf, so you can enjoy the ocean without risking your life.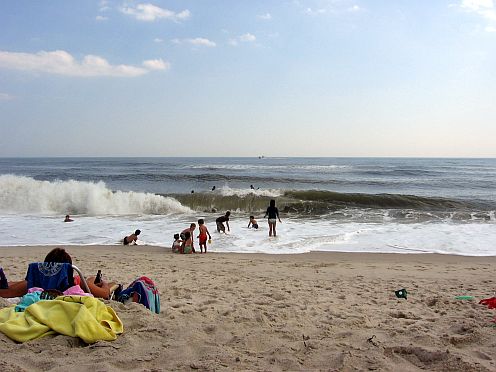 This is about a rough as it gets
The Atlantic swells are just right for body surfing and bobbin' around with a Frisbee. If you're into board surfing, no problem--almost all Long Island beaches have dedicated surfing areas.
Plenty of things to do
While some Long Island beaches are just sun, sand and surf, many Long Island beaches have activities such as golf, softball, concerts, fishing, hiking and cycling.
The coastal communities on Fire Island, in the Hamptons and Montauk Point add restaurants, nightlife, shopping and sightseeing to that list.
And don't forget about the Montauk Point Lighthouse and the Fire Island Lighthouse in Robert Moses State Park.
Unparalleled beauty
Take a walk on almost any of the Long Island beaches and tell me it isn't one of most beautiful places you've ever seen.
Fire Island is especially beautiful with 50 foot high sand dunes cradling a 400 year old forest on an island 32 miles long and just a few hundred feet wide. The ocean crashing on one side, the tranquil Great South Bay on the other, you can see both at the same time.

Between the dunes is the swale. Atlantic Ocean to the right. Great South Bay left.
Wild life is abundant. Cars are absent. But for the ocean and the gulls all is quiet. There is beauty and serenity. A feeling of well being takes hold and for the moment, all is well.
You feel like you're a million miles from home, yet the mainland is just a few miles away. It's magic...
Excellent night life
Tired of peace and quiet? Want a different kind of wildlife? Like music, dancing, bar hoping? Fire Island, the Hamptons and Montauk have the hottest nightlife you'll find anywhere. Period.
North shore vs. South shore
The best and most visited Long Island beaches are on our 100 mile long south shore. The major beaches you'll find there are Jones Beach, Robert Moses State Park, Fire Island, the Hamptons and Montauk Point.
North shore beaches are on the Long Island Sound facing north towards Connecticut, which you can see on a clear day. There's no surf to speak of on the sound, so those beaches tend to be rocky with coarse grained sand and pebbles. If your feet are sensitive I recomend using water shoes.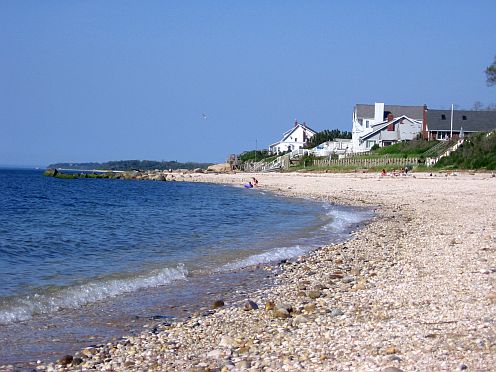 A stony beach on Long Island's north shore
There's plenty to see and do on Long Island's north shore (A little Long Island wine tasting perhaps?), but the beaches are not one of the north shore's main attractions. But, because they are small and numerous they tend to be less crowded and very relaxing.
---
Long Beach, also known as the City By The Sea,  offers over 2 miles of beach, boardwalk, hotels, restaurants, shops and more. Only 45 minutes from New York City, Long Beach is a favorite getaway for city folks looking for some time on the beach. Read more about Long Beach.
Jones Beach State Park was built by master planner Robert Moses in 1929. It is the largest public beach on Long Island featuring 8 miles of beach, a 2 mile boardwalk, the 15,200 seat Jones Beach Theater, art deco bath houses and many other attractions. Read more about Jones Beach.
Robert Moses State Park is a smaller and less crowded version of Jones beach. There are 5 miles of beach instead of 8 and no theater. There is a short half mile boardwalk at field 5 and a slightly longer boardwalk through the dunes that leads to the Fire Island Lighthouse. A short walk east from the lighthouse gets you into Kismet, the westernmost town on Fire Island.
Fire Island. Folks, this is the place. Of all the Long Island beaches Fire Island is by far my favorite. More than just a beach, Fire Island is 32 miles long and shared by 20 or so beachfront communities and the Fire Island National Seashore.
There are hotels, restaurants, summer rental cottages, bars, shops, live music... It's just an incredible place. Read more about Fire Island.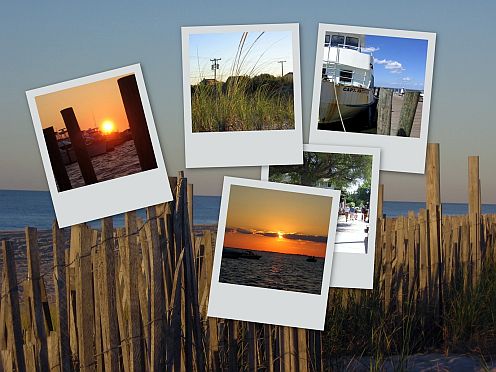 The Hamptons is really the entire Long Island south fork from Moriches to Montauk and is much more than just beaches. This scenic spot has been an attraction for wealthy New York City families and artists for almost 100 years.
Former home of Billy Joel, and Martha Stewart, the Hamptons are great for celebrity spotting. And the beaches? They don't come any better.
Coopers Beach in Southampton and Main Beach in East Hampton make Dr. Beach's world's top ten list year after year.
Whatever you want to do, you can do it in the Hamptons. Shopping, gallery hopping, dining, antiquing, nightlife-- it's all here.
Montauk Point is considered part of the Hamptons, but has a completely different feel. It is generally quiet with rocky beaches that are almost deserted in some places.

Hotels on the beach in Montauk
Montauk is one of the hottest fishing centers on the east coast. The surf casting is excellent and there are charter and party boats if you want to try for bigger fish.
Interested in real big things? Then try a whale watching cruise. There's also golf, shopping, restaurants, night life... There's so much to do in Montauk you might even forget to visit the lighthouse.
The 200+ year old Montauk Point lighthouse is a must see. Built by George Washington in 1797 it is a majestic connection not only to Long Island's maritime heritage, but the entire nation's as well. Don't miss it.
Read more about Montauk Point.
---
Folks, I've just scratched the surface here. Long Island beaches are fun, beautiful and almost defy description. You really have to come and see for yourself.
By the way, if you're going to play on the beach you should be aware of rip currents. Please read this important information on how to avoid drowning in rip currents.

Loving Long Island Home