Long Island Wine Tours
Chauffeur driven Long Island wine tours are a popular way to see Long Island's wineries and vineyards. You're picked up at home, taken to as many wineries as you can see in a day, fed lunch and brought back home at the end of the day. This takes place in the comfort of a chauffeur driven limo without the worry of "tasting" too much wine.
I've been touring the North Fork by car for years, but this time I decided to let someone else do the driving.
Don't get me wrong; a day trip by car to the Long Island wineries and other north fork attractions is a worthwhile endeavor, it's just that this time I wanted to enjoy a romantic, relaxing, worry free day at the vineyards with my girlfriend.
The best way to do that is to get someone else to drive.
I made arrangements with LI Vineyard Tours, a division of Metro Limousine Service. Their Long Island Wine Tour package was reasonably priced and suited my plans for a romantic day trip.
In a nutshell: they pick you up in the morning, bring you to 5 or 6 wineries, and get you home by around 6pm. Lunch comes from Connie's Bake Shop and is hand delivered to you while you're at one of the wineries.
Here's how the day went…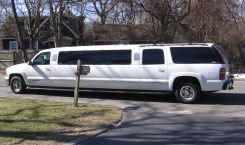 About 20 minutes before our Long Island wine tour was scheduled to begin we got a call from our driver letting us know he was getting close. I had to laugh when the driver apologized for bothering us. He explained that not everyone is happy about receiving a courtesy call, and they just expect he'll be there on time. To me its just the polite thing to do and I thanked him for it.
Exactly 20 minutes after our warning call, the limo showed up. Since this tour was just for the two of us I was expecting a standard size limo. What actually showed up at the house was amazing—a 14 passenger stretch SUV. Pretty cool I thought… I walked outside as the driver was walking to our door and met Scott.
While my girlfriend, Karilyn, was finishing up Scott showed off the vehicle.
We walked around the outside for a while and then he showed me all the interior features—stocked bar, moon roof, climate controls, stereo system, mood lighting, etc.
Now, a stretch SUV isn't what you'd normally get for just two people. All the other vehicles where booked so that's just what we ended up with. No complaints…
Scott had the kind of easy personality you'd want from someone you're going to spend an entire day with.
While you could just roll up the privacy screen and forget about the chauffeur, it's not a bad thing if s/he's the jolly likable sort.
We hit it off with Scott right away and enjoyed his company the entire day.
When I drive to Long Island's north fork I usually take the most direct route, but Scott had other plans. We had plenty of time to spare before the vineyards opened so Scott took us on a somewhat indirect, but very scenic tour of the north fork's bucolic farmland.
As we enjoyed the scenery the mood set in and a realization came over me—we were going to spend an entire day in Long Island wine country without a worry in the world.
We could taste or drink as much wine as we wanted and otherwise knock ourselves out having a good time.
If we wanted we could even sleep on the way home. We had only just begun this trip and already I was planning our next one.
Our first stop on this romantic wine tasting tour was one of my favorite wineries, Pugliese Vineyards. We got there early and had the place to ourselves.
Most of the winery tasting rooms charge a small fee, usually $3 to $5, for a flight. This is included with the LI Vineyard Tours package, so we didn't have to bother ourselves with that little detail. All we had to do was enjoy the wine.
And enjoy we did.
Of course I never leave Pugliese without a bottle or two for home. This time it was a bottle of their versatile Sangiovese (Long Island's only chianti), a bottle of Bella Dominica (an everyday red), a bottle of Raffaello White Port (smells and tastes like honeysuckle) and of bottle of their truly horrible Sparkling Merlot.
Why would I buy a bottle of horrible wine? I am perplexed by this stuff. Apparently a lot of people like it. I don't, but I'm determined to find the good in it. Maybe after finishing an entire bottle I'll develop a taste for it, but for now it just tastes like fizzy Nyquil to me.
Our next stop was Pindar Vineyards. I have to admit I was a little surprised by what happened there. Pindar has never been one of my favorite stops on the Long Island wine tour circuit. I even commented to Michael Weiss, LI Vineyard Tours manager, when planning our trip that Pindar wasn't one of my favorites. It was part of the deal so, okay, we went.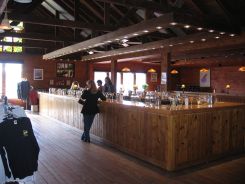 It was still early in the day, so we were the only ones there and had the full attention of the wine server (if anyone has better name for the poor folks that pour the wine in the tasting rooms please let me know). I liked everything she poured.
Maybe it was my mood, maybe the wine just tasted good to me that particular day or maybe it was because she raises chickens just like I do, but I came home with too many bottles to list here.
I will mention however, that I did particularly enjoy the 2001 late harvest Gewurztraminer (tastes better than it sounds and in individually numbered bottles has a rather classy look) and the 2001 Cabernet Port (served with dark chocolate kisses, it is perfect for dessert.) So surprise, surprise, the winery I love to hate made good.
Martha Clara Vineyards came next and here's where Scott really earned his keep. It was well into the afternoon and we had already drunk a lot of wine.
I was very hungry and glad I took advantage of the LI Vineyard Tours lunch option. (They send you a menu in advance and you chose what you'd like to have. Your driver runs out and gets it while you're busy tasting wine.)
Since this was supposed to be a carefree, romantic day trip it was nice having someone else feed us too.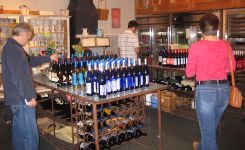 While we waited for Scott to return we sampled a little wine, but actually spent more time browsing (okay, buying stuff) in Martha Clara's beautiful gift shop.
Wine bottles laid out neatly, row upon row are hard to resist as are the many other goodies we found there.
When Scott arrived with our lunches we bought a glass of wine and ate in Martha Clara's rustic dining room.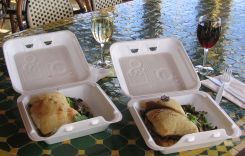 I had a filet mignon sandwich with horseradish mayo and mushroom deglaze. Karilyn had a grilled chicken sandwich with green pesto and mozzarella.
Both were on homemade bread and came with salads. The sandwiches were big, tender, juicy, and really hit the spot.
We hit the road again after lunch and found ourselves at Bedell Cellars. I really liked something they have called Cupola. It's a blend of 4 different red wines and is very good. It's a little expensive though so I left Bedell empty handed.
We were getting tired at this point. Drinking wine for half a day and then lunch on top of that really knocked me out, so I thought I was seeing things when I looked out the window and saw smoke.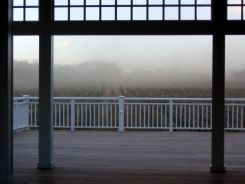 Everyone told me it was fog. Nope, I've been boating for far too long to get the two confused. It was smoke, I was sure. We got into the limo and pulled around to get a better view.
I couldn't see a burning building; it looked as if it was coming right off the field.
We concluded a farmer must be burning one of his fields. I don't know if fields are still burned these days, but that's what it looked like to me. I guess we'll never know.
With the excitement over we drove to our next destination, Corey Creek Vineyards.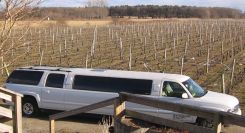 We parked behind the tasting room right in the vineyard and had time to examine the vines themselves.
On Long Island the wine grapes are grown on a wire trellis system which gives them the proper support and space to grow.
Each vine is pruned to just two branches, which are tied to the lowest wire of the trellis.
From each one of those branches one vertical shoot is allowed to stand. Those shoots will start the next season's growth. Each winter the pruning process is repeated.
We admired the vines until we couldn't take the cold any longer. Once inside we found the tasting room comfortably crowded. This was our last stop and we wanted to make the most of it.
We were very quiet and the look in Karilyn's eyes said more to me than a thousand words could. Each sip of wine was slow and contemplative. What a great day we had together. And what a wonderful memory we'll always have to share.
But our little Long Island wine tour wasn't over yet. We still had the ride home. Here's where one can really appreciate the fact that someone else is driving. Getting home is always the worst part of any trip, but not when you're riding in a limo.
We turned on the stereo, ate a small snack we had picked up at one of the wineries and just sank into each other on the soft leather seat.
As if on cue Scott rolled up the privacy screen. We had an hour ride ahead of us. We could have done anything we wanted in the back of that limo.
We didn't, but we could have…
Well, what a day! Priceless really. Someone picked us up at our house, brought us to five wineries, fed us and drove us home. And we came home with some goodies too—a case full of wine plus some bottles we passed along to Scott for his excellent efforts.
A Long Island wine tour is an excellent way to celebrate a birthday or anniversary, to seal the deal in a new relationship, or to just celebrate life.
We had no reason at all for this tour other than the nagging realization that life is short.
If you'd like your own Long Island wine tour, use the form below to contact Michael Weiss at LI Vineyard Tours, or call them directly. My experience with them was excellent and I feel confident recommending them here on Loving-Long-Island.com.
You will receive an automatic email confirmation message from me after you click the submit button. If you don't receive that message within 10 minutes or so it may be because you typed your email address incorrectly. (It happens to the best of us...please double check)
You will also see a thank-you screen after clicking submit. Please allow a few seconds for the thank you screen to appear and only click submit once.
Return to Long Island wine tasting