Oheka Castle
Huntington, Long Island
By Lisa Mancuso
Once upon a time, in a faraway land, high atop a hill stood a majestic castle…
This may sound like a fairy tale, but it's not – this is actually a true story about a real castle right here on the gorgeous North Shore of Long Island. The castle's name is Oheka.
You may have heard of it, Nick Jonas recently got married there and it's rumored that Yankee great Derek Jeter may be doing the same. And while, you too, can have a fairy tale wedding here, there is so much more to Oheka Castle.
It is a stunning Long Island site that is rich in history and its owner, real estate developer Gary Melius and his family, are only too happy to share their home with you. It is truly a unique place to visit on Long Island.
A Little Bit of History
Oheka Castle sits on top of a hill in Huntington that overlooks 23 acres of majestic gardens, a beautiful golf course and sweeping views of the Long Island Sound. It was originally built nearly 100 years ago by financier and philanthropist Otto Herman Kahn (Oheka is an acronym for Otto HErman KAhn).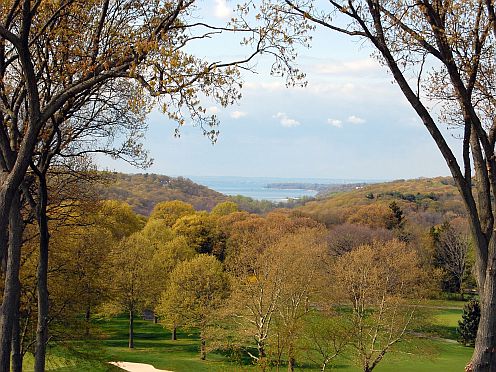 A view of Cold Spring Harbor from Oheka Castle.
He chose the highest point on Long Island to build the castle, which became his family's summer home. The estate covered a total of 443 acres and the castle, once completed in 1919, was 109,000 square feet and had 127 rooms. It was and still is the second largest private home in America.
Otto Kahn spent $11 million completing his castle. Certainly, a lot of money for then, even for now, but the Kahn family did enjoy their home for many years. During the 1920's, the Kahn's hosted numerous parties at Oheka, and royalty, heads of states and Hollywood stars were regular guests at the lavish events.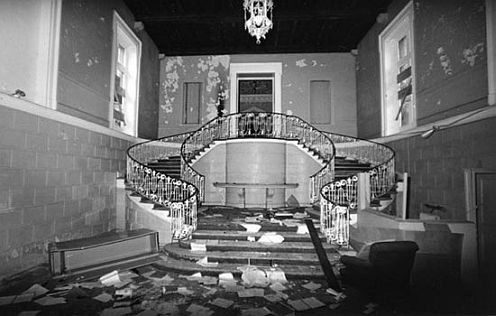 Before restoration. Compare to the way it looks now (below).
In 1934, Otto Kahn passed away and the estate changed hands many times. It was, among other things, a retreat for New York City sanitation workers, a government training school and a military academy.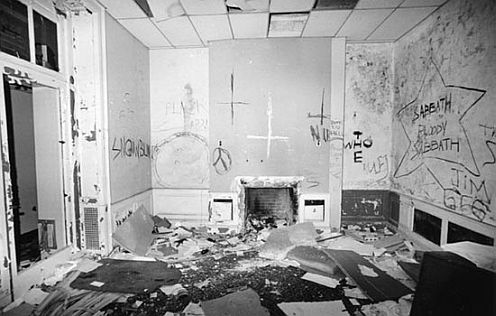 The vandals handiwork.
Over the years it fell into disarray and was often vandalized. (The castle even had a number of fires, but it never burned down to the ground because Otto Kahn, who lost priceless works of art in a fire in his previous residence, insisted on using fireproof materials in Oheka.) Then along came real estate developer Gary Melius who purchased the castle and land in 1984 and set about restoring it to its former glory.
Oheka Castle Today
Today, Oheka Castle boasts 32 beautiful rooms and suites and it rivals the most luxurious of European hotels, complete with fine dining, spa services, golf, tennis and more. Rooms and suites range in prices from $395 to over $1,000, although there are many packages and deals available. The hotel now has an agreement with Cold Spring Country Club and hotel guests have limited access to the golf course, tennis courts and country club. It is also part of the prestigious Small Luxury Hotels of the World.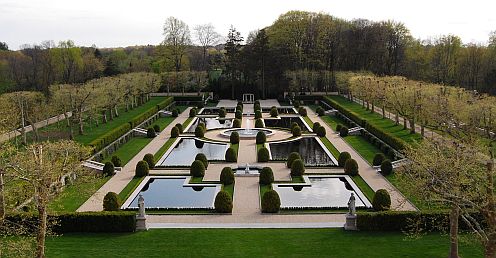 Just one small look at the beautiful gardens and grounds.
Fairy tale weddings and celebrations, catered affairs, executive and corporate events are a big part of what goes on at Oheka today. In addition, the castle and its beautiful gardens lends itself to regular photo and location shoots for film, television and magazines. The classic movie Citizen Kane was the first major motion picture filmed here, back when Otto Kahn was the owner.
More recent films shot here include What Happens in Vegas, The Emperor's Club and The Great Gatsby Documentary. Recent television programs filmed at the castle include Royal Pains, America's Castles, The Food Network and Weddings of a Lifetime.
A Tour of the Castle
If you can't swing the cost of a weekend stay at the castle, the next best thing is a tour. Today, the castle is open to tours by appointment and it's a great way to spend a few hours to see how the "other half" live. As part of my research for this article, I requested a tour of Oheka and was lucky enough to have Nancy Melius-Murton as my tour guide. Nancy is the marketing director at Oheka and she is one of Gary Melius' daughters. (Other family members work there as well and Gary, his wife and a younger daughter live in an apartment on the fourth floor of the castle.)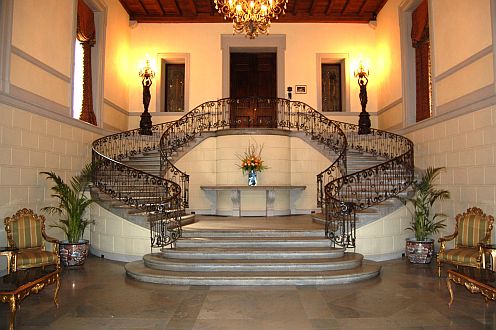 Beautifully restored staircase.
When you enter the castle, you stand before a grand limestone staircase whose handcrafted wrought iron railing took two months to complete, and you definitely feel like you stepped back into time.
As Nancy led me to the top of the stairs, we walked through the doors that led to the main hallway or foyer of the castle's second floor. It is on this floor that you find the large ballroom, library, dining and other rooms, all painstakingly restored to their original grandeur by Gary Melius.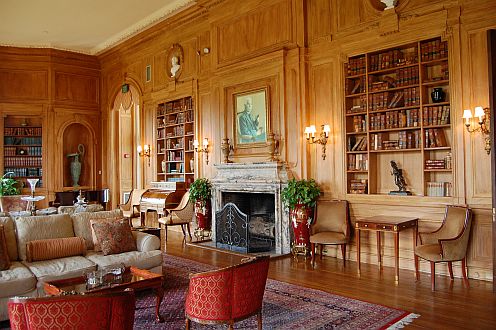 The library, with portrait of Otto Kahn and faux bois (false wood) walls.
Nancy led me first to the library, one of my favorite rooms in the castle. Although it is very large, the room feels cozy and inviting. Over the fireplace (just one of Oheka's 39 working fireplaces) hangs a portrait of Otto Kahn. The elegant and beautiful furnishings, both antiques and reproductions, all evoke the feel and elegance of a bygone era.
Although at first the library walls seem to be paneled, Nancy pointed out that they are in fact plaster, painted using a technique known as "faux bois," which gives the walls the look of wood paneling. This is original to the house, and was one of the techniques used in the home to keep it fireproof per Otto Kahn's direction.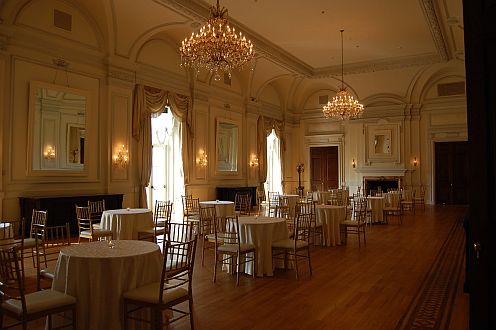 From the library, we moved on to the other rooms including the huge ballroom with floor to ceiling windows, where weddings and other events are held and the formal and smaller dining rooms, where hotel guests are served their meals.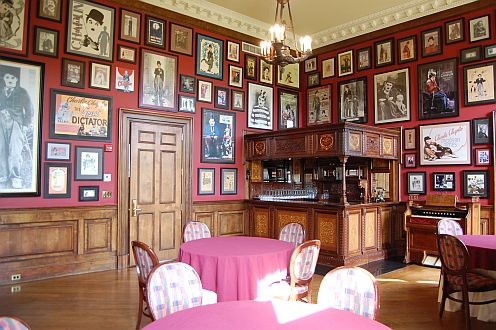 One unique room that stood out from the others is called the "Charlie Chaplain Room." As its name suggests, the room is dedicated to the silent-screen legend who was a personal friend of Otto Kahn's.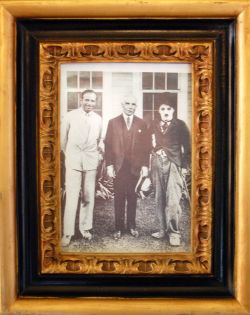 Hundreds of black and white photographs, including one with Otto, Charlie Chaplain and Douglas Fairbanks, Jr., another great film star of that era, fill the room, which also features a lovely antique bar.
Under construction is the newest Oheka Castle endeavor, a restaurant and bar that will soon be open to the public. (There are specially designated Restaurant Nights, usually held on the last Wednesday of every month, that are open to outside guests.)
Once we were done touring the main rooms of the castle, Nancy led me to the third and fourth floors, which house all of the hotel guest rooms. 
From the "smallest" room to the large and luxurious bridal suite, each room was unique and beautifully decorated with antique reproduction furniture. From king- and queen-sized four-poster beds to marble bathrooms with claw-foot tubs to terraces with sweeping views of the gardens, each room is luxurious and one-of-a-kind.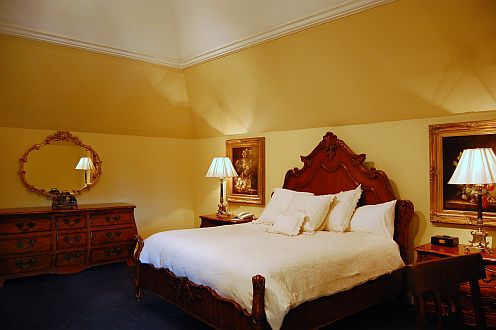 Our tour ended in the pastry kitchen, where we were met by Executive Pastry Chef Daniel Andreotti who welcomed us with freshly baked chocolate chip cookies (a selection of homemade cookies, along with coffee and tea is included in all tour packages) and a tour of his kitchen.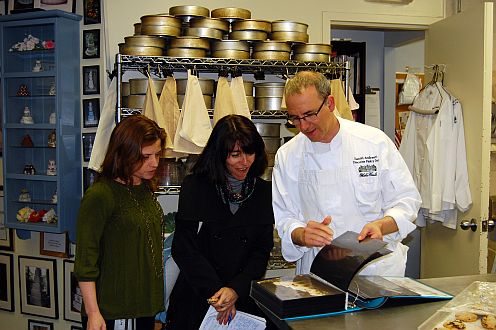 Nancy Melius-Murton, yours truly, and Executive Pastry Chef Daniel Andreotti.
I even got a peak at a lavish four-tier wedding cake he was creating for an upcoming wedding at the castle. It was the perfect way to end a wonderful tour of this very enchanting castle.
As I said in the beginning, although Oheka Castle is one of the grandest "homes" I've ever visited, it did indeed feel like I was doing just that, visiting someone's home. This, Nancy said, was her father's goal when he recreated Otto Kahn's original family estate.
For more information about Oheka Castle, including details about the Mansion Tours, Restaurant Nights, the hotel and events, visit the Oheka Castle website.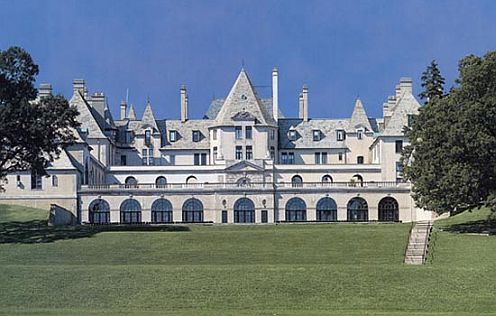 Oheka Castle front view.
Additional Information
In addition to her role as Oheka Castle's marketing director Nancy Melius-Murton created and runs HistoricLongIsland.com, a website devoted to Long Island's grand mansions.
Back to Cold Spring Harbor