The Barns of the North Fork
by Mary Ann Spencer
The Barns of the North Fork - The Quantuck Lane Press, September 2005, 9 7/8" x 9 7/8", $39.95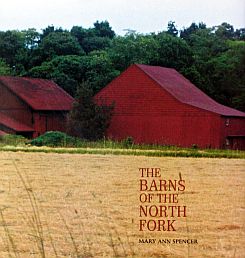 Do you remember a TV show called, The Modern Farmer? When I was a young boy I used to get up early on Saturday mornings to watch that show.
Harvesters, tractors, silos, milking machines and fields of wheat as far as the eye could see intrigued and delighted me. My love affair with all things agriculture, including barns had begun.
Long Island's barns have been disappearing steadily, falling to neglect or bulldozer or in some cases converted to non-agricultural uses. Some new barns are being built as Long Island's agricultural focus shifts towards grapes, but being the nostalgic kind of guy I am I hate to see the old barns go.
That's why I was so glad to hear about professional photographer Mary Ann Spencer's (below) quest to document these wonderful structures. As a former board member of the Society for the Preservation of Long Island Antiquities (SPLIA), and a lover of old barns, it's no surprise she conceived such a great idea.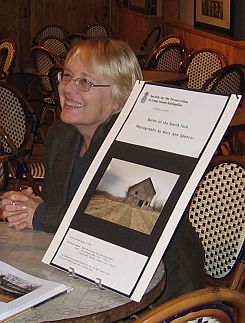 The project took several years to complete and was sponsored by Old House Society in Cutchogue, Long Island. The result of her efforts is The Barns of the North Fork, a collection of photographs beautifully documenting Long Island's north fork barns.
The first 140 or so pages of The Barns of the North Fork consist of Mary Ann's beautiful photographs, more than 150 in all, taken during the cold winter months when shrubs and trees are bare and don't obstruct the camera's view.
The remaining 20 pages comprise a complete list and description (including location) of all 734 barns documented in Mary Ann's survey.
The four page introduction is detailed and informative providing a brief history of barn construction and utilization, and agriculture on Long Island. In it Mary Ann explains she is originally from Wyoming and her love of barns stems from her childhood memories of sagebrush prairies and endless plains lightly dotted with farms.
So much was the attention to detail during the design of this book that in order not to obscure the back cover photograph even a little, the bar code is a removable sticky label rather than printed directly on the book.
The Barns of the North Fork is one of those rainy day books I love to read in my favorite chair with a hot cup of coffee. The pictures are beautiful and each one makes me wish I had a barn in my own backyard.
---
Back to Best Long Island Books