Grasso's Restaurant
Cold Spring Harbor, Long Island, NY
I love the unexpected and my experience at Grasso's restaurant was not only unanticipated, but beyond all expectation. The food and service were excellent, the music was brilliant, and owner, Gail Grasso was a doll.
Dinner wasn't foremost on my mind as I drove from my job in Hauppauge to Grasso's in Cold Spring Harbor. I was coming here primarily to see jazz organist Akiko Tsuruga and my only concern was how close to her I was going to sit.
Originally from Japan and now residing in New York City, this talented young musician is making a hit on the American jazz organ scene. As a fan of jazz organ the chance to see her perform locally was something I couldn't miss.
As for dinner, I didn't care about that at all. Until I heard the specials that is, but I'll get to that in a minute.
The first thing I noticed about Grasso's was the tasteful décor. No chrome or glass here, but solid wooden chairs, tables covered in white linen, and walls painted in warm, inviting colors that make you want to sit down and stay a while. A small candle and fresh rose on each table was a nice touch.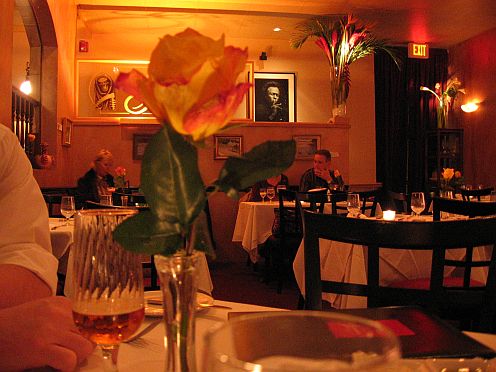 One of two dining rooms. The other is to the left and up a step.
At the bar I met Grasso's bartender, Doreen. As sweet as she is spunky Doreen kept my glass full and a smile on my face until my table (unreserved, by the way) was ready.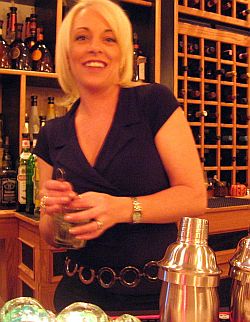 I enjoy eating at the bar so I never make reservations, but since I couldn't see Akiko from where I was sitting a table was in order.
An empty one just a few feet from the band was reserved for another party at 9pm, but the accommodating staff at Grasso's was more than happy to let me use it until then. Thank you very much!
Doreen also recited the specials from memory which is always a good sign, and that's when I suddenly became hungry.
An unusual fig appetizer immediately caught my attention as did the marinated skirt steak.
My tablemate was more intrigued by surf than turf and ordered the local blackfish.
The stuffed black mission figs with warm goat cheese, prosciutto di Parma, and baby arugula was outstanding. The supple fruit made a perfect container for the ultra soft and slightly tart goat cheese which balanced the fig's sweetness nicely. An unexpected beefy finish heightened my anticipation of the next dish: grilled skirt steak prepared with a chili pepper dry rub, and extra-virgin olive oil and cabernet marinade.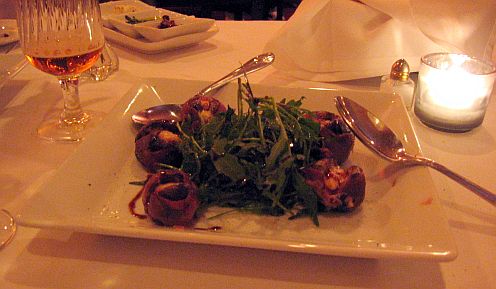 Stuffed black mission figs.
I'm a sucker for skirt steak. If it's on the menu, it might as well be the only thing on the menu. This one was grilled to perfection exactly how I ordered it—on the rare side of medium rare—and served with mashed potatoes, broccoli and an extra-virgin olive oil garlic basil dipping sauce.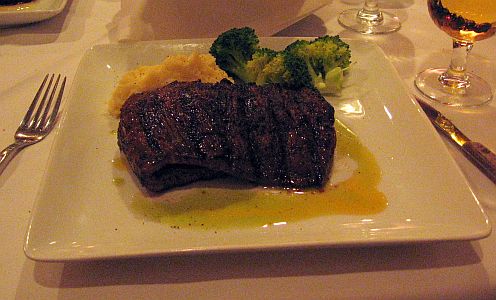 My butter soft skirt steak.
Although somewhat understated, the marinade complemented the steak's natural flavors instead of overpowering them, and really came through between bites. The dipping sauce worked well adding flavor and a silky texture to the meat. As much as I liked the sauce, this juicy, tender steak stood very well on its own.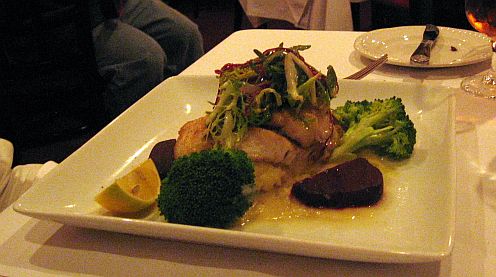 Excellent local blackfish.
My tablemate's blackfish was generously portioned, lightly crusted and cooked perfectly. Served on a bed of ultra smooth whipped potatoes so lightly seasoned the delicate flavor of the fish easily came through, and topped with mesclun sprinkled with a light vinaigrette. A wonderfully flavored puree of cauliflower glazed the plate. On the side were perfectly cooked, fresh young beets.
The broccoli on both of our plates was undercooked and under seasoned, the only flaw in these otherwise perfect entrées. An unremarkable, over caramelized crème brûlée also fell short of expectation.
Overall however, we were very impressed with the food, and the service we received throughout our meal was excellent.
The time had come to relinquish the table, so back to bar I went. There I met Grasso's endearing owner, Gail Grasso.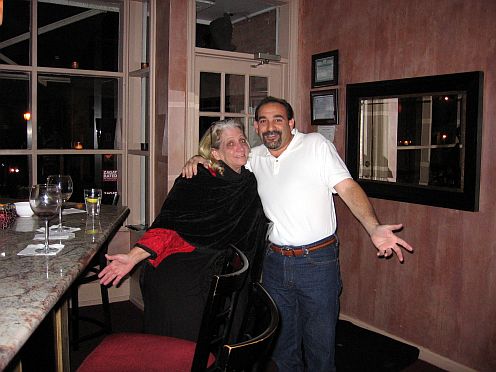 Gail and I just clowning around.
A life-long lover of the arts and former cable TV programming executive, Gail created American Movie Classics, and named Bravo. Her passion for the arts and music is evident at Grasso's with paintings for sale by local artists adorning the walls, and extraordinary jazz musicians playing here five nights a week.
Gail is also good company. We spent the rest of the night discussing music and Cold Spring Harbor, and listening to Akiko Tsuruga's wonderful jazz trio.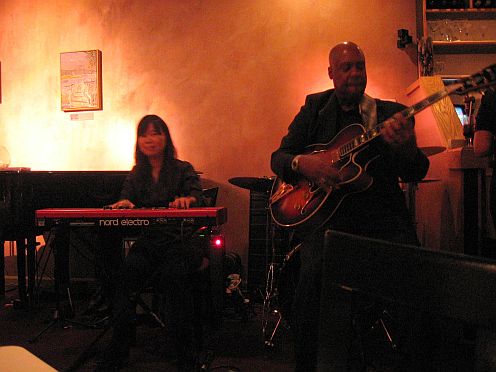 Akiko Tsuruga with Eric Johnson, guitar and Vince Ector, drums (hidden behind Eric).
I really had a great time here. The experience was as good as the food and I am really looking forward to my next visit.
Update...
About a year after I originally wrote this review I went to Cold Spring Harbor for the town's Christmas celebration. After shopping and sightseeing all day in the bitter cold I ended up at Grasso's and had dinner.
I was chilled to the bone, so I started with a hearty white bean soup. I followed that with the excellent boneless short ribs (great comfort food for me) as recommended by bartender Sandy, and I finished up with a delicious bread pudding and some cappuccino.
Not surprisingly everything was wonderful--even the company of other customers sitting at the bar.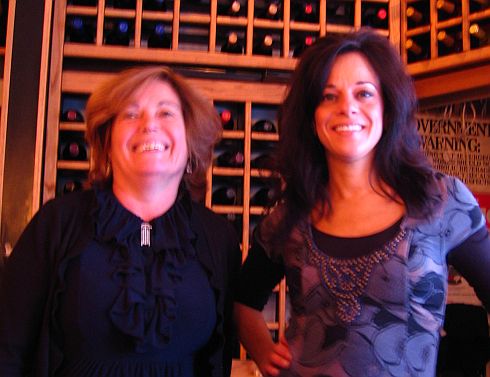 Mary and Sandy: Two great personalities at Grasso's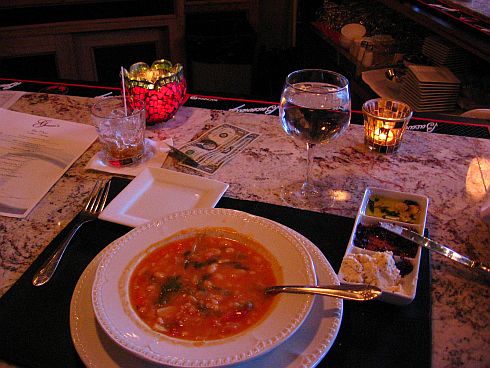 A hearty bowl of Grasso's Tuscan white bean soup really hit the spot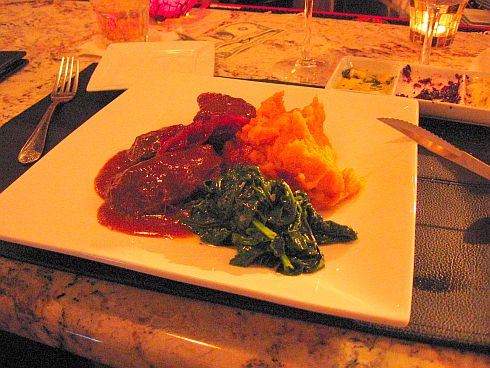 Boneless short ribs with spinach sweet potatoes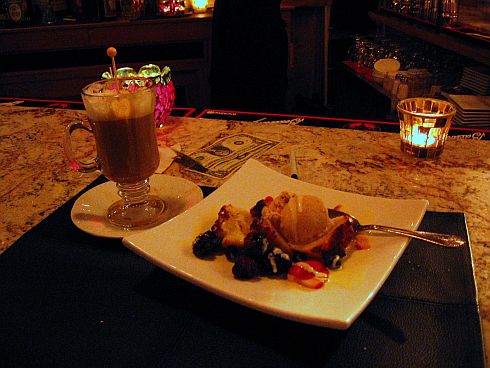 Hot bread pudding and a scoop of ice cream with a cup of cappuccino
After I finished my soup, ribs and desert I was toasty warm and ready to brave the elements again. And a good thing too, because my car broke down on the way home and I spent a good hour fixing it in the freezing cold.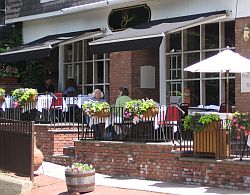 Grasso's Restaurant - New American cuisine with Italian specialties. Live jazz Wednesday through Sunday. Accommodating staff and great service.
134 Main Street
Cold Spring Harbor, NY
631-367-6060
See #5 on Cold Spring Harbor map
Return to Long Island Restaurants