Summers on Fire Island
by Gracia C. Harper
(Leesburg, VA)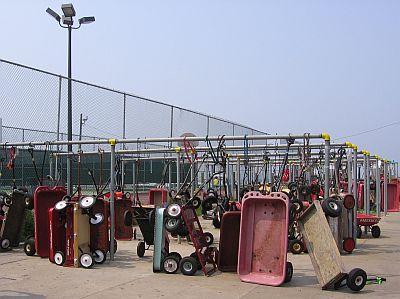 Fire Island's famous red wagons
The first time my family went to Fire Island we rented a house in Ocean Beach on Wilmot Street for two weeks.

This was in 1943. They liked it so much they decided to buy a "cottage" named Chatter Box on Cottage Walk. I spent many fun-filled summers there, meeting the ferry boats on Fridays with my wagon yelling "wagon Mr." hoping to earn 25cents for taking the person to their summer cottage for the weekend.

No autos on Fire Island, so it was completely safe and care-free fun. If the ocean was too rough we would head for the bay. I learned to swim and dive in the bay. They used to have a big contest on the beach in August with all sorts of races and prizes to be given out. Absolutely loved fishing in the bay with a drop line, crabbing along the docks with a net and clamming in the bay...

Wonderful memories of a wonderful place!!!!
Join in and write your own page! It's easy to do. How? Simply click here to return to Your Fire Island Story New.
Fire Island Memories
by Kevin Graf
(New Port Richey FL)
My Father Henry Graf use to take us all to the Fire Island Beaches you name it we were there. From Zacks Bay to Tianna Bay and later on in life my life would be on the Great South Bay going to and from the Fire Island Seashore.

All the great people we met came to the Beaches on the weekends. You had to leave on Friday at about 3pm to get a spot in any marina, you would leave Sunday at just about sunset to get home a little past dark.

As I tell people my backyard was the entire coast line. You were always less then a half hour away from anyplace on Fire Island. Boating at Atlantique, Watch Hill, Sunken Forest, Davis Park, yes even Cherry Grove. How as a child you can not forget memories like this. In the olden days, as parents would say, it was a much easier calmer life style as now today.

As time passes on I notice the small changes, it did not have as much then as now. Simple was easier. The days of flip tops are gone but not forgotten.

Boats traveled on in the past, Sea Cure - Po Pokey - Grafhopper. Thanks to all who read this add your Boats name we might have heard it in the past and would just like to think of times past.
Join in and write your own page! It's easy to do. How? Simply click here to return to Your Fire Island Story New.
A Deer Ate My Pretzels!
by Tim Little
(Hudson, FL)
I reside in the Tampa bay area of Florida, but I grew up on Long Island's south shore in Patchogue. I spent many days of my childhood summers taking the Davis park ferry over to explore Fire Island.

The wildlife always thrilled me, particularly the deer. Last summer I took my own children to Davis Park during a visit to see family in Patchogue. I was dozing on the beach and awoke to find myself surrounded by people with cameras. I was about to ask them what they were doing, when I noticed a rather large deer next to me munching on my pretzels.

He was less than shy and took some convincing before he moved along. The people told me they had been watching him help himself for several minutes while I dozed 2 feet away. You would be hard pressed to have such an encounter at any other beach I can think of.

It's little things like this that makes Long Island, and particularly Fire Island special to me.

Click here to read or post comments
Join in and write your own page! It's easy to do. How? Simply click here to return to Your Fire Island Story New.