Kismet
(Fire Island, Long Island, NY)
Kismet is one of my favorite towns on Fire Island. It's small, easy to get to, and has a good mix of singles, couples and families. This is where I go when I want to relax, but still enjoy a little night life.
As the westernmost town on Fire Island, Kismet is easily accessible from Robert Moses State Park and the Fire Island Lighthouse.
This makes it the perfect place to visit if you want a taste of Fire Island without the expense of riding the ferry.
You can also get to here by boat. Docking is available at the 40 slip Kismet Inn marina (first come, first serve) or you can anchor out and wade to shore like I do.
The $40 daily and $100 overnight marina fees are fully redeemable at the restaurant, just ask the dock master for a voucher.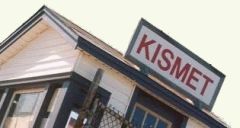 The town center overlooking the bay hosts two restaurants, a pizzeria and a small grocery store with ATM—all within feet of each other.
There are benches around the flagpole and along the grocery store wall so you can rest your tired feet or sip your favorite drink at sunset.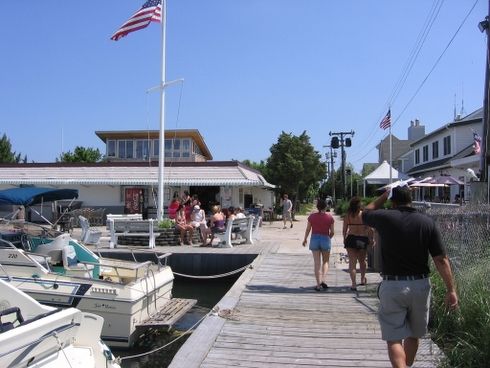 The heart of town. Grocery on the left. The Inn to the right.
Dining here is a breeze. The two restaurants, The Inn and The Out are right next to each other, their menus are conveniently posted outside, and both have outdoor dining areas.
Update: The Out is now Surf's Out. After more than 30 years of service The Out was sold and, after complete renovations, has re-opened as Surf's Out.
The Kismet Inn serves breakfast, lunch and dinner while Surf's Out serves lunch and dinner only. Both restaurants have bars and Surf's Out features a DJ, live music and sushi.
Waterfront feasting is expensive so be prepared to spend a few bucks. This soft shell crab sandwich with fries and coke cost me about $14.
The food is good, but what you're really paying for is the ambiance. (By the way, a Fire Island minute is a lot longer than a New York minute, so don't expect fast service. You're here to relax, remember?)
The beach is family oriented and well protected by lifeguards. Crowds are rare here so you won't have to rush to find a good spot for your blanket.
If you're the adventurous type a 7 minute walk west gets you to the nude beach at Robert Moses State Park.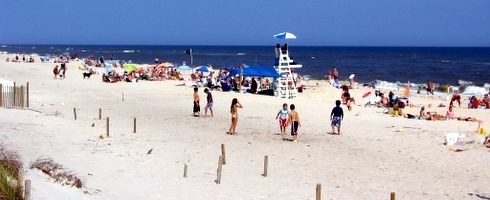 There are no public bathing or bathroom facilities here, so for that stuff you're on your own.
If you like tennis there are a couple of public courts right behind The Out. Next to the courts is a children's playground, so the kids can play when you play.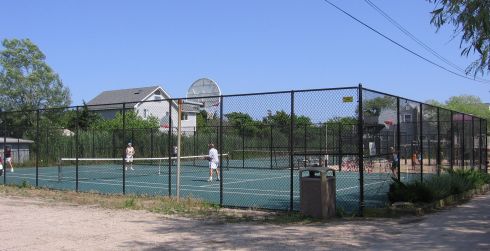 Tennis courts with children's playground.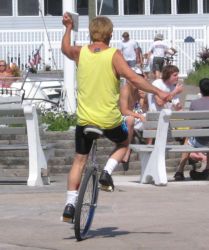 I was almost run over by this guy on the unicycle. I have to give him credit though for avoiding me (he almost fell and then made an amazing recovery) and doing such an excellent job navigating Kismet's bumpy roads.
Getting Here
From the east end of Robert Moses Field 5 just follow the signs to the Fire Island Lighthouse. When you get to the lighthouse keep walking about 1 mile east and you'll end up in Kismet.
If you don't feel like driving and then walking take the Fire Island ferry.
Kismet Inn & Marina
631-583-5592
Surf's Out Restaurant
631-583-7400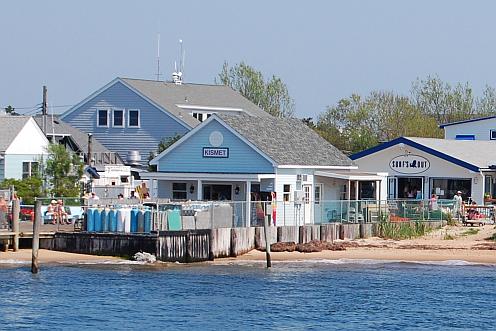 The pizza shack on the ferry dock, and just behind that is Surf's Out
---