Fire Island Ferry Information
for Fire Island, Long Island, NY
Even though I have my own boat, the Fire Island ferry is my favorite way to get to Fire Island.
Sometimes it's just more convenient to let someone else do the driving and since I'm not busy with piloting and navigation, I can enjoy the company of my friends that much more.
A midweek trip to my favorite Fire Island restaurant involves a ferry ride for sure and the Fire Island ferry is a great way to take someone to Fire Island on a date.
The ride can be exhilarating and romantic. I love riding the top deck with the hot breeze blowing through my hair. At night, if you time your trip the right way, you can watch a romantic moonrise over the Great South Bay.
The Fire Island ferry boats are small, comfortable vessels that make the trip to Fire Island in about 20 - 30 minutes. Since there are no cars on Fire Island these ferries carry passengers only. Many of the boats are double-decker with the top level completely open to the outside.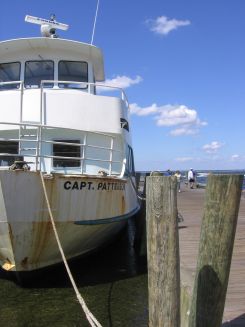 There are some advantages to riding on the top deck and most people head right for the stairs on boarding.
I recommend you do the same. For one, you'll avoid the resonant drone of the engines and you'll get a nice view of the Great South Bay and Fire Island.
Since the Great South Bay is only about 4 miles wide and is sheltered between Long Island and Fire Island it stays fairly calm.
The short ride on a relatively flat bay means a ride on a Fire Island Ferry is comfortable and seasickness is never a problem.
Fire Island ferry boats are safe, reliable, comfortable and a lot of fun. They are also inexpensive with fares running about $8.00 one way for adults.
Deciding which Fire Island Ferry to ride
---
Your choice of ferry companies is dictated by the town you want to visit.
Towns on the western end of Fire Island are the most populated and generally the most popular, while Fire Island's middle and eastern ends are more natural.
In all there are three ferry services providing transportation from the south shore of Long Island to Fire Island.
The links above provide detailed information about each ferry company, including destinations and fares.
[Top]
Getting to the Ferries
---
From New York City
By Train - Take a train from Penn Station to the station nearest the ferry you want to ride, then take a cab to the ferry terminal. It's that simple.
When the ferries are running, there are always cabs or shuttles waiting at the train station for Fire Island fares. If you want to be sure there's a cab waiting, call ahead (see table below).
It couldn't be easier--catch a train, get in a cab, get on the ferry.
By Cab - If you want to avoid the train completely Tommy's Taxi / David Bros. offers service directly to the Bay Shore ferry terminal from several points in Manhattan. Call them or visit their website for more information.
Ferry, Train & Taxi Information
Ferry Company
Train Station
Taxi Company
Fire Island Ferries, Inc.
Bay Shore
David Bros. (Tommy's Taxi) 631-665-4384 / 665-0191
Sayville Ferry Service, Inc.
Sayville
Colonial Transportation
631-589-3500
Davis Park Ferry Company
Patchogue
Ferry terminal is walking distance from the train station. Or:
Lindy's Taxi: 631-654-5599
McRides Taxi: 631-475-6213
From Long Island
Most Long Islanders drive to the ferry. You could take a train if you wanted, but chances are you live close enough to drive.
There are parking areas at the Fire Island ferry companies, but they tend to fill up fast especially on weekends. To avoid having to park a block away or on the street try to arrive well ahead of time.
Getting there early does not guarantee you'll find a place to park, but it does leave you enough time to catch your boat in case you do end up wasting time looking for a space.
To avoid parking issues altogether, some Long Islanders will park at the train station and then use a cab.
[Top]
Riding the Ferry
---
Waiting... Before you can ride the ferry you have to wait for the ferry, and you have two simple options here:
Sit on a bench and wait. Or, if you're at the Bay Shore ferry terminal, pull up a stool at Nicky's Clam Bar. I highly recommend the latter.
Nicky's is small (almost a shack) and nothing fancy, but it's almost a ritual for me. It gets me in the Fire Island mood and I consider my stop there the official start of my Fire Island excursion.
Depending on how much time I have I'll either have a beer or a beer and some clam chowder. I never miss it.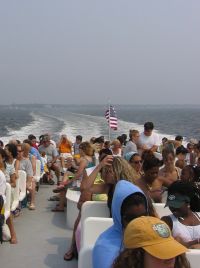 All Aboard! On a nice summer day you definitely don't want to be stuck inside the ferry cabin so, when it's time to board the ferry make a B-line for the stairs and get on the top deck.
Left: Heading for Sunken Forest / Sailor's Haven from Sayville.
You'll be racing everyone for a spot on top and that's kinda fun once you get used to the idea.
Sometimes you win. Yeah!
Sometimes you don't. Darn...
But it's a short ride, so if you are stuck inside it's no big deal.
Baggage... Each ferry company has a few restrictions on what you can bring on board, but basically it's:
No bikes
Nothing really huge
No smoking
No alcoholic beverages
Dogs must be leashed at all times and ride at the child rate.
See the individual ferry company websites for the details.
Cast Off! You've left the mainland and now it's time to so sit back and relax. If you have a camera take pictures. If you have a significant other, give him/her a kiss. If you have kids, give 'em a hug.
You're on vacation now. Whatever's bugging you, let it go...
[Top]
The Fire Island Ferry Companies
---
Fire Island Ferries, Inc. (a.k.a. The Bay Shore Ferry)
Fire Island Ferries, Inc. provides year round Fire Island ferry service from the Maple Street dock in Bay Shore to the western end of Fire Island.
They also run the Fire Island Water Taxi.
Fire Island landings from west to east:
Fire Island Ferries, Inc.
99 Maple Avenue
Bay Shore, NY 11706
631-665-3600
[Top]
---
Sayville Ferry Service, Inc.
Sayville Ferry Service, Inc. operates Fire Island ferries from docks at the end of River Road in Sayville, NY.
Landings from west to east:
Sayville Ferry Service, Inc.
41 River Road
Sayville, NY 11782-0626
631-589-0810

[Top]
---
Davis Park Ferry Co.
Davis Park Ferry Co. provides Fire Island ferry service from Patchogue to:
Davis Park Ferry Co.
P.O. Box 998
Patchogue, NY 11772
Phone: (631) 475-1665
Fax: (631) 289-2185
[Top]
Fire Island Ferry FAQ
---
Are cars allowed on the ferry?
Nope. There's really no need for a car on Fire Island. That's part of the allure--you can walk anywhere. Or, if you have to go a distance, the water taxi (631-665-8885) is always an option.
Where do I park my car?
There's parking at the ferry terminals, but the lots fill up fast especially on weekends. You have to get there early if you want a spot at the Fire Island ferry terminal. Otherwise you'll have to park on the street, which is never a good idea.
I missed the last ferry home, now what?
You're very lucky--you get to enjoy Fire Island for one more day. Just kidding...
Call the Fire Island ferry company you came in on immediately. If they can't help you, call the water taxi (631-665-8885). It's going to be expensive though, $100 or more for a taxi ride across the bay.
Your other options are asking around for location of the nearest hotel, or begging someone to put you up for the night.
If you can't get a ride and it is imperative that you return to the mainland, call the police in Ocean Beach (631-583-5866) and see if they can help.
Can I reserve a seat on the ferry?
Sorry. First come, first serve.
Can I get something to eat or drink on board?
Nope. It's only a 20-30 minute ride.
Will my cellphone work?
Yep. Cellphone coverage is excellent on the Great South Bay and on most of Fire Island.
Do the ferries run in bad weather?
Yes, mostly. As long as there's no danger to passengers, crew or the boat. If in doubt, check with the Fire Island ferry company you intend to ride.
[Top]
---
Back to Fire Island