Rocco Abbondola
(Rocky the Dancer)
Rocky, also known as Rocky the Dancer or Rocky the Flying Squirrel Man, is something of a Long Island celebrity.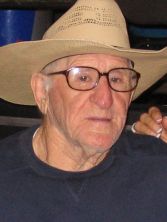 I first met Rocky at the Nautical Mile in Freeport. He just came on to the dance floor and started dancing with my girlfriend.
Okay, I wasn't going to stop an 80-something year old man from having a little fun and after a while I noticed there was something special about Rocky.
He was so full of energy he could dance the pants off of anyone on the floor. I mean this guy could really dance...like a pro.
And he was a charmer too with his outgoing personality and great sense of humor.
As it turns out, Rocky is a pro. He's been dancing almost non-stop since he was 4 years and used to drum in the All Boy Trio. The man is a born entertainer.
At one point during the night Rocky handed me an overly photocopied sheet of paper with a short interview by Phil Gelfer of the country band, Six Gun. I have transcribed it below.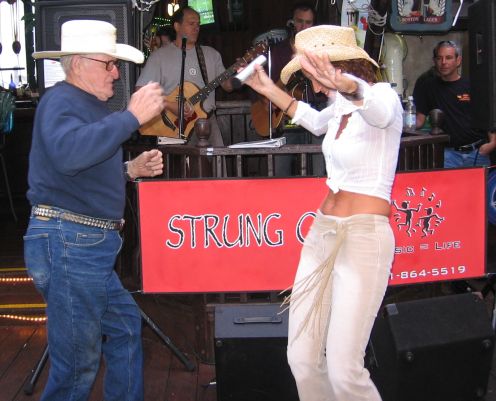 Rocky burning up the dance floor with Suzin of Strung Out.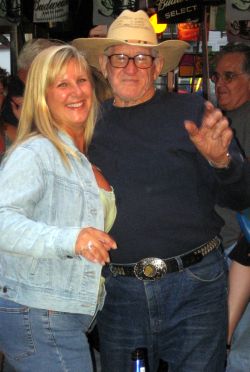 These pictures were taken at Otto's Sea Grill in September, 2006.
Karilyn and I had been bumming around the Nautical Mile, got thirsty and stopped in for a beer.
Suzin was trying to set up her equipment without bumping into me, but no matter where I stood I seemed to be in her way.
Left: Rocky making off with my girl.
The three of us hit it off and by the time Strung Out started playing we were having too much fun to leave.
Rocky showed up a little while later and was the icing on the cake.
It was a night to remember...
Karilyn, Rocky and Suzin cool off after along set.
On that same sheet of paper there is a listing of some of the stars Rocky has performed with--Chubby Checker, Johnny Maestro, Lenny Cocco and Earl Lewis to name a few.
This interview appeared in the Chelsea Street Jukebox Review in 2001:
Rocco Abbondola, born May 7, 1924, has been delighting area audiences with his dance routines for many years.
"Rocky" met up with the Six Gun Boys at an outdoor concert and it has been a nonstop rise to popularity ever since.
The following is an edited interview by Phil Gelfer.
Phil: Rocky, when did you first dance?
Rocky: I first started dancing when I was knee high to a kitchen table. I guess I was about 4 or 5 years old, My Father's friends would give me nickels,and dimes when they'd come to the house--that was a lot of money in those days.
Phil: So, you have been entertaining most of your life?
Rocky: Yes, I used to play the drums in the "All Boy Trio" in 1943.
Phil: I don't think I've heard of them, did you gig much?
Rocky: We played USO shows while I was in the army. I had to give up the drums when I got married, but thank God the rhythm never left my body.
Phil: When did you first hit the dance floor Rock?
Rocky: In the 1970s I used to dance with Skip Pinto and Jack Manning. They had a lounge act and that's when I started doing my New York, New York routine.
Phil: Rocky, you've been seen dancing in a lot of clubs, with many area bands.
Rocky: Yes; I've gotten to meet a lot of people from dancing and now people ask for me wherever I go.
Phil: So Rocky, how did you hook up with Six Gun?
Rocky: Six Gun brought me out of my house after many years. I missed dancing for people and it just made me feel so alive and helped take me back out to the people.
Phil: Do you have anything you would like to say to your fans and friends?
Rocky: Yes, I thank God for my health and my good friends. God Bless everyone!
Rocky, who is now retired has four daughters and 5 grandchildren.*
He resides in North Bellmore with his lovely wife. Most nights you'll find him tapping his way into your heart as Rocky, the Flying Squirrel Man.
---
Editor's Note: We've known Rocky, as Rocky The Dancer, for about as many years as we are publishing this magazine. He was one of our earliest readers and is the nicest and most fun loving characters that you'll ever meet.
We can all take a lesson from Rocky, Get out there and just have fun!
*Rocky notes that his wife in is Heaven and his children are grown and married.
I can only hope to have his energy and demeanor when I reach that stage of life.
Here's to you, Rocky!
Additional Information
The Nautical Mile in Freeport is one of the biggest party places on Long Island.
You'll hear live music from one end to the other coming from many of the nearly 2 dozen bars and restaurants on the mile, and although the casino boats are gone now there are still plenty of cruises and charter fishing boats. And, with 3 excellent fish markets the Nautical mile is also a great place to buy fish.