Nautical Mile Casino Boats
Freeport, Long Island
On the Nautical Mile casino boats were a popular pastime for a large number of people. The convenient location made them an excellent alternative to the traditional gambling locations in Las Vegas, Atlantic City, and Foxwoods/Mohegan Sun in CT.
Unfortunately, the businesses providing this service have closed up and the boats no longer operate.
Gambling on the Nautical Mile started back in 1998 right around the time Freeport begin reconstruction on Woodcleft Avenue.
At that time the town was divided on the idea of gambling in Freeport, but the casino boats brought a welcome increase in revenue to the surrounding businesses and operated successfully through the summer of 2011.
In August, 2011 the last operator shut down after it was sold.
In spite of being the only gambling option on Long Island the Nautical Mile casino boats have had a very shaky history. I'm kind of amazed that in over a decade's time these businesses have not been able to get their act together and thrive. Especially given the relatively high profit margins (upwards of 18%) that casinos typically enjoy.
The recession might have had something to do with the failure of these businesses, but after so many years in business you'd think that a casino boat would be equipped to weather any storm, economic or otherwise.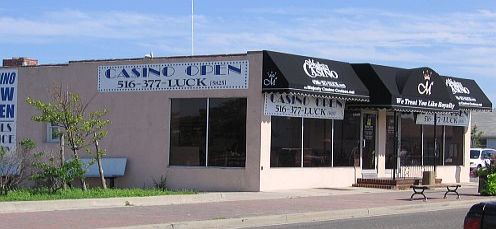 Majesty Casino on The Nautical Mile during its heyday.
At one time there were 2 casino boats operating simultaneously on the Nautical Mile, one run by Freeport Casino Cruises and another run by Majesty Casino. Freeport Casino Cruises closed up leaving Majesty Casino a monopoly on the Nautical Mile gambling boat business. In spite of their monopoly position Majesty Casino eventually closed and was replaced by Opus Casino Cruise Lines which was sold and then closed in 2011 after only 1 year of operation.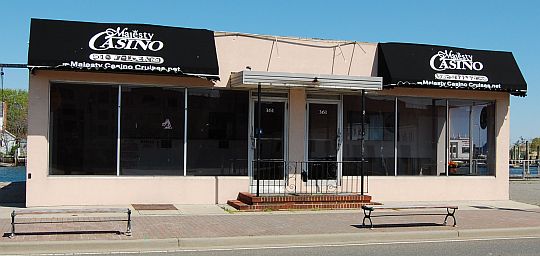 Now abandoned and in a state of complete disrepair. 
All of the Nautical Mile casino boats followed a similar pattern of operation. Pay $35-$50 for a ticket, board the boat, cruise for 40 minutes or so while enjoying food, drinks, music and dancing then, once past the 3 mile limit, the tables open for gambling. 5 to 7 hours later the boat returns to port. The typical offerings were: Slots, blackjack, Three-card poker, Texas Hold 'Em, craps, roulette, bingo, mini-baccarat, etc...
All of the reviews I read over the past 5 years or so indicate that the Nautical Mile casino boats all started off offering a quality experience which gradually degraded over time. Customers became more and more unhappy until finally each company closed up. Interestingly, none of the complaints I heard were about the gambling experience or the staff. In fact, many people said that in spite of the overall bad experience the casino staff and crew of the boat were very nice.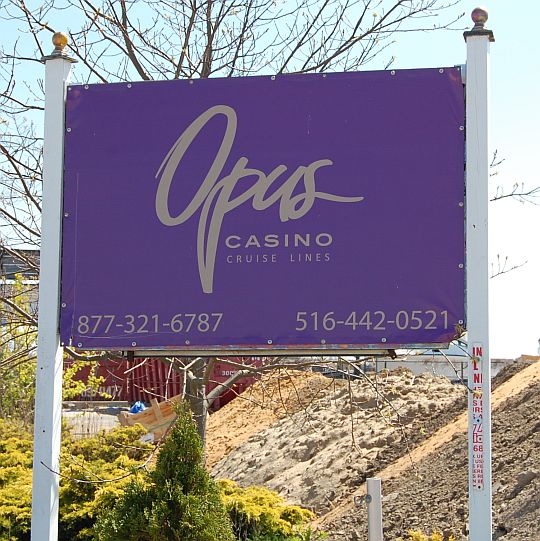 All that's left of Opus is this sign in a parking lot.
Regarding Opus for example, in 2010 reviewers on Yelp and Yahoo were saying that the food and service were very good. By summer of 2011 bad food was at the top of the list of complaints along with the boat smelled bad, the dance floor was too small, the music was bad, it was way too cold on board, etc...
One reviewer said that only hard core gamblers should take this cruise because there is virtually nothing else to do on board-that is to say don't expect the typical casino experience on one of these boats. The only thing to do for the duration of the trip is gamble and if your significant other is not into that s/he's going to be bored. For a company to go from great to dismal in one year suggests that they were doomed from the beginning and losing money from the start.

The Majesty. In better times this boat sailed 7 days a week..
The boats themselves were pretty nice looking vessels about 200 feet long that held roughly 500 passengers on multiple levels. Freeport Casino Cruises ran the Midnight Gambler II, Majesty Casino ran a boat called the Majesty, and Opus ran The Escapade.
They're all gone now and there's a big empty space on Woodcleft Canal where the Nautical Mile casino boats used to dock.
Additional Information
Here's a review of Opus Casino Cruise Lines back when it first opened in 2010.
There's a lot of great things to do on the Nautical Mile. Check out the restaurants and bars, romantic cruises and charter fishing boats, and fish markets.