Long Island's Regional Cuisine

30+ years of Food, Wine, and Integrity on the North Fork with Chef John Ross and Louisa Hargrave
---

This class was presented by the Stony Brook University Center for Wine, Food, and Culture as part of a continuing series of events designed to "offer richly diverse experiences with the goal of enhancing knowledge, sensory awareness, health, and conviviality."

---
I've attended a few classes at the Stony Brook University Center for Wine, Food, and Culture and I have to say they've been a lot of fun, educational (I hate that word, so boring) and sometimes surprising.
Well, this class took the cake in terms of surprise. I'm not going to spill the beans just yet, so bear with me while I ramble a bit.
The speakers at this event were John Ross of Ross' Restaurant and Louisa Hargrave who, with her husband, Alex, founded the Long Island wine industry more than 30 years ago.
The event theme, Long Island's regional cuisine, is fascinating to me. As Long Islanders we have right here in our own backyards, a wine region, an agricultural region and a seafood industry. This provides us with some of the finest and freshest produce on the planet.
Of course, this has not gone unnoticed by our local chefs, as they continue to turn out ever increasing quantities of Long Island specific dishes.
John Ross is one of those chefs and through his restaurant, Ross' North Fork Restaraunt has played a significant role in defining the Long Island regional cuisine.
Although no longer in the restaurant business, John is still active in the Long Island culinary world and has just finished his first book, The Food and Wine of the North Fork.
Before the session started we had the chance to look through some scrap books filled with memories of Hargrave Vineyard and Ross's Restaurant.
On display along with the scrap books was an ancient bottle of Hargrave Vineyard 1980 cabernet sauvignon. Amazing.
The bottle and label were in perfect shape. I could only imagine what the wine in that bottle might taste like, if drinkable at all, after so much time.
This is the kind of thing I'd love to have in my collection--A bottle filled with Long Island history, tempting me to open it, but no, I could never.
After a short introduction John told us that drinking local wine makes your meal more pleasurable. He explained that each bottle of Long Island wine comes with a story.
You go to the vineyards. You talk to the owners and you learn about the wine. Not wine in a generic sense, but the wine you are tasting, holding in your hand, swirling in your mouth.
You know where it was made, how it was made and who made it. You bring it home and with dinner that night you are not only drinking something that tastes great, but has meaning as well.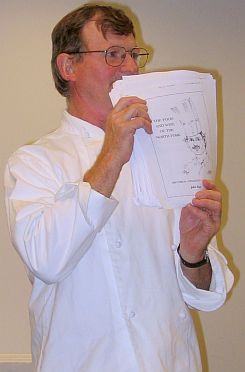 Speaking of stories, John is a great story teller. With 30 years in the business he has a lot to say and his easy manor and goofy, but from the heart laughter make him a pleasure to listen to. 
The first dish John had for us was green grape covered with goat cheese and rolled in chopped nuts--a wonderful appetizer.
We had this with a 2003 Fulkerson dry Riesling (Finger Lakes) and a 2004 Callaghan viognier riesling from Arizona.
Not exactly local, but an excellent contrast to the Fulkerson. It had more alcohol and I found it too strong for the grape appetizer.
I preferred the Fulkerson as it was much milder and did not overpower the delicate flavor of the cheese.
While we were eating grapes and tasting the wines, John told us a little about running his restaurant, how much time it took away from is family and how he sometimes still feels guilty about it.
He reminisced with Louisa as she had similar experiences while running her vineyard. Any business takes a lot of time. The food business is especially demanding, and starting the first vineyard on Long Island with all the unknown risks back then was just about insane.
The two of them playfully recalled the years they spent building their businesses in the same neck of the woods, but in essentially different worlds and how Long Islanders became more sophisticated culinary consumers along the way.
The next dish John had prepared for us was local striped bass, breaded, topped with sauerkraut and chopped apples, and a potato pancake on the side. Never in my wildest dreams would I have thought of serving sauerkraut with fish. (In my Sicilian family sauerkraut is just not that big.) But this was surprisingly good.
The sauerkraut was washed in riesling so it was much milder than I expected and did not overpower the fish. It was actually a good combination. And, the potato pancakes were outstanding.
This dish was paired with a 2003 steel aged chardonnay from Peconic Bay Winery and Peconic Bay's 2001 barrel aged chardonnay. My preference with or without food was the barrel aged wine. It was milder and did not bite my tongue like the steel aged wine did.
The restaurant business is, as John put it, "the riskiest business in the world," but there is another stress factor and that is the dedication required to run a restaurant successfully. John's Christmas story illustrates the point.
Late one Christmas Eve, not having had the time for Christmas shopping, John made a present for his son by filling a large globe with corks collected from his restaurant.
On Christmas morning his son had the disappointment of opening this large box, anticipating something special only to find, in effect, nothing. "What is it, Dad?" "It's a cork globe." Father and son laugh about it now, as we all did when he told the story, but at the time…
Before I could finish the fish out came a really nice vegetable ratatouille. Mostly corn with green peppers, zucchini and roasted Jack Be Little pumpkins (you eat the skin on these). It was excellent.
John takes credit for being the first to roast these pumpkins and told us how to do it at home. You simply put the whole pumpkin in the oven and bake at 350 for 10 – 12 minutes. Test it with a fork for tenderness and if you see the pumpkins starting to collapse, you left them in too long. The idea of roasting pumpkins is not completely foreign to me as I've roasted plenty of acorn squash (cut in half and filled with maple syrup) in my kitchen.
By this time we were all pretty comfortable, having had some wine to loosen us up, and John started telling us about a time when Walter Taylor of Taylor Wines came to visit his restaurant.
A long story made short: Before coming to Ross's Restaurant Walter hired a "girlfriend" in New York City. After dinner they walked back to Ross's house (with John following in his car at 2 mph) and proceeded to make out on the couch. This went on until John and his wife finally kicked them out.
We were still nursing our chardonnays when John passed around the almost forgotten goat cheese. Soft, white and very mild, this stuff melted in my mouth. I thought the barrel aged Peconic Bay chardonnay was the perfect match for this cheese.
Then came the duck (local of course) Wow, this was a treat. I love duck but it can be hard to find good duck in my neck of the woods. This was roasted to perfection, tender and juicy, with plums on the side—just wonderful.
We drank a 2001 merlot from Bedell Cellars and a 2002 cabernet sauvignon from Paumanok Vineyards. Both went well with the food, and as much as I don't like merlot (this has nothing to do with Sideways, I've never liked the stuff) I think it was a better match for the duck than the cabernet.
While we were savoring the duck I heard John and Louisa mutter something about opening the 1980 Hargrave cabernet.
My ears perked up in disbelief and I was practically beside myself. I couldn't believe they were actually going to open that bottle of Long Island history and let us taste it.
This was a surprise even to Louisa who didn't know John was bringing it.
Louisa did the honors…
The old cork groaned with every turn of the screw and the bottle took its first breath in 25 years with a satisfying, pop!
I don't know enough about wine to even begin to describe what I was seeing, smelling and tasting, so I won't.
But this Long Island vintage was not wasted on me. After reading Louisa's book, The Vineyard, I could taste and appreciate the hard work and the tears that went into that bottle 25 years ago.
The wine was quite drinkable and John and Louisa were impressed with the way it had held up over the years. Louisa figured it should have been "done for," but could probably last another 5 years before it became undrinkable.
This is testament to the quality of the wine and the importance of proper storage. A lesser wine would have died long ago and had John not stored it properly, even this wine could have suffered.
Sharing this old Long Island wine with the woman who made it was a truly remarkable experience for me, as was learning about Ross's Restaurant and the development of the Long Island regional cuisine over the past 30 years.
I give Chef John Ross and Louisa Hargrave high marks on this informative, very entertaining and absolutely delicious class...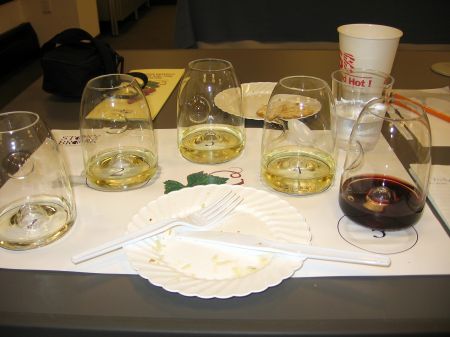 Top
Stony Brook University Center for Wine, Food, and Culture
Long Island wine tasting
Loving Long Island home page