Wolffer Estate
Long Island, NY
by Emily Monaco
Entering the tasting room for Wolffer Estate Vineyard on Long Island, I am immediately reminded of similar vineyards on the West Coast: where I expected to find a short bar and a few people pouring tastes for those interested in adding to their wine collections, the scene I had found at the nearby Channing Daughters Winery a few weeks before, what I stumble upon is first a gift shop, then a cashier's desk and finally a terrace where several groups of people are sitting at round tables overlooking the vineyards, sipping slowly on glasses of wine and sampling cheese platters.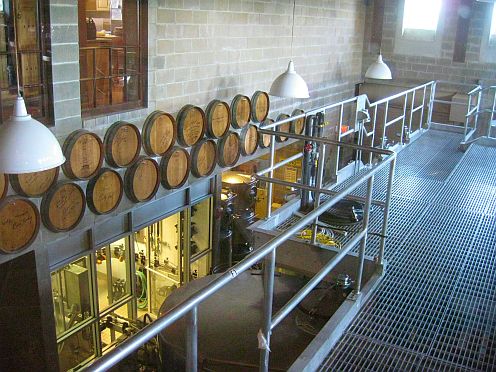 I introduce myself, and as I wait to be seated, I peer through the glass partition that overlooks the giant tankards of wine below. I'm glad to have brought a friend with me today, I realize, as we're escorted, restaurant-style, to the terrace and handed menus.
Everyone else seems to be treating the tasting as more of a social activity than an actual wine tasting, and I would have felt conspicuous sitting at one of the tables by myself. Instead, we peruse the selection of wine flights and look out over the vineyard, which I can only imagine would be an even more beautiful sight had the season been right for it; I make a note to myself to return in the fall. As it is, the neatly pruned vines stand in uniform lines, creating an excellent view and leaving me excited for what is to come.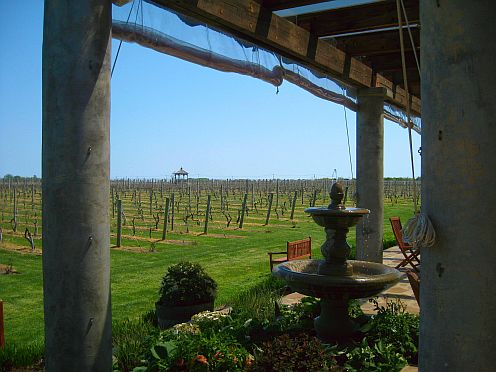 Wolffer Estate offers four wine flights ranging from 12 to 18 dollars for four glasses, most of them heavily featuring Chardonnay. As I've been scarred by overzealous oak one too many times, we select the 12 dollar "Premium" flight of four wines and wait for our first glass, a Classic White from 2009 made up of Riesling, Gewürztraminer and Chardonnay.
I've never been one for white wine, nearly always gravitating towards the lighter reds or rosés, but there's something about Long Island whites that I'm starting to soften to. This basic white is not terribly complex, but it's very drinkable—a good white to have a case of for summer meals outside, when you need something that will appeal to everyone.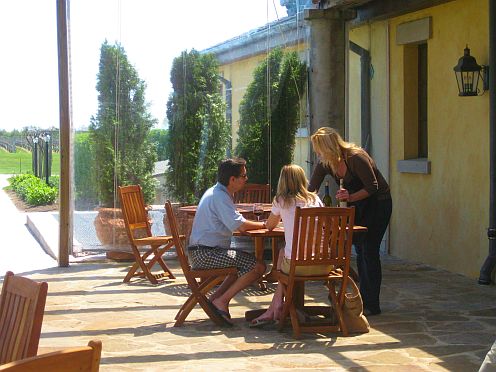 Our server appears at our table to pour our generous glasses and rattles off the information printed under the wine on the menu she's given us--she's got it down pat and has disappeared to another table before even taking a breath. We don't mind--Wolffer Estate had immediately struck me as the sort of vineyard where the drinker is left to fend for himself as he tastes, something that makes it easy for me to savor each sip and observe the other people on the terrace, some jotting down notes as they taste, but most of them savoring one or a couple of glasses and enjoying the atmosphere and the view.
It is with the next two wines, however, that this hands-off approach backfires: we notice right off the bat that the oaky Chardonnays we had been attempting to avoid have made an appearance--the second glass we're served is so overwhelmed by oak that we can hardly taste the grape. We learn later that this is the Wolffer Estate Perle Chardonnay (2007), the second wine on the Spring flight that the winery is offering for 14 dollars. The first red we are poured is also surprising: where we were supposed to be drinking a 2007 Merlot, we are instead graced with the 2006 Merliance—a combination of 100% Merlot grapes from different Long Island vineyards.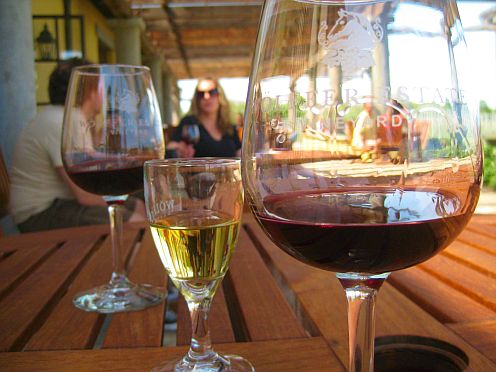 By the time the server arrives with what should have been the 2004 Estate Selection Merlot and instead pours a small glass of dessert Chardonnay, it's apparent that a mistake has been made, and we've been served three of the four wines from the Spring flight. Luckily, the server is more than happy to let us finish the flight we had originally selected, allowing us to taste the dessert wine anyway, which turns out to be my favorite: the 2007 Late Harvest Chardonnay was the 2009 winner for best dessert wine at the San Diego International Wine Competition, and it tastes like a cool glass of liquid honey with an afterbite of liquor and acid grape; the perfect summer dessert wine.
The reds are a bit unremarkable; nothing wrong with them, but nothing I would buy; I'd be more inclined to stock my collection with a few bottles of the Wolffer Estate Classic White. Instead, we ask for the bill, and I take one last look around the terrace as we ready ourselves to go: Wolffer Estate seems like the perfect place to bring someone new to wine tasting, someone who wanted to venture into the vineyard, not to purchase cases or join a wine club, but just to enjoy a sunny spring day out of doors with a glass (or four) of wine.
I'll remember it for friends who may not be as into wine as I am, and, of course, for the honey-wine I've purchased and carried out in its delicate, thin bottle--the big surprise of the day.
Additional Information
Wolffer Estate
139 Sagg Road
PO Box 9002
Sagaponack, NY 11962
631-537-5106
Return from Wolffer Estate to Vineyard Directory.
More about Long Island wine tasting
Take a tour of Long Island Wine Country