Ocean Beach Marina
(Fire Island, Long Island, NY)
So, you have a boat and want to go to Ocean Beach? This page shows you how to get here, where to dock your boat and how much it will cost.
I'm always surprised when a fellow boater asks me how to get here.
It's not that I expect boaters to automatically know where any particular place is.
But, this town is such a popular destination that I'm surprised to meet Long Islanders, south shore boaters especially, that have never been here.
So, I'd like to clear up the mystery once and for all...
So where is Ocean Beach? Look for the water tower.


Looking south from East Islip: Water tower left, church steeple right.
There's only one water tower on Fire Island and it's located on the border line between Ocean Beach and Seaview. Ocean Beach is on the west side, Seaview is on the east side. (From Long Island looking south towards Fire Island, Ocean Beach is to the right of the tower.)
Relative to Long Island Ocean Beach is due south of Hecksher State Park.
Tangent

---

Although I've sailed past Ocean Beach many times I've only docked my boat here once because of the expense. I usually get here by ferry or water taxi from another town. For me, with a sailboat, it's just easier that way.

Typically I'll sail to Sailor's Haven, Atlantique or Kismet then water taxi over to Ocean Beach. If it's a nice day/night maybe I'll hike instead.

If you're in Atlantique I highly recommend walking the mile or so east to Ocean Beach instead of using the water taxi. You can always use the water taxi on your return trip.

On a clear day as you look east (ocean on your right) you'll see 2 stone jetties in the distance. At high tide they're harder to spot but you'll see them as you get closer.


The stone jetties are the easiest way to spot Ocean Beach.

Walk towards the jetties. Once you reach them make a left and climb the stairs anywhere between them. You're now in the residential area.

Keep walking towards to bay until you reach the business district. This is where all the bars, restaurants, and shops are.

---
Once you get to Ocean Beach there are two ways to dock your boat:
At the Ocean Beach Marina
At a restaurant
If you plan on docking your boat at the Ocean Beach marina it's a good idea to call ahead to check slip availability. There are only 17 slips so empty ones can be scarce, but since people are always coming and going you may have a shot at getting one after just a short wait.
As for docking at one of the restaurants, I'm still researching that. The details will be posted here when I'm finished. (Please subscribe to the Loving-Long-Island.com RSS feed to stay informed. What is RSS?)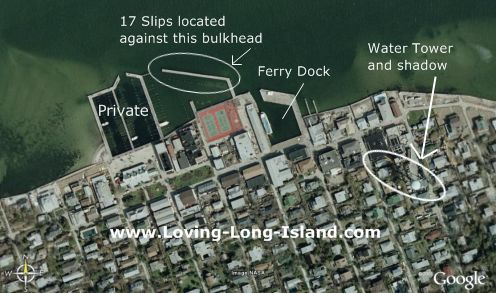 Aerial view of Ocean Beach showing ferry basin, marina and water tower. North is up.

Ocean Beach Marina entrance. Public slips on the left. Private docking on the right.
I asked about marina rates at the Ocean Beach dock master's office and they handed me a rate sheet which details the rates for the 2012 season. You can download the file here: Marina rates pdf file.
By the way, the Ocean Beach dockmaster does not monitor the VHF. The only way to reach her is by phone:
Ocean Beach marina dock master: 631-583-5153

Marina with water tower. Houser's Hotel on the left.
Important! You can't just steer your boat towards the water tower--you'll run aground.
Pick up a copy of NOAA chart #12352 at your local marine store, find Ocean Beach on page E, and get there safely.
Additional Information
Fire Island is a small place, but there are a lot of places to go and things to see. Here's more information about Fire Island.
Top
Return to Ocean Beach
Loving Long Island Home