Ice Fishing on Lake Bemidji
I Walked on Water
I spent a weekend ice fishing on Lake Bemidji, Minnesota; 90 short miles from the Canadian border; in the dead of winter, and I don't think I've ever experienced a warmer place.

We caught our fish in this, one of many ice shanties on Lake Bemidji.
What's warm?
When the local tourism director takes off her gloves to show you the right way to bait a hook.
When a couple of attractive hotel clerks spend their break sitting with you by the fire instead of texting their boyfriends.
When there's a box of dry mittens standing by in case yours get wet.
When a bartender pours 70 pints in a row with a smile on her face and a kind word to each and every customer.
And so on.
The generous people of Bemidji opened their hearts and hearths to us, a bunch of knuckle-headed out-of-towners on a group tour, and made us feel right at home.

We were on the "Ice Fishing in Bemidji" tour organized by my favorite radio show A Prairie Home Companion. Ice fishing and the cold Minnesota winters are mentioned often on the show and Garrison Keillor had the brilliant idea of organizing a trip so that people from other parts of the country could experience what they've only been hearing about for so long.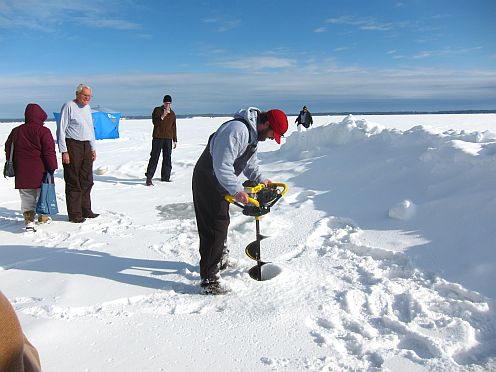 Local ice fishing expert Jason Rylander shows us how to drill holes with an ice auger.
I don't like to travel so I didn't exactly jump at the chance to make this trip, but I love the cold and I've wanted to try ice fishing ever since I saw the movie Grumpy Old Men. This opportunity was just too good to pass up and when would I ever get the chance again?
Reservations were made just before the trip sold out and now I was committed. And committed is what some people wanted to do to me when they found out I was going to Minnesota in February instead of someplace warm like Aruba. Sounds nice, but it's only going to feel colder on Long Island after visiting a place like that.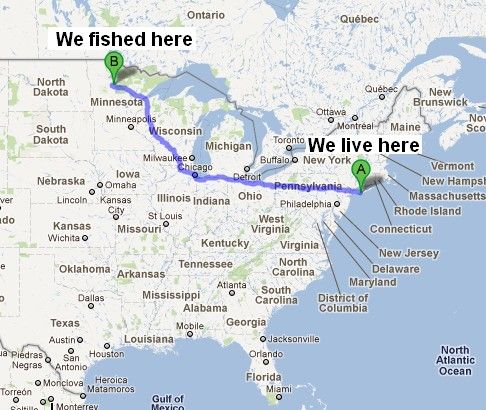 Long Island to Lake Bemidji is about a 1500 mile drive.
I'll take a cold, gray Minnesota winter any time, and it'll feel warmer on Long Island by comparison when I get back. How's that for making sense of the insane?
Oh, and in case you're wondering how I convinced my wife to go on an ice fishing trip, it was easy. First, she's the kind of person that sometimes enjoys roaming off the beaten path, and second, I avoid travel so much that she was grateful to go on any kind of trip with me. Plus, this trip was actually her idea. Not exactly a feather in my cap, but we had a great time, so it's all good.
The itinerary was perfect: Meet Garrison Keillor on Friday night for a bonfire singalong on the shore of Lake Bemidji, go ice fishing Saturday morning, see a live broadcast of Prairie Home Companion, and then have a walleye dinner at a local restaurant. Logger's breakfast and sleigh ride the following morning and return home Sunday night.
Friday
The cab picked us up at 6:30am for a 10:18am flight. Made it to the airport in less than an hour, flew through security, and boarded our plane without incident. We landed at the St. Paul-Minneapolis airport at 12:15pm local time, took a short cab ride to the Fitzgerald theater (where A Prairie Home Companion is usually broadcast from) and checked in with our tour guide. Once that was done we had well over an hour to kill before the bus's scheduled departure for Bemidji at 4pm.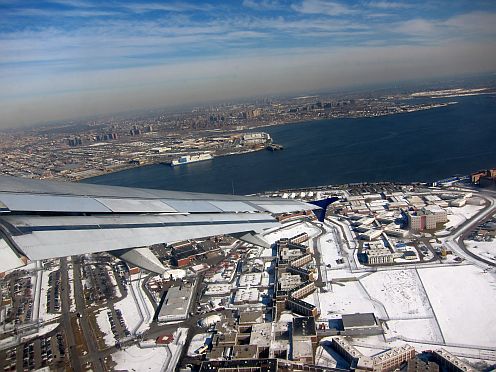 A smooth takeoff then banking over Rikers Island a minute and 10 seconds later.
We wandered the streets of St. Paul for only a few minutes before discovering Mickey's Dining Car. We knew nothing about this place before stepping inside, but were drawn in by the unique exterior. We almost didn't care what the food tasted like; it just looked like a really cool place.
Mickey's Diner has been open 24x7 and run by the same family since it opened over 70 years ago. I find that quite comforting in this age where things seem to come and go all too quickly. We sat at the bar directly in front of the cook and I've never seen food prepared so fast in my life. This guy had the New York minute beat by about 30 seconds, and the food was real good too.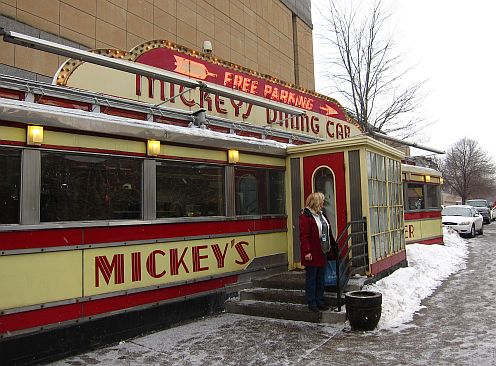 The food here is great.
I had a short stack of their homemade buttermilk pancakes and Karilyn had a grilled cheese & ham sandwich. The pancakes were almost the size of my plate, cooked perfectly, and tasted great. The grilled cheese sandwich was made with bread sliced almost as thick as the bar we were sitting at, and the single slice of ham could have passed for a thick slab of Canadian bacon. We took turns eating out of each other's plates.
In spite of how busy the cook was, he was polite as could be and so was our waitress. Mickey's is a must if you are in the area. I can't wait to go back.
Friday Night
After lunch at Mickey's it was time to return to the Fitzgerald Theater for our bus ride to Paul Bunyan Park on Lake Bemidji. I wasn't looking forward to 4 hours on a bus, but the buses were very comfortable and there was a lot to see out the windows until it got dark and then it was easy to nap.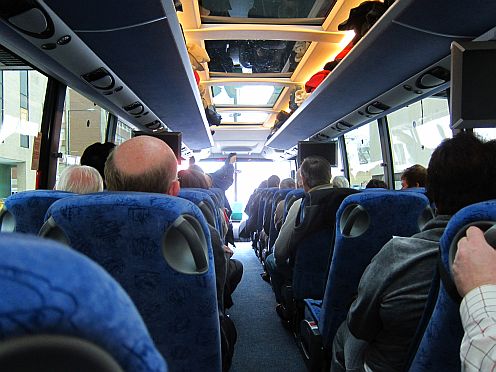 Not a bad ride at all and we were served a box dinner along the way.
At the park we met Garrison Keillor and made s'mores around a campfire. I popped a couple of marshmallows into my mouth right out of the bag and something just wasn't quite right. At first I thought they were bad (bad marshmallows?), but then I realized they were starting to freeze in the cold night air.
That's when it began to sink in that we weren't on Long Island anymore. This is Minnesota. This is cold.
It was really, really cool being here. In the dead of winter and in the dark, with nothing more than a fire for light and heat. Awesome only begins to describe how I felt that night.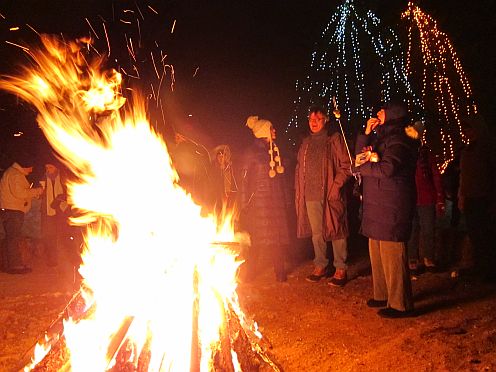 Garrison Kiellor and the rest of us enjoying s'mores and song.
The campfire kept us warm, and the groans and howls of people trying to sing along with Garrison kept us entertained. Allow me to brag a little--someone started singing "The Water is Wide" and then dropped out after the first verse leaving Karilyn and Garrison in a duet for the remaining 6 verses. Karilyn knew every verse and was complimented by Garrison on her singing.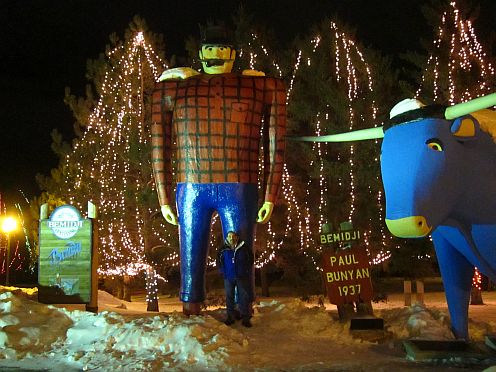 Look close and you'll see me standing in front of Paul's leg.
The statues of Paul Bunyan and his blue ox Babe in Paul Bunyan Park are the most photographed landmarks in Minnesota. These things are huge, so it's easy to see why.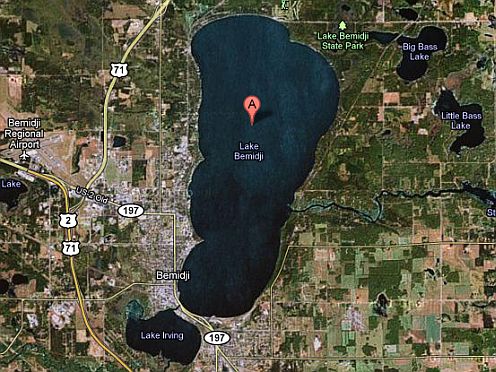 It really does resemble a footprint.
Believe it or not Lake Bemidji [map] is actually part of the Mississippi River and is only 50 miles from it's source which is why Bemidji is sometimes called The First City on the Mississippi.
Because of the lake's shape, legend has it that it was formed in one of Paul Bunyan's footprints. That explains the great popularity of Paul Bunyan in this area.
After the singalong at the park it was off to the hotel for a good night's sleep before ice fishing on the lake tomorrow.
Saturday
This is was the big day. What we had all come here for. Ice fishing on Lake Bemidji through little holes drilled through 2 feet of ice, in the bitter cold, all day long, followed by a live performance of A Prairie Home Companion and a walleye dinner.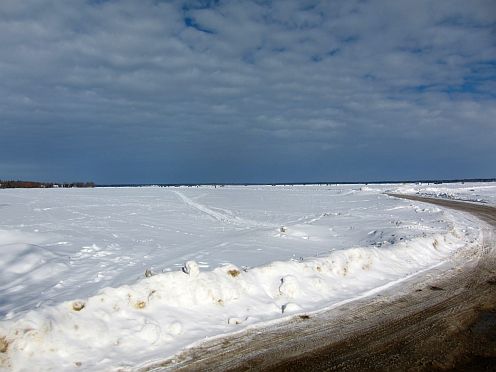 Ice shanties in the distance. Lake Bemidji is 11 miles long. The ice road is plowed and sanded regularly and disappears in the spring when the ice melts.
After a quick breakfast at the hotel we boarded buses for a 20 minute ride to the lake. I was beside myself with excitement. Stepping off the bus we were greeted by a vast sea of ice dotted with little communities of ice shanties as far as the eye could see. It was an incredible sight.
There were actually people here, lot's of them, fishing through holes drilled in the ice. I couldn't believe it was real until I witnessed it myself. People ice fish. They really do.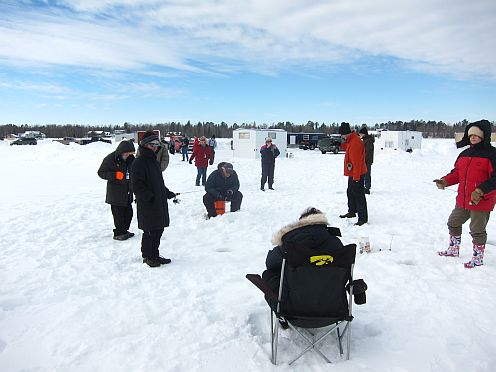 Our group fishing on Lake Bemidji.
Some folks where in ice shanties, others were outside enjoying unseasonably mild weather which I found a little disappointing. I was in Minnesota in the dead of winter. I wanted cold. Real cold. The kind of spit-freezing- before-it-hits-the-ground cold that I've only ever read about. Can't have everything I guess…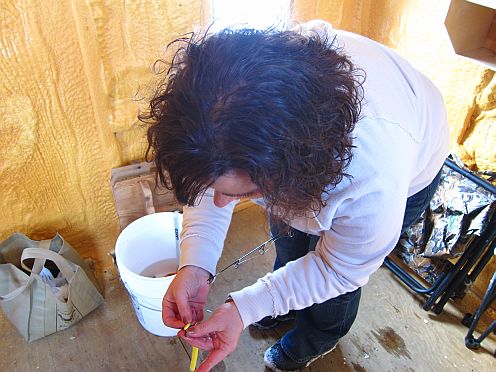 Denelle Hilliard Executive Director at Visit Bemidji shows us how the walleye like their bait.
After meeting a crew of splendid locals who help show us the ropes, we baited our hooks and fished. We were going for walleye, a good eating relative of pike and the state fish of Minnesota. Within 5 minutes there was something on my line.
Could it be? Already?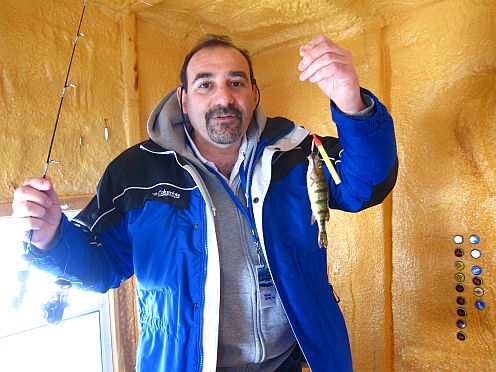 Not 5 minutes after dropping my line in the water I caught this little perch.
At the end of my line I found a small perch. Not bad for a 5 minute soak. I set the little guy free, re-baited my hook and didn't catch a darn thing for the rest of the day. No matter. I was just as happy exploring the ice, talking with the locals, and taking pictures.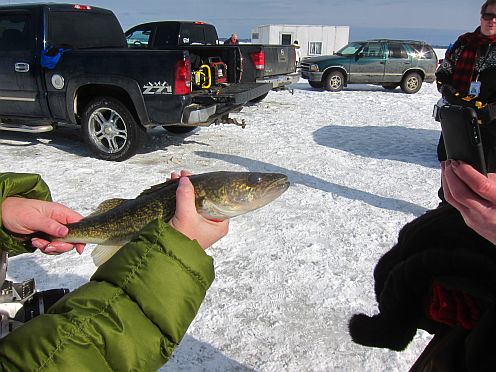 One of the 2 walleye that were caught. See those trucks? They make it easy to forget that we're standing on a frozen lake.
In all only two walleye were caught out of about 70 people fishing. It was perch all the way.
We left the lake at about 3pm and had some time in the hotel before the six o-clock show.
Saturday Night
We again boarded the buses, affectionately named Ole and Lena, destined for a live performance of A Prairie Home Companion at the John S. Glas Fieldhouse hockey arena in Bemidji.
A Prairie Home Companion is my favorite radio show. I've been listening regularly for almost 20 years and I almost feel like I know the cast and the good folks in Minnesota personally.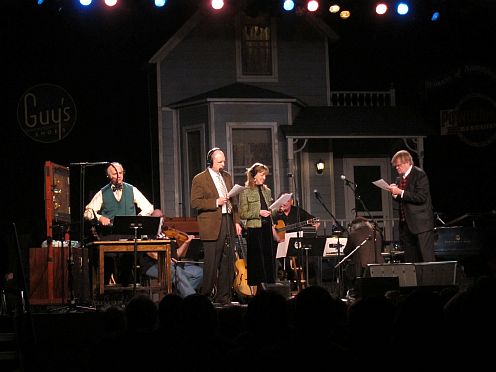 Tom Keith, Tim Russell, Sue Scott, Pat Donohue, Garrison Keillor.
This show was the second one I've seen live; the first was at the Town Hall Theater in New York City. The show featured the usual skits and routines, Guy Nior, Ketchup, Rhubarb, etc., and some great musicians as well. The country-ish Andra Suchy (love her voice), bluegrass artist Rhonda Vincent, and jazz guitarist Sam Miltich along with The Guy's All Star Shoe Band. It's always a great show and seeing it live is always that much better.
The show also featured a heartfelt reading by Bemidji Woolen Mills president Bill Batchelder. Bill had a lot to say about life in Bemidji and his story really touched us.
Dinner
By this time the battery in my camera was dead and I had no way to recharge it. So, sorry for the lack of pictures...
After the show we went to The Cattails Bar & Grill for our walleye dinner. I was looking forward to this almost as much as the ice fishing because I love fish, but I've never had walleye before. Living only in Lake Ronkonkma and Fort Pond in Montauk, walleye is just not very common on Long Island.
Upon arrival the first thing I did was head to the bar for a beer—me and about 70 others who had the same idea. This was no trouble at all for the bartender. She poured pints for all of us without breaking a sweat or losing her smile, and that set the bar for service for the rest of the evening.
Our waitress was just as nice as she explained menu to us. Tonight we had a choice of, you guessed it, walleye or walleye. Broiled or fried; those were your options. No problem for me, I'll have the broiled, but Karilyn decided she'd rather have a cheeseburger instead of walleye.
And that was the only time throughout the entire evening that I saw our waitress, any of the wait staff for that matter, without a smile on her face. It's not just that she wasn't smiling, there was a look on her face that was so terrifying that Karilyn instantly dropped her request for a cheeseburger and ordered the fried walleye. It was all smiles after that and no one mentioned the cheeseburger incident again for the rest of the night.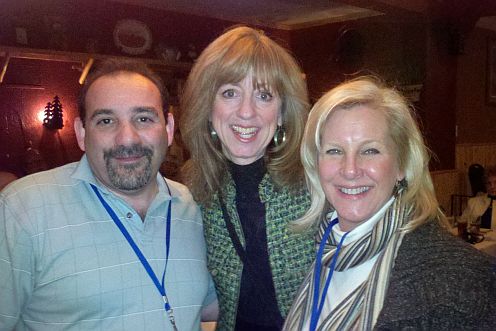 Me, voice actor Sue Scott, Karilyn at Cattails. Sue is amazing. One woman, a million different voices.
The cast of A Prairie Home Companion joined us for dinner and we all had a great time. The walleye, both fried and broiled was excellent and next time I'm in Bemidji I'll be having dinner at Cattails.
Well Saturday was definitely the climax of our ice fishing adventure but if it ended there it'd be like falling off a cliff, so thankfully there was something on the itinerary for Sunday morning.
Sunday
On the buses again for a logger's breakfast and museum tour at the Buena Vista Ski Area. It was a beautiful morning, overcast with the dark look of winter. If ever there was a perfect day for a logger's breakfast this was it.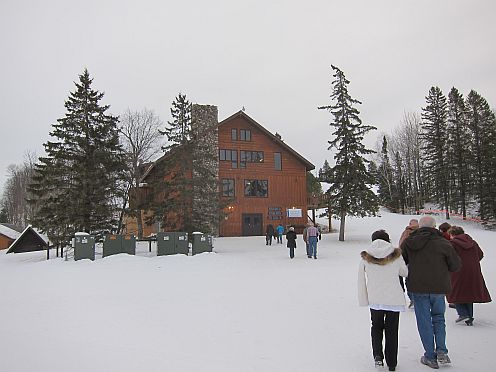 Walking from the buses to the ski lodge at Buena Vista.
So what is a logger's breakfast exactly? Pancakes, eggs, bacon, sausage, oatmeal, muffins, buns, toast, milk, orange juice, grapefruit juice, etc., and coffee, lot's of coffee. All you can eat, and it was great.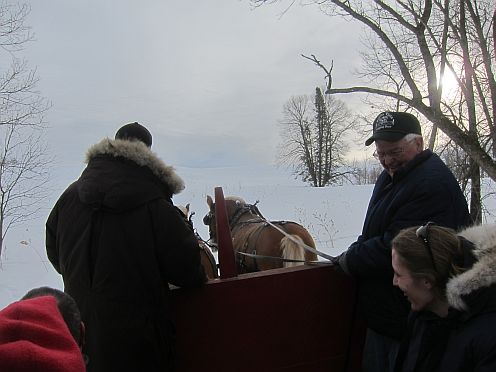 It was a nice 10 minute ride from the lodge to the Hall of Fame.
After breakfast Laurie Dickinson, a member of the family that owns Buena Vista, gave us a short history of her ski area, and then we were off to the Lumber-Jack Hall of Fame. But there were no buses involved. This time we'd be riding in horse drawn sleighs.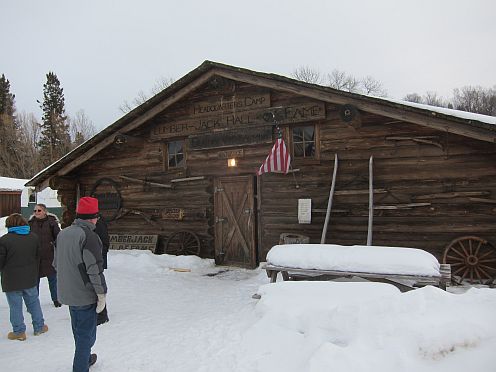 The Lumber-Jack Hall of Fame.
If you're into logging this is the place. The Lumber-Jack Hall of fame is a replica of an old logging camp and is the home of the annual Logging Days festival that celebrates and recreates the golden days of logging in Bemidji.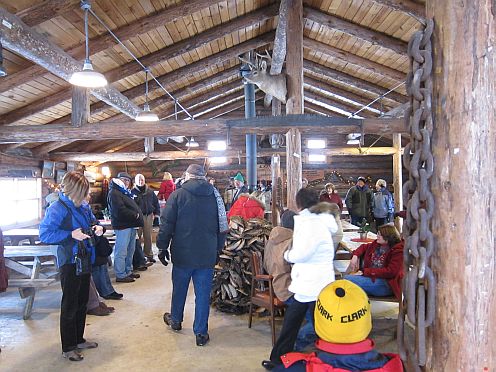 There's a lot of lumber-jack memorabilia inside this building.
We spent about a half hour here before boarding the buses for the last time. We only had about 6 hours left before our flight. 4 of them were spent on the bus napping and recalling the great time we had.
Back at the airport, ice fishing only a memory now, we checked our bags, got our passes and had enough time left for dinner at an airport restaurant which, like everything else about this trip, was excellent.
As much as I love Long Island I didn't miss her one bit, but I was glad to be home. Would I do to again? In an instant!
Where To Next?
Return to Loving Long Island home page.