Kingston's Clam Bar
West Sayville, Long Island, NY
Kingston's Clam Bar offers a variety of seafood, sushi and land fare in a very casual maritime setting. The service is always great, the food is reasonably good, and unlike most of Long Island's dockside restaurants the setting is not reflected in the price.
Kingston's reminds me of the some of the rough-hewn local eateries in Montauk Point. 
There's nothing fancy here. The utensils and plates are plastic, and the dress code is easy as it gets.
Although technically on the water, Kingston's overlooks an enclosed marina and does not offer expansive water views.
In spite of this however, it's nautical enough to give that far away from home feel.
The outdoor dining area consists of almost a dozen umbrella covered tables on a working dock. 4 slips are reserved for the restaurant, so you can come here by boat.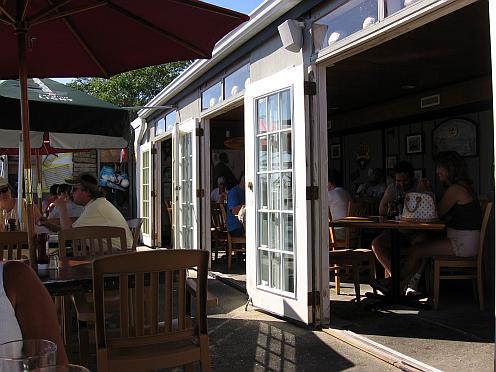 Inside or out, there is little difference
Inside, the dining room and bar share a very small space. The floor is brick and other vestiges of this building's former life as part of the Blue Points Oyster Company are visible everywhere. With all the doors open, there is little difference between indoor and outdoor dining at Kingston's.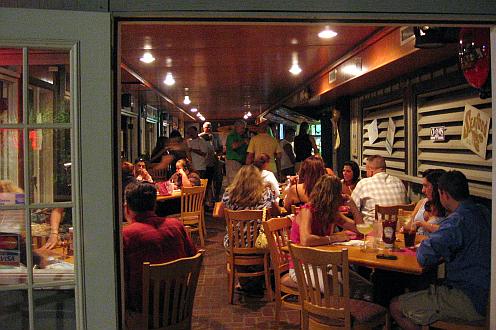 Long and narrow, but comfortable indoor dining. Bar is at the far end on right.
The bar is small and faces away from the water. If you can, find a seat sit here while waiting for your table, or better yet, grab a drink then sit outside on one of the park benches overlooking the marina.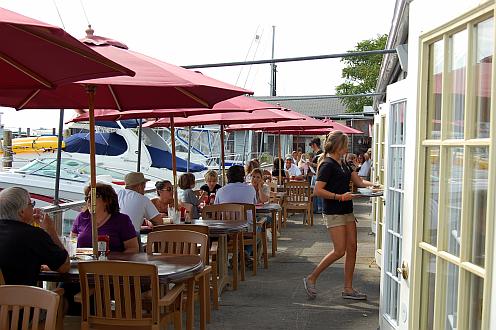 On tap you'll always find something from Blue Point Brewery as well as a wheat beer (think Blue Moon or Paulaner), and some of the American standard brews. There is also an adequate selection of bottled beer. And Kingston's doesn't skimp on the cocktails. The martinis here are large and well made.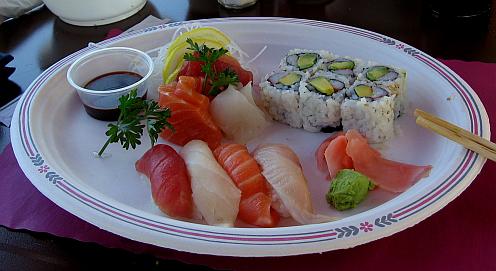 Assorted sushi and sashimi
The food at Kingston's is not great, but it is reasonable. I avoid the fancier stuff (not just here, but as a rule I like to keep it simple) such as stuffed flounder and lobster and stick mostly with sushi, chowder or fried calamari, all of which are usually very good. The sushi, in fact, is surprisingly good considering that Kingston's is not a sushi specialty house. And the baked clams here are excellent.


Baked clams and calamari appetizers
I have had the sesame tuna steak and the herb crusted salmon. Both are good and at just over $20, reasonably priced. Fish is sometimes a little overcooked here, so ask for rare if you that's the way you like it.
The Filet mignon and shrimp scampi combo is light on garlic (a plus for some), and the filet was as tender as expected. The Caesar salad with grilled chicken is bottled dressing on iceberg lettuce, but really fits the bill when I want something lighter than a full meal.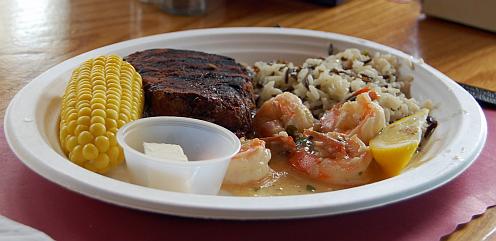 Filet mignon with scrimp scampi, corn on the cob and wild rice
The wild rice side is delicious, and I also enjoy the mixed vegetables sautéed in butter. The corn on the cob is also excellent. With vegetables this good I don't bother with fries, so I can't comment on them.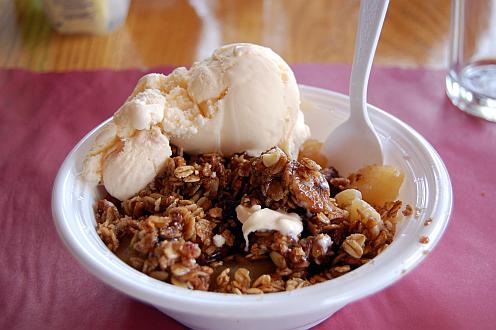 Apple crisp
There is a nice selection of deserts including standards like cheesecake and key lime pie. One of my favorites is the unusual apple crisp. This is apples and cinnamon topped with a brown sugar rich granola and good vanilla ice cream.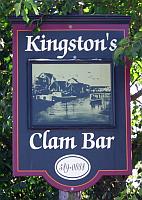 The service here has always been very good. The college age waitresses are polite, friendly, and competent, and I usually don't have to wait long for my food to arrive.
Parking at Kingston's is tight, but if you don't minding walking a little, there is space available on the street.
Located at the end of Atlantic Avenue in Sayville, Kingston's Clam Bar is my standard destination after visiting the Long Island Maritime Museum, which is right next door.
I also like to come here on crummy days for what I call a bad weather beer. (To me there's something very enjoyable about watching a storm from a sheltered, safe location.) Most other folks will enjoy Kingston's on sunny days for an afternoon cocktail and snack.
Kingston's Clam Bar
130 Atlantic Avenue
West Sayville, NY
(631)589-0888
---
Return to Long Island restaurants.