The Long Island Chowder Contest
--- 2012 ---
The Long Island Chowder contest has been held every Super Bowl weekend at the Snapper Inn for the past 13 years and is a great way to take the chill off a cold winter day. This event is open to the public and free, although a small donation to the Great South Bay Nature Conservancy is requested.
The Conservancy has been working hard to restore the Great South Bay's clam population which was all but wiped out after the commercial harvest peaked in the 1970's. A reseeding effort on the bottomlands of the former Bluepoints Company has resulted in a tremendous increase in the baby clam population, but it will take a lot of work for years to come in order to fully restore the clam beds to their former state.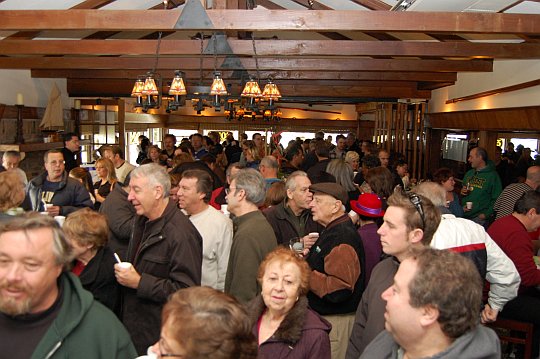 Packed but polite is how I would describe the scene.
What better way to warm the soul than with hot soup? Our history as the worlds largest clam producer runs deep with the veins of many Long Islanders and if we're going to have a soup contest then clam chowder is the obvious choice.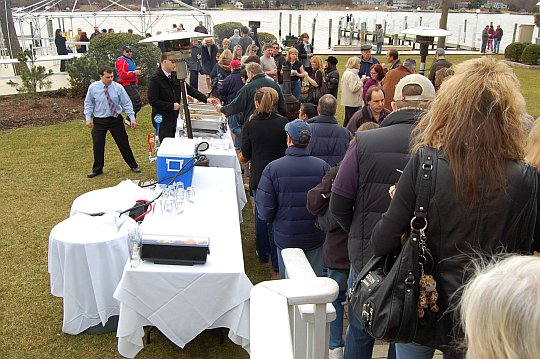 I waited outside too, but the line moved reasonably well.
The Snapper Inn is one of my favorite restaurants and a fitting host for the Long Island Chowder contest. Overlooking the Connetquot River in Oakdale, the Snapper Inn has been open and run by the same family since 1929. They take their seafood seriously and even serve fish caught by their own boat. I highly recommend this restaurant.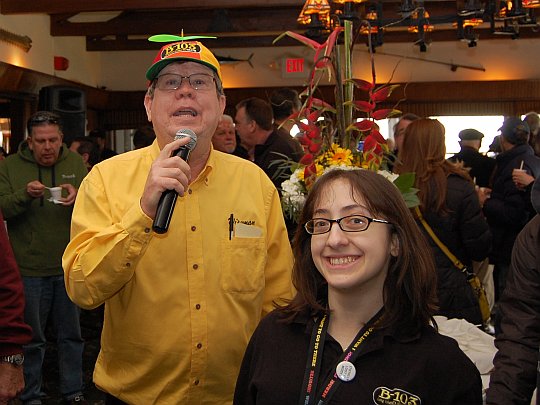 B103'a Frank the Wiseman adding his own flavor to the contest.
When you think about a contest you automatically think about winners and losers. Well in this battle of the titans, there are no losers. These chefs KNOW how to make clam chowder and although the differences between them may be significant all of the chowders I tasted were outstanding. Line up 10 beautiful boats (you thought I was going to say women didn't you?) and tell me which one is prettier...


A contest of a different sort. The Snapper Inn Frostbite Fleet raced while we enjoyed chowder.
The Long Island Chowder Contest judges soups in 3 categories: Manhattan clam chowder, New England clam Chowder, and seafood bisque. The clams used by all the participants are local Long Island clams from the Great South Bay. I did not ask about the bisque, but my guess is that the majority of fish used in the bisque was primarily from waters in and around the North Atlantic region. This is local enough for me, and a matter of practicality because not everything is available all year long strictly in Long Island waters.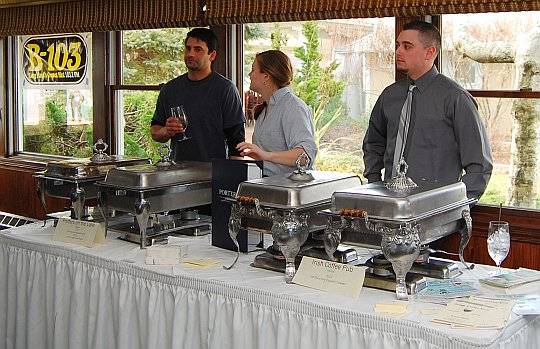 Chefs from Porters on the Lane and Irish Coffee Pub await the judges results.
The soups are served from chafing dishes setup around the restaurant, and if the weather is nice you'll even find soup being served outside. The soups are served in small Styrofoam cups that you can drink from, and you can have as much as you want. The trick is actually getting some.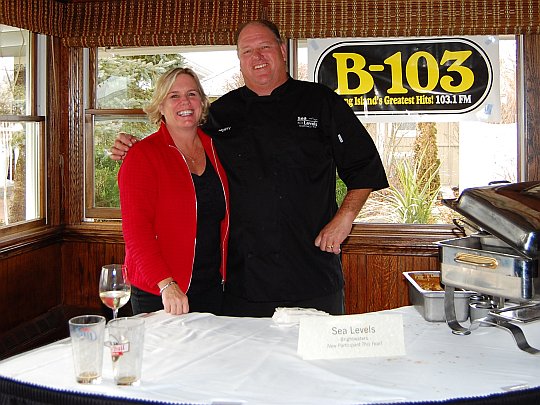 Chef John Montgomery & wife of Sea Levels won 2nd place with their New England clam chowder.
The Long Island Chowder contest runs from 12:00PM to 2:00PM and draws a large crowd, so it can be difficult to make you way to a serving station. Contest participants sometimes run out of chowder within the first hour, so if you're not here early, you may not be able to sample all of the entries. You best bet is to be here at 12 sharp, and then you'll be assured of tasting all the chowder you want.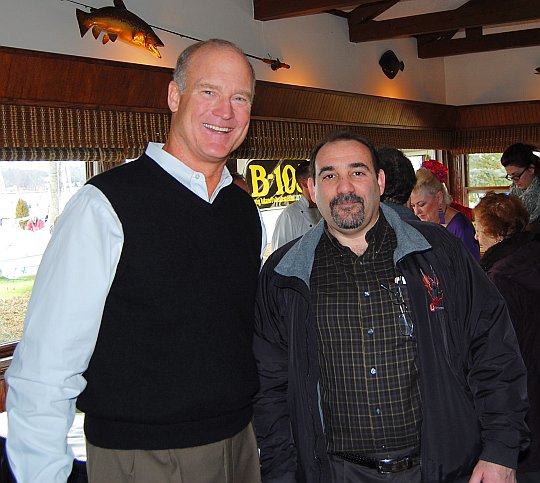 Snapper Inn owner Richard Remmer and Bill Drago (yours truly).
Clams aren't the only local item featured during the contest. Beer from the Blue Point Brewery is always on tap at the Snapper Inn and is a nice compliment to the chowder. There is something very gratifying about eating and drinking local products. Not only is it good for Long Island's economy, but there's a lot of pride involved as well. It's like rooting for the home team.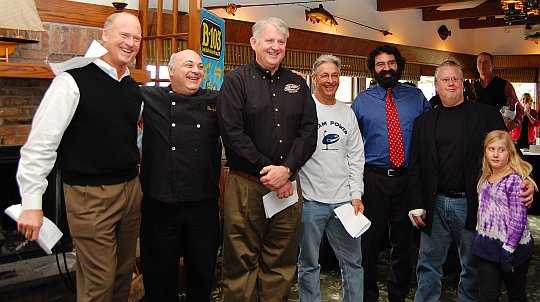 Richard Remmer with Long Island Chowder Contest judges Massimo Fedozzi, Nick Burford,
Steve Kuhn, Carl LoBue and Blake Verity.
Well, enough chatter about chowder here are the results:
Long Island Chowder Contest 2012 Results
Manhattan Clam Chowder
1st Place – The Snapper Inn
2nd Place – Porters on the Lane
3rd Place – Riverbay
New England Clam Chowder
1st Place – Jolly Fisherman
2nd Place – Sea Levels
3rd Place – View
Seafood Bisque
1st Place – Jolly Fisherman
2nd Place – Irish Coffee Pub
3rd Place – H2O
The Winning Restaurants
The Judges
Carl LoBue – Great South Bay Nature Conservancy
Blake Verity – Award Winning Chef
Massimo Fedozzi – Award Winning Chef Vittorio's in Amityville
Nick Burford – Blue Point Brewing
Steve Kuhn – Clam Power and professional bayman
Where To Next?
Or try one of these popular destinations...
Greenport on Long Island's bucolic North Fork.
The Nautical Mile in Freeport.
The Great South Bay - Our most excellent summertime playground.
Fire Island - A completely different world.