Blue Point Brewery
Patchogue, Long Island
by Michael Yohe
The Blue Point Brewery is the sole survivor of Long Island's microbrewery craze of the 1990's and has become an enduring landmark on the Long Island beer scene.
Their commitment to excellence in brewing continues today and their distinctive beers are available in restaurants, pubs, and supermarkets across Long Island and beyond.
Perhaps the best place to enjoy their beer however, is right where it's made.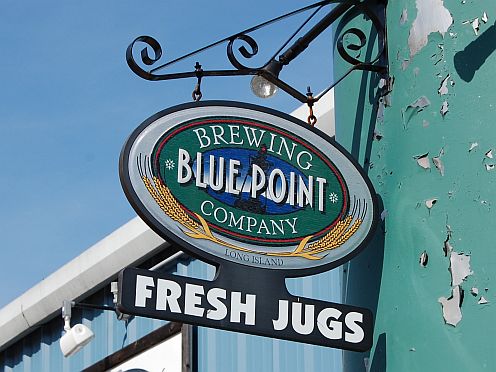 The Blue Point Brewery offers a tasting room with free samples, a brewery tour, a great crowd, and a warm atmosphere. It's a worthy destination for a day out even if Patchogue is a little far away from you. I took the trip from Mineola (almost 40 miles away) and did not regret it.
If there is one word to sum up the Blue Point Brewery it would be "local". From the second you lay your eyes upon the establishment, to the moment you inevitably walk out with a ½ gallon jug of beer, you feel as though you've found a local corner untainted by the "Bud Lights" of the world.
This is only partially true, as the Blue Point Brewery is now expanding to North Carolina and Florida as their beers gain momentum. It is a relatively young brewery, being only twelve years old, and it most definitely has a future ahead of it.
Having heard so much about the Blue Point Brewery, and having only seen larger breweries before, I was taken aback when I first pulled up to this one. It was quite small, in what seemed to be a converted industrial building.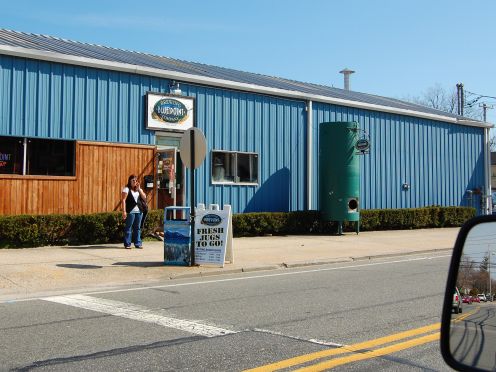 Parking was a free-for-all along the adjacent street and behind the building where many people take it upon themselves to "discover" new and interesting places to park. It took me a few minutes before I found one of my own. To be fair it was a Saturday at 2:30PM, which is probably as busy as they get.
I was a little off-put and skeptical as I exited my car, but those feelings were stomped out immediately upon entering the Blue Point Brewery.
The inside was bustling with ages ranging from 21 to 61. While it was quite small, the patrons didn't seem to mind and were all pleasant and talkative. Much like any crowded establishment, it's sometimes necessary to muscle your way through to the beer.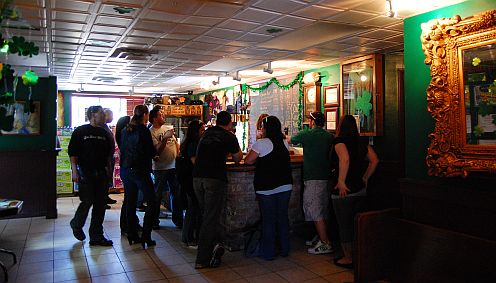 Samples are served in small cups filled about a third of the way with your beer of choice (if you like it bitter, I'd recommend the "Cherry Imperial Stout" which was great). Most samples are free however, some of the more exotic brews will cost from 1 to 3 dollars per taste.
Behind the bar is a chalkboard listing all of the available beers along with the Original Gravity, IBU rating (International Bitterness Unit), and alcohol content of each. The beer geek in me loved this touch. Every beer is not always available to taste, but they generally have a list of 7-10 for you to choose from.
Once you discover your favorite brew you can order a pint or take home a half-gallon jug. These jugs reminded me of an old cartoon moonshine jug, but they have a big Blue Point Brewery logo on them, a "best by" date, and the name of the beer. You are, by the way, not allowed to open the jugs on premises.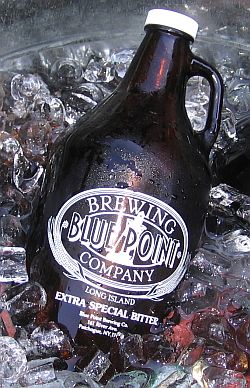 By the number of people I saw exchanging their empty jugs for full ones, I'd say the jugs are pretty popular.
Other than beer, you're able to purchase clothing and drinking accessories with the brewery's logo on it and some interesting artwork related to the brewery that is also hanging on the walls.
Someone bought a very cool Blue Point Brewery mirror off the wall for $75.00 while I was there.
Walking past the tasting room, one will come upon a small room that leads both to the actual brewery, and to an outside seating area. The outside area, which is behind the building and essentially in the parking lot is furnished with plastic tables and chairs, and was my favorite part of the brewery.
Everyone was friendly and the atmosphere was more like a BBQ than the back of a brewery. There were also a number of dogs outside and a couple smaller dogs inside. The Blue Point Brewery is dog friendly, and even has a picture board hanging up named "The Dogs of Blue Point."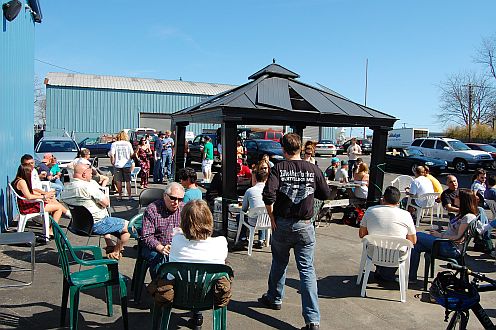 Plastic furniture in a parking lot illustrates Blue Point's unpretentious approach to beer.
Tours of the brewery are given on Saturday afternoons at 1:00 PM and 4:00 PM. Unfortunately, due to the small size of the brewery these are more like lectures than actual tours.
One of the employees led about fifteen of us into the actual brewery, only one room away from the tasting area, and spoke while seated on a set of stairs leading to a large tank.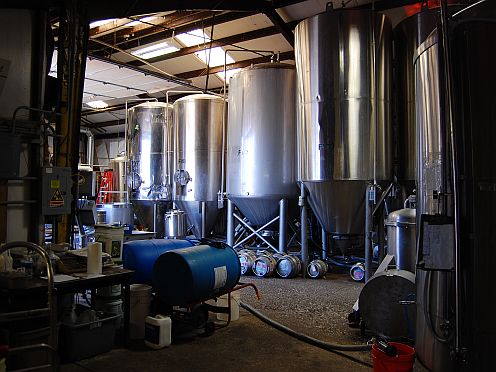 While I did receive some interesting information on hops, the beer making process, and the history of the brewery I would have appreciated a more comprehensive tour and a somewhat more enthusiastic tour guide.
Having said that, I do suggest you take the tour. It's less than fifteen minutes long and for those unfamiliar, a good introduction to the brewery and the beer making process.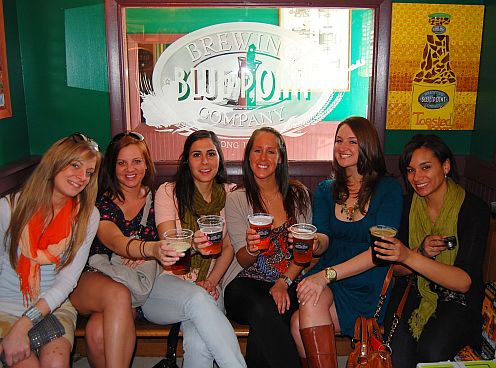 Friends Kim, Brittany, Amanda, Kaitlyn, Analise, and Aly at the Blue Point Brewery.
The brewery hosts a number of annual events and parties with local bands from time to time. Noteworthy is their annual cask festival held every spring:
With 45+ casks from more than 15 other breweries...
This is a one-of-a-kind opportunity to taste beer in its freshest, most natural state – unfiltered, unpasteurized, non-pressurized, and poured straight from the cask it matured in.
Tickets must be purchased in advance and sell out fast, so start checking the website while there's still snow on the ground.
So are you in the mood for some beer? Take a trip to the Blue Point Brewery and I'll bet you come home with a jug or two. And why not? They are affordable and it's nice to support local establishments, especially ones as good as this.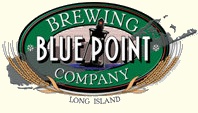 Additional Information
---
Hungry after all that beer? You can enjoy great food and more great beer practically right next door at the highly recommended BrickHouse Brewery & Restaurant.
Back to Long Island Beer