Life on a Garvey
by Jay Willrick
(Daytona Beach, Fl.)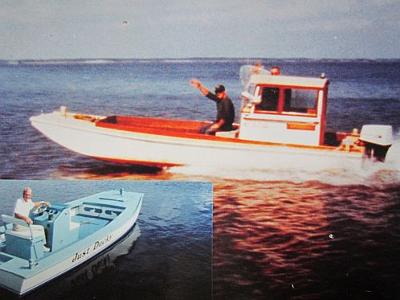 Wally W. Jr., My grandfather Wally Willrick Sr., Brud Skidmore.
As kids growing up on the Great South Bay we lived amongst millionaires; our grandparents were slaves for them. Being from East Islip, Long Island we were middle class regular folks, from hard working backgrounds. Work ethic was the drill as my dad was a US Marine, so I had to keep a job. Any job.

From summer into fall we would tread clams in warm weather, rake in cool weather all during our teen years. While doing so collect scallops, blue claws and occasional flounder called fluke around the island. I remember eeling through a hole in the ice with grandpa on Champlain Creek and grandma's cod fish stew and pickled eel in jars in the pantry.

Can't express what freedom we had being our own bosses in those days it was great. Our fathers, granddads and uncles were all baymen, duck hunters and fishermen. They built their own boats for their passions and their own handmade decoys. If you find a decoy in some antique store marked WW it was made by either my grandfather or uncle. Their shot guns were sacred and polished, locked up in the gun cabinets displayed in the living rooms because that was normal.

They hung around a potbelly in winter evenings in the old East Islip lumber yard back in the 50`s & 60`s whittling ducks, geese, and building garvies, a style of bay boat. These boats were built to last; thick enough to bust ice, work off, and play on with a small wheelhouse for rain, sleet or any other crappy bay weather.

The hull had a squared off bow, wide gunnels for walking, and a beefy transom for holding a large outboard. 100 hp Evinrude was the biggest you could get then and they were a tank of an outboard if you have ever tried to raise one from in the boat. Boats over 23 feet had a small inboard and were used to drag the duck scooters out past the ice.

I live in Florida now and still own an old garvey built by those guys back then it has seen better days but I can't part with it. Wood boats glassed over or not don't hold up down here. Some day the old garvey will be incorporated into my barn house dream I'll build here on my 5 acre lot of pines. Perhaps part of it will be a bar or a desk or just hung up in the rafters from chains for a guest bed in the loft. Next to the old "Broadbill" I'll display some of my south bay memorabilia, decoys etc. For now I'll keep buying new tarps to keep it dry.

I truly miss the Great South Bay and don't get up there as much as I would like. Florida has nice winters but summers are steamy hot and we hide in the AC like Long Islanders hide near their stoves in winter.

I would rather be back on the bay drifting across the flats behind East & West Fire Island, eating a raw clam with ketchup and an ice cold Bud, the way life should be with my trusty lab Chally, named after the old watchman at the East Islip Anglers boat club that we called home port for so many great years.

Love that place and wish I could still afford to live on Long Island. Anyway it was the best place I can think of to grow up.

About the middle picture above...
Brud Skidmore co-owner/builder of the ''Broad-bill 2'' pictured above
also owned the East Islip lumber yard during the 50's & 60's, so they had a good supply of lumber to build what ever they wanted.

The guy below in the shot is Wally Willrick Jr. also co-builder on the boat. He later inherited the Broad-bill after Sr's passing and made it into a convertible after bringing the boat down to Florida in the early 80's.

Wally Jr. is a craftsman of all things wood and in these guys days they were some of the best bay men, duck hunters, and fishermen on the South shore. They all were long time members of the Sportsman's gun club.