Greenport Marinas
Village of Greenport, Long Island, New York
The Greenport Marinas make visiting Long Island's North Fork by boat a real pleasure. They're clean, safe, and many of them have swimming pools and restaurants. Here's everything you need to know to have fun in Greenport with your boat.
The first three Greenport marinas I list here, Brewer Stirling Harbor Marina, Brewer Yacht Yard, and Townsend Manor Inn Marina are located in Stirling Harbor, a well sheltered, and reasonably private area.
These are where you want to stay if you're visiting for more than a day.
Claudio's Marina and Mitchell Park are exposed to Greenport Harbor and can get a bit rough when boat traffic is high or the wind kicks up.
Noise, especially late night noise, is another factor to consider as these two Greenport marinas are near the center of town.
This guide is as complete as I could make, but please don't make your reservations based solely on what I've written here. Do your homework. Call the Greenport marinas and ask questions.
Brewer Stirling Harbor Marina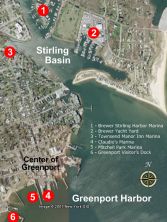 This is a full service marina / boatyard with plenty of amenities for the vacationer including as full length side piers on all fixed and floating docks that make boarding safe and convenient.
Left: Click for full size bird's eye view of all the Greenport marinas.
This marina maintains facilities for diesel and gas engine repairs and is especially skilled in fiberglass repair and marine carpentry. Emergency repair services are available 7 days a week.
The on site restaurant, Stirling Harbor Trattoria run by Frank & Jeanne Murphy offers simply outstanding Spanish and Italian cuisine. Seafood, steaks and a wide array of other Spanish and Italian delicacies are served in a casual setting overlooking the beautiful harbor. Their wine list is extensive and the mozzarella is made fresh right in the restaurant.
I've stayed here many times and until recently my father kept his boat here. Of all the Greenport marinas Stirling Harbor is my personal favorite.
Amenities
Clean heads and showers
Gas & diesel dock
Ice and marine supplies
Swimming pool and Gymnasium
Picnic Area with built in BBQs
Complimentary shuttle to the Village of Greenport
Marina Features
Well protected in Stirling Basin
185 slips, accommodating vessels up to 90'
7'-10' dockside depth
Water, power
110v / 30A power outlets
220v / 50A power outlets
Pump out facilities (at neighboring Brewer Yacht Yard at Greenport)
Fuel dock: ValvTect Marine Gas & ValvTect Marine Premium Diesel
Dock staff monitors channel 9
Brewer Stirling Harbor Marina
1410 Manhanset Ave
Greenport, NY
631-477-0828
Lat / Long: 41° 06.667' N / 72° 21.600' W
Brewer Yacht Yard
This is another first class, full service marina / boatyard. Owned by the same company and literally right next door to Stirling Harbor Marina, Brewer Yacht Yard is probably best known for it's skilled carpenters and diesel mechanics.
But there's no shortage of amenities for the vacationing boater either and what I like best about this place is the on-site restaurant, Antares. 
Antares is not some greasy spoon snack bar run by a boatyard. Under separate ownership, Antares is a fine restaurant serving new American cuisine. I've dined here myself and it was one of the best experiences I've ever had. The food was great and the service was outstanding.
Amenities
Well protected in Stirling Basin
Showers and heads
Laundromat or laundry services
Ice on site
Restaurant on site
Courtesy transportation available
Swimming pool
Picnic area
Barbecue grills
Marine supplies
Marina Features
200 seasonal slips
8' dockside depth at MLW
Approach channel well marked
Floating docks
Water at slips
110v / 30A
220v / 50A
Pump out facilities
Dock staff monitors channel 9
Haul-Out
Brewer Yacht Yard
500 Beach Road
Greenport, NY
631-477-9594
Lat / Long: 41° 06.566' N / 72° 20.667' W
Townsend Manor Inn Marina
This Greenport Marina is part of the Townsend Manor Inn. Located on the Northwestern shore of Stirling Basin the marina is well protected from weather and boat traffic.
Grounds feature swimming pool, picnic area, and restaurant & lounge. Unlike Brewer Stirling Harbor and Brewer Yacht Yard, the Townsend Manor Inn marina is within walking distance of town. You won't feel as isolated and your feet are all the transportation you need at Townsend Manor Inn.
Features
Well protected in Stirling Basin
Ample dockside electric - up to two 30 amp, 50 amp and 125-volt hookups available to all slips
Newly remodeled bathrooms & showers
Dockside water, gas, ice, and television hookups
Floating docks or lawn-side slips
Garbage disposal
Mechanic on call
Picnic & barbecue area
Short walk to shopping district
Olympic size swimming pool and kids wading pool
Golf, tennis, vineyards, skate park, carousel, movie theater and horseback riding nearby
Laundry Facilities
Staff monitors VHF ch9
Townsend Manor Inn
714 Main Street
Greenport, NY
631-477-2000
Lat / Long: 41° 06.567' N / 72° 21.690' W
Claudio's Marina
Located at the end of Front Street, at Claudio's you step off your boat and into the heart of Greenport. For convenience you can't beat it, but this marina is not meant for more than a day trip or possibly an overnighter.
The docks at Claudio's marina are exposed in Greenport Harbor, which means you're going to get bounced around a lot and there's a lot of noise from Claudio's Clam Bar. There's also a lack of privacy from the endless stream of tourists walking the docks.
Having said that, the cost of docking at Claudio's is less expensive than docking at some of the other Greenport marinas and that is worth considering.
Amenities
Deepwater dockage with 30-200 amp service
Overnight dockage with showers
Accommodates boats up to 200 ft.
WIFI Internet
Claudio's Marina
Main Street Wharf
Greenport, NY
Marina office: 631-477-0355
Dockmaster, Kent: 631-398-4359
Lat / Long: 41° 06.050' N / 72° 21.533' W
Mitchell Park Marina
As the name implies this is the public marina at Mitchell Park. Located on Greenport Harbor this marina is a little bouncy like the marina at Claudio's. It's great for the day tripper.
60 Slips all with water and electric.
Mitchell Park Marina
Front Street
Greenport, NY
631-477-2200 - Mitchell Park
631-702-4381 - Greenport Harbor Master
Lat / Long: 41° 06.033' N / 72° 21.617' W
Greenport Visitor's Dock
Definitely the smallest of the Greenport marinas, this is a small floating dock just west of Mitchell Park and at the foot of 3rd avenue. Good for smaller boats that draw 4' and under.
631-702-4381 - Greenport Harbor Master
Additional Information
Greenport - Things to do, places to eat, shop, sleep, and more.