Nicky's Clam Bar
Bay Shore, Long Island
Although Nicky's Clam Bar is the perfect pit stop between ferry rides, this Long Island restaurant is worth visiting anytime.
You may think of Nicky's as a transient hangout for people riding the ferry, and, you're right, it is. But don't write it off as just that. Nicky's is a great little place for dinner, lunch, and even breakfast.
Nicky's Clam Bar is located in the parking lot of the Bay Shore Fire Island ferry terminal and many people eat at Nicky's while waiting for their ferry to arrive or just after disembarking. Years ago, before I ever actually ate at Nicky's the impression I had was that this restaurant was just another snack bar capitalizing on a captive audience. And you know what that means—quality and service at barely tolerable levels.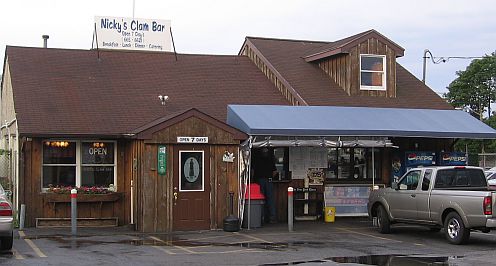 Nicky's Clam Bar. The walk up window is under the awning.
I never gave it a second thought until recently when I had to pick up my daughter at the ferry a few times and we started eating at Nicky's. I couldn't help but notice the care, quality, and cleanliness of the restaurant.
For example, the great selection of doughnuts and muffins are homemade daily right there. They could easily, and with less trouble, be brought in from a bakery, but they're not. It's details like this that impress me.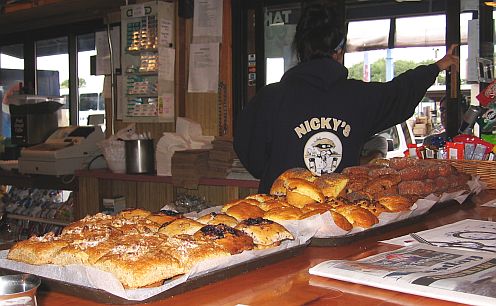 Delicious homemade muffins and doughnuts.
Order French toast at a diner or one of those breakfast specialty restaurants and you get French toast slapped on a plate. Order it at Nicky's Clam Bar and it looks like this.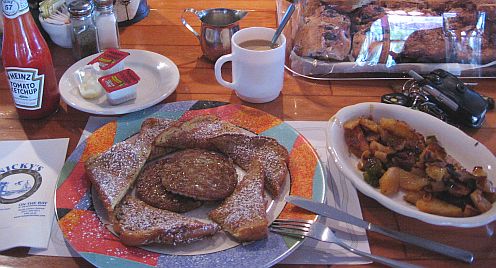 French toast, sausage and home fries.
Okay, so they put it in a circle around the sausage, but that's another detail that takes time and thoughtfulness, and it lets me know that if small details like that are important, then so are the larger ones, like food freshness and quality. (And I thoroughly enjoyed the French toast.)
The breakfast menu at Nicky's offers all the breakfast basics like eggs, omelets, pancakes, French toast, homemade muffins and doughnuts, English muffins, home fries, etc. You won't find crepes here, but there's enough on the menu to satisfy most.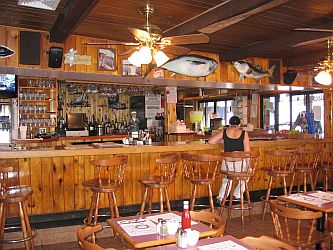 I'll eat my breakfast at the bar then get a coffee and doughnut to go so I can walk the ferry dock and watch the boats come and go.
The lunch and dinner menus are where things start to get interesting.
Lunch offers a selection of chicken wraps like you might find anywhere else, grilled, Caesar, buffalo etc. But not to leave well enough alone, there's the biscuit battered catfish wrap.
If you're a seafood lover and you've never had catfish before, trust me it is worth trying. In the wrap the catfish is lightly fried with American cheese and lettuce in a Texas petal sauce. I don't know Nicky's exact recipe but a Texas petal sauce is basically mayo, horseradish, ketchup, paprika, oregano, pepper & cayenne.
Nicky's Clam Bar dinner menu offers an amazing selection of seafood appetizers, soups, sandwiches, dinners, and Italian seafood specialties. Start with baked or raw clams, oysters on the half shell, mussels, steamers, or the specialty platter for 2, the list goes on.
If soup's your thing I can highly recommend the chowders and bisques. They are all fresh and delicious. Great during the colder months.
If you like fried fish try one of the barges. A Nicky's Clam Bar barge is a basket of fried fish with optional fries or Cole slaw. Choose from clams, oysters, flounder, scallops, shrimp or crab cake.
My personal favorite is the fried oyster barge. It's a generous portion of battered oysters, plump, juicy, and cooked to perfection.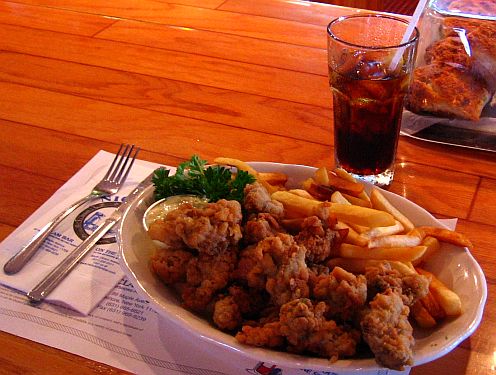 The oyster barge - fried oysters with fries and a coke.
A word about cooking seafood. Fish, including shellfish, should be cooked until just barely done and no more. That way the fish will stay moist and tender. Overcooking will turn your fish into rubber. Except for scallops. For some reason you can over cook scallops without really ruining them.
If you're hungry enough for something more substantial than a barge go for a full seafood dinner. Nicky's Clam Bar has a nice selection of seafood and non-seafood dinners to choose from. Linguini with clam sauce, seafood au gratin, flounder or shrimp parmigiana, and the list goes on. Oh, there's lobster too. You'll see them in the lobster tank on the way in.
Landlubbers have their choice of steak, bbq pork, chicken, a selection of burgers (even Bison burgers) and sandwiches. Kids can pick from the usual assortment of burgers, fingers, grilled cheese, mozzarella sticks, etc…
As you might expect, all this does not come cheap. While not outrageously expensive expect prices to be in line with most other waterfront/waterside restaurants. An appetizer will run anywhere from $6 to $20, and the oyster barge I love so much is about $18 with fries. Seafood dinners run $22 and up, while burgers are quite reasonably priced in the $5 to 9 range.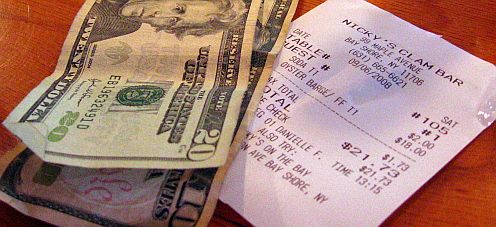 My bill for the oyster barge, fries and coke.
Nicky's Clam Bar is a small restaurant seating maybe 30 to 40 people. The bar seats 8 or so elbow to elbow. The décor is warm pine reminiscent of the captain's quarters in an old yacht. Mounted fish, maritime photographs and model ships adorned the walls. If you have a window seat you'll enjoy watching birds in the many birdhouses along the fence just outside. Nicky's also has a convenient walk up window for fast ordering of your to-go items.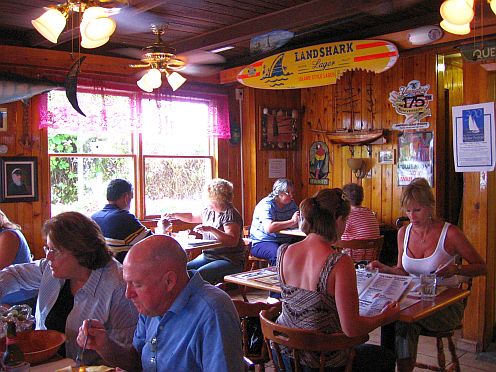 The back half of the dining room.
Everything is clean, neat, and well maintained. The service is excellent with courteous waiters and waitresses working hard to keep everyone happy.
Nicky's Clam Bar is very busy with ferry customers during peak summer months, so if you're looking for a quiet night out, off season is your best bet. On the other hand, I've met some very interesting people, mostly from New York City, while sitting at the bar enjoying my chowder. They come in to get a quick bite and have a few minutes to talk before boarding the ferry.
To sum it all up, Nicky's Clam Bar is a family run restaurant that serves fresh, expertly prepared seafood, soups wraps, and sandwiches for lunch and dinner. Breakfast is standard fare with the addition of the homemade doughnuts and muffins.
The place is clean, service is good, prices lean towards expensive. A great restaurant anytime, not just when you're riding the ferry. Before Memorial Day and after Labor Day is the best time if you want to dine quietly.
Nicky's Clam Bar
99 Maple Avenue at the Fire Island ferry
Bay Shore, NY
665-6621
---
Return to Long Island restaurants