The Brooklyn Brewery
Brooklyn, NY
Article and photos by Micheal Yohe
What comes to mind when you think of Brooklyn? Is it a city skyline? Walt Whitman? Funny accents and mispronounced words? For me it will now conjure thoughts of cold beer and my experience at the Brooklyn Brewery.
While it's not technically located on what most consider "Long Island", the Brooklyn Brewery is well worth your time even if you're coming from out East. It's got a one-of-a-kind flavor in both it's beer and atmosphere that make it a mandatory visit for beer aficionados and anyone looking for a unique night out.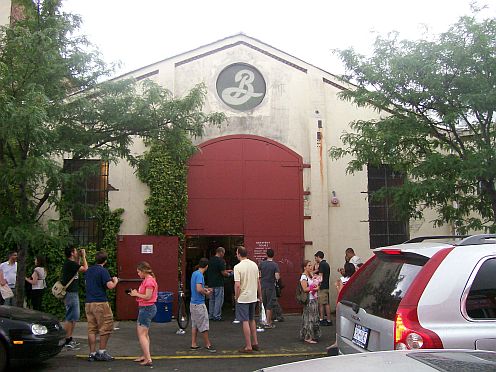 I'm going to level with you. I had an absolute blast there but the place may not immediately appeal to everyone. The crowd was generally younger and very loud, plus they are only open on Fridays, Saturdays, and Sundays. Also, it is a very busy place. The lines can get pretty long, but some move surprisingly quick. I urge you to put these notes aside. Anyone is welcomed at The Brooklyn Brewery and it is definitely worth a visit.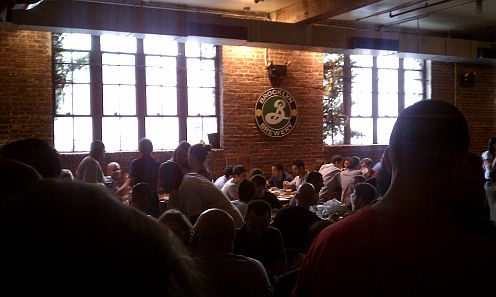 Like many other establishments in Williamsburg, Brooklyn it has the feel of a "hang out" spot. Places you "hang out" at are different than places you'll "spend an evening" at. An emphasis isn't made on aesthetics, but rather on your comfort and the quality of the product.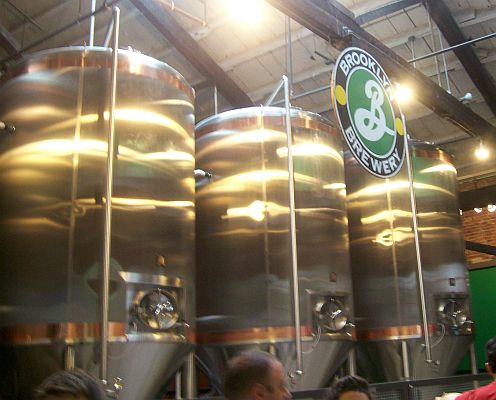 At the Brooklyn Brewery the first things you'll notice are the logo above some large fermentation tanks, dozens of sacks filled with cane sugar, and a cat. Yes, a cat. His name is Monster and he doesn't mind the noise all that much. Or the few hundred people that scratch him behind the ears every day.
They make no attempt to hide their industrial side. In truth, industrial flavor is what Williamsburg is all about. The brewery has been around since 1986, and it's good to see that they've kept their roots intact. The building has been around for quite some time, too. In their main brewing area you can still see some of the original wood and brickwork from when the building was first erected.
There are a number of tables inside the brewery, but they don't actually serve any food. Instead, there are a number of take-out menus at the front, and people are encouraged to bring in or order food. Unfortunately, these tables are prime real estate. Unless you show up when the doors open, I wouldn't expect to find an open table.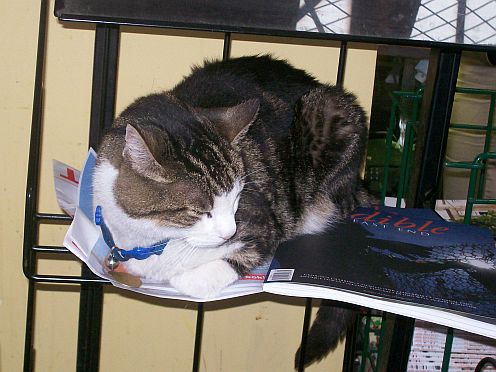 After scratching Monster's belly for a bit, I made my way to the merchandise counter for some beer tokens. Like some bars in the area, the Brooklyn Brewery uses wooden chips for beer tokens. You buy your beers in advance and turn in your chips at the bar. Beers are $4 a piece ($3.33 if you buy six tokens), and you can request a taste if you like.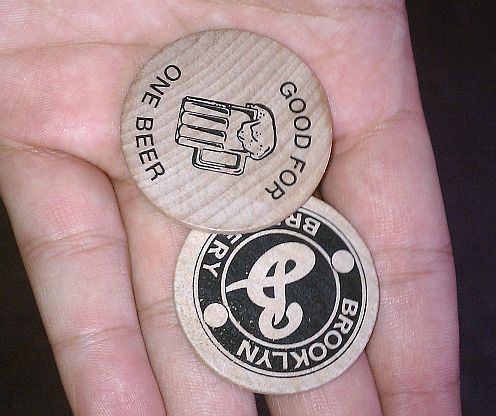 I turned to go for the bar only to realize that the line for drinks was enormous. It's not like a normal bar, where the bar is a wide area. The bar is only perhaps ten feet wide, so a line needs to form instead of the typical mass of people surrounding the bar. My excitement level dropped drastically at this sight. I was all ready for beer, and now I have to wait on a line of approximately one billion people? I had no choice, so I got on line.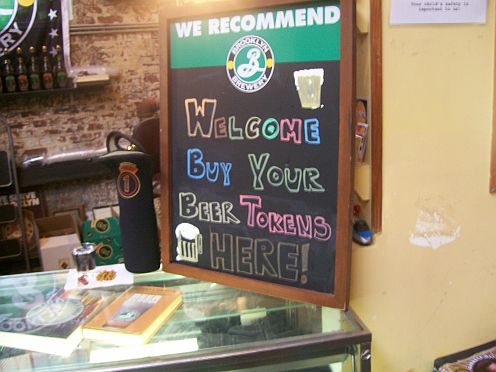 Thankfully, the line moves very quickly. I actually waited no longer than I normally would at a crowded bar. It then dawned on my why they use beer tokens. There's no change to give and it seriously speeds up the lines. Don't be turned off by the lines. They move quicker than you'd expect. Once at the bar I ordered a Weisse and a taste of their Summer Ale.
The flavor of my Weisse was not as strong as some I've had before, but it was by no means bad. Some folks may like it better that way, as it has slightly better drinkability then stronger variates. I actually wished that I had a full glass of the Summer Ale instead of a taste. The Summer Ale is a beer that most people will enjoy. The bitter flavor of the hops is complimented by a citrus flavor and sweetness. This makes for one refreshing ale that is perfect for its time of year.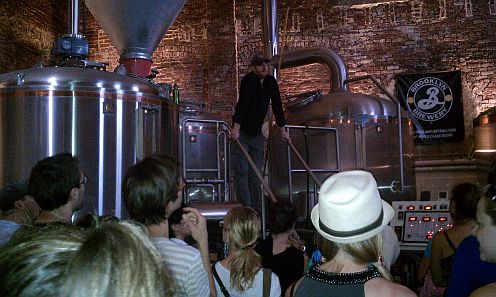 The tour runs once an hour so I made sure to check it out. Much like the Blue Point Brewery, the tour was more of a speech than a tour. Despite this, it was actually interesting and funny. The man speaking to us told us a little about the history, the recent brews, and explained a bit of the brewing process.
He also had a few funny stories to tell about the Brewery's first few years and their unexpected run-ins with organized crime. He was a good speaker and was able to keep the audience interested and laughing. Although, after a few glasses of their "Buzz Bomb" beer things tend to be a bit more funny.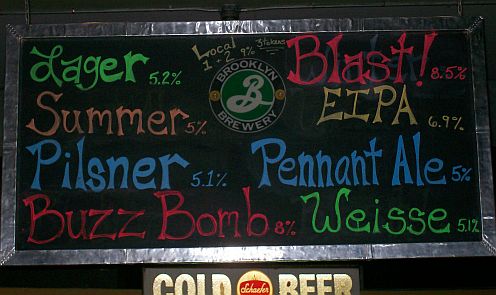 "Buzz Bomb" is a special, limited brew of theirs made similar to honey wine and is 8% alcohol by volume. It's one of their brews that lets you know that they're always thinking. Brewmaster Garrett Oliver is always looking for new recipes and styles.
It's very easy to make a day trip out of Brooklyn. Within a few minutes from the Brooklyn Brewery there are a number of shops and restaurants that one can easily walk to. I walked to a pizzeria, ate some food, made sure my blood alcohol level was legal and went home from there.
I highly recommend the Brooklyn Brewery not just for its beer, but for its character. It's a unique experience and if you haven't been to a "hang out" spot in a while then maybe you're overdue. And make sure you say "hi" to Monster for me, will you?
Additional Information
Behind the scenes at the Brooklyn Brewery with marketing manager Ben Hudson.