The Brooklyn Brewery
Behind the scenes with marketing manager Ben Hudson
by Michael Yohe
I was recently honored with a chance to speak to Ben Hudson, marketing manager for the Brooklyn Brewery. He was able to show me the inner workings of brewery, as well as let me in on their history, current brews, and upcoming brews. When I entered their offices I was happy to see how casual the place was. I had a fear of walking in to a corporate environment, thus crushing my views of the brewery as local and relatable. Thankfully, they were just a bunch of dudes in jeans. I fit right in.
After a brief interview, I got a tour of the Brooklyn Brewery during its functioning hours. First, I was treated to a taste of a new beer called "Detonation Ale" which is amazing. It's available at the time of this writing, and has a really full flavor. I really can't wait to go back and get some more. What's more amazing is that it has an ABV of 10.2% and tastes like it has about half of that. According to Ben, at the launch party it was demonstrated beautifully as people stumbled about, confused at how potent it was. Also, according to their blog, it goes great with pork tacos.
Beer in hand, I took a look at their brewing floor. It was interesting to see how intimate the process was. The kegs are filled by hand as opposed to some robot. It's really great that they can do so much with their team in one area. I think this more human way of brewing allows them to really focus on quality rather than quantity. Ben explained to me that before the Brooklyn Brewery moves on to a new market they will saturate an area and make sure their customers are happy. It's not only about the quality of the beer, but the quality of the brand.
Located across the street is a warehouse for the brewery, and my next destination. We took a short walk and learned a little about the brewery's impact on the surrounding area. Once the Brooklyn Brewery opened to the public the area really came to life. It gave people a reason to be there and naturally stores and bars followed.
The warehouse is pretty much what I picture heaven like: hundreds of boxes of beer in every direction. They also have some special climate controlled storage rooms for their special brews. Their "Black Ops" requires some aging in bourbon barrels, and I got to see those barrels holding this unique beer. It was like looking back in time to when people used wooden barrels more commonly and gave it a more character in my eyes. Other special brews I got to see were the "Local 1" and "Local 2" which require a special process of re-fermentation with champagne yeast. Having tasted their "Local 2" I can say that you really taste the love.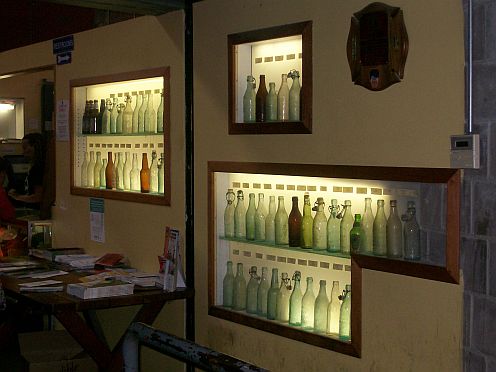 There once were a lot of breweries in Brooklyn.
Back in the brewery, I finally got an explanation as to where the dozens of old, glass bottles on the walls came from. Apparently, every bottle on the wall is from a brewery that once existed in the area. It's a cool piece of history. I wonder if they make an effort to remember their ancestors, of if it's the spirit of Brooklyn that won't let the brewery forget their roots.
It's obvious that the folks ate Brooklyn Brewery care for their beer. They are always coming up with new brews and I can say that, after being there, they are willing to go the extra mile to make sure that those brews come out perfect. I'd say I trust them with my beer, but that might not be enough. I also want to be a part of the culture they're building. It makes one feel special that such a place is so close to home.
INTERVIEW
M: Can you tell me a little about some of the brews you have available at the Brooklyn Brewery now?
B: We've got a nice thing going here. We've got a core group of year-round and seasonal beers and those range from very traditional, drinkable and flavorful beers like the lager, the Pennant Ale, Brooklyn Brown to more adventurous like the Black Chocolate Stout and Monster Ale. We also have our Brewmaster's Reserve line which is a special, new brew about every four months or so. Brewmaster Garrett Oliver and the rest of the brewers will have collaborative sessions to conjure up what the next Brewmaster's Reserve will be.
M: What are some Brewmaster's Reserves you've done before?
B: We've done the "Cookie Jar Porter" in which they deconstructed an oatmeal cookie recipe and tried to figure out how those flavors can come out in a beer. We've got the "Manhattan Project" which was a rye based beer aged in Rittenhouse rye barrels which was meant to taste like a Manhattan cocktail. It requires a bit of experimentation.
M: So can you share any details about upcoming brews?
B: A lot of people are excited for "Sorachi Ace". It's a Saison-style beer that's based on the "Sorachi Ace" hop, which was developed by Sapporo in the late 80's. They decided that it had too much flavor, so they discarded it. But this one farm in Oregon started growing it. Garrett saw it and figured it would go great in a Saison. So what we've got is really lemony, super refreshing and very dry. It's really bringing people together through the entire beer spectrum. People who like light, American lagers to hardcore beer enthusiasts, to people who only like wine. Everyone seems to love it. It was supposed to be a one time brew, but it looks like it will come back and be more of a year-round beer.
M: If you had to take one kind of beer from the Brooklyn Brewery on a desert island with you, which would it be?
B: Hmm…I guess I'd have to take the Lager or the East India Pale Ale. Brooklyn Lager is our flagship. But I think it's one of the best flagships around. It's not some easy drinking light beer. It's got a good hop character, and some maltiness to it that I seem to enjoy over and over.
M: I noticed last time I visited that as a destination, people are encouraged to come to hang out and bring food, rather than having a kitchen here. Is that something that evolved, or was it intentional?
B: The whole scene here is prone to evolution. When the Brooklyn Brewery opened there was nothing on this block and now it's a party destination. When it started off we'd have about 20 people from the neighborhood hanging out, and now it's totally packed every night. As far as food goes, they made a very conscious decision to be known as brewers only. We're not restaurant specialists. We know beer. Another part of it is that some of these restaurants around here are our best customers and we wouldn't want to take away from their business.
M: It's good that you guys keep beer number one. Because it is number one!
B: A message we like to get out too is that beer is a great companion with food. And Garrett is also a pretty handy chef. He wrote "The Brewmaster's Table" which is the definitive book on pairing beer with food.
M: I had seen the Monster Ale once before. Is that somehow linked to the cat named "Monster" downstairs?
B: The cat is named after the beer. Animal Planet recently did a 30 minute shoot with him; it was awesome. He's pretty famous. He's got over 500 friends on Facebook.
Additional Information
---
Return to Brooklyn Brewery main page.