John Harvard's Brewhouse
A Long Island Brewpub
John Harvard's Brewhouse serves homemade beer and food in a restaurant/pub style setting. The service is good and the prices are reasonable. Although I wouldn't make a special trip here for the food, I might for the beer depending on what's on tap.
According to their website the recipes for the beers they brew originated with William Shakespeare and were brought to this country in 1637 by John Harvard (of Harvard University fame.) That's an interesting story, but so much has changed since then it's unlikely that today's interpretation of those recipes bear any semblance to the originals.
But there is something romantic in making a connection that far back. I own more than my share of colonial cookbooks and I'm embarrassed at how many times I tried making Sally Lunn bread until I realized that nobody alive today really knows what the stuff is actually supposed to taste like.

Stainless steel and copper hardware at John Harvard's Brewhouse is a sight to behold
What differentiates John Harvard's Brew House from other Long Island restaurants I've reviewed is that it is a chain and headquartered off Long Island. Those two strikes are usually enough for me to cross something off my list, but the exception here is that John Harvard's is one of only 4 Long Island brewpubs. And since there are only 4 I don't want to overlook any of them.
Non-local ownership aside, John Harvard's Brew House offers a good selection of tap beer made on premises by a local, Long Island brewmaster with some independence from mandated corporate recipes.
Atmosphere and Décor
John Harvard's dining room is quite large as is the rectangular bar. We had no trouble finding seats when we arrived early on a Friday evening. When we left at around 10:30pm there was a lively crowd at the bar and some people were standing around waiting for seats to open up.
The dining room, on the other hand, was almost empty all night long.
The otherwise nondescript décor is offset by a wonderful display of their brewing equipment. The mash tun, kettle, fermenter, and serving tanks are in full view and beautifully lit making them the centerpiece of the restaurant.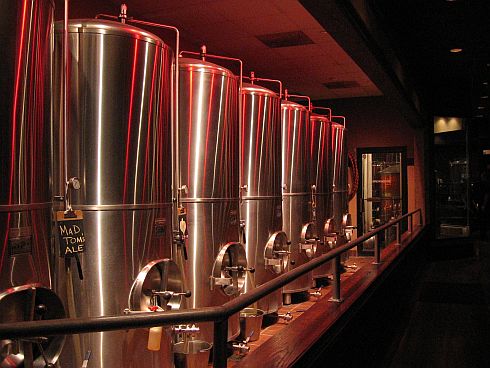 The taps at the bar are connected directly to these serving tanks
Service
The service started off slow, but was very good for the rest of the night. For a bar seated with relatively few patrons it took far longer than it should have for one of the 2 bartenders to notice me. When someone finally did come to my service I was told I could taste only 6 of the 8 beers on the menu. It took a bit of explaining and negotiating, but finally, I had 9 samples of beer in front of me.
But there were only 8 on the menu? The bartender, understanding that I wanted to taste everything, poured all 9 brews on tap that night, not just the 8 menu selections. He was quite proud of himself and it was at that point that I felt like I was getting good service. And the service from him was very good for the rest of the night.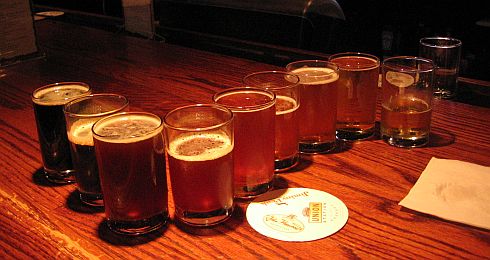 Beer samples stacked in order from lightest to darkest
In the restaurant I watched college age girls and guys waiting the tables. They seemed alert and attentive. My experience with servers in that age group has generally been good, but since I was sitting at the bar I can't say for sure what the restaurant service is like here.
Beer
My tasting partner, Sean and I sampled 9 beers and were not impressed with any of them. They seemed well made from a technical standpoint, no off flavors or anything like that, but each one was a mixture of styles not really knowing what it wanted to be. For a specialty or showcase brew maybe that's okay, but all 9?
We discussed the "Americanization of beer" trap—make anything you want then superficially match it to one of the traditional styles. Explain away the differences by calling it American Style.
Now, I don't really have a problem with that so much as long as the beer tastes good, but of the 9 I found nothing quaffable enough to drink by the pint. As much as I love a good brew I'm usually not a fussy beer drinker, so in all fairness to John Harvard's brewmaster I should go back and taste again just in case I was having an off night.
Although we were in general agreement on the quality of the beer, in some cases our tasting notes differed significantly.
Food
John Harvard's dinner menu features a variety of steak, chicken, fish, pasta and salads. All the major culinary influences are covered, so there's something here to please everyone. There's also a pub menu for burgers, wraps, wings and BBQ style sandwiches.
With so many choices on the menu I had a hard time choosing and fell back to my old standbys, wings and a burger. Sean ordered the pulled pork sliders.
The Thai inspired wings were lightly coated with sesame seeds and a peanut-ginger-chili sauce, and served with lime wedges and rosemary. I was puzzled by the lime until I tasted it on the wings. It was actually pretty good. I liked these wings and next time I'm here I'm ordering them again.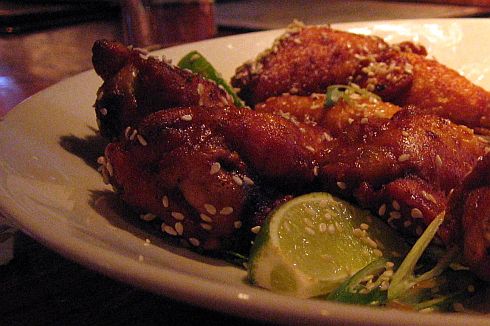 These unusual wings were very good
My burger was a little on the lean side. Not too lean but getting there. If you like hamburgers like I do you appreciate the fat. It makes a burger juicy and gives it a nice feel in your mouth. I also like my hamburgers rare, but medium rare is as cold as John Harvard's will cook them. The cheese and bacon more than made up for those minor complaints, and this was a pretty good hamburger overall.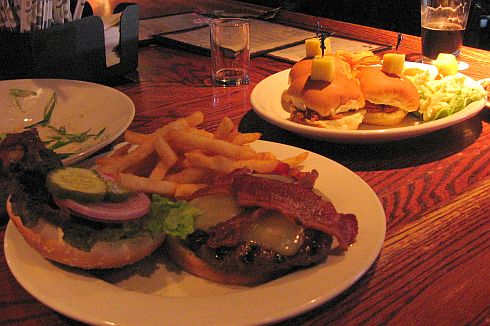 Bacon cheeseburger and pulled pork sliders
Sean's pulled pork sliders were tender and not over-sauced, but the sauce was out of a bottle. It wasn't bad, but could have been better. The quantity of pork in each sandwich was appropriate for sliders, but it was lost in buns that were too large and too bready.
In all, the service here was good, the food was reasonably good, and the beer was disapointing. The bill came to $56. Considering all we ate and drank, I think that was quite reasonable.
It's rare that I review any Long Island restaurant after only one visit, so to be fair I owe John Harvard's Brewhouse another. When I do go back I'll update this review accordingly.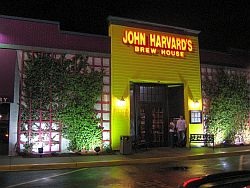 John Harvard's Brewhouse
2093 Smithhaven Plaza
Lake Grove, NY 11755
631-979-2739
---
Return to Long Island beer
Read about more of my favorite Long Island restaurants