Duck Walk Vineyards
Long Island, NY
by Emily Monaco
The atmosphere of Duck Walk Vineyards is more like a bar than a wine tasting: upon entering the giant room with its high ceilings and endless wine bottles displayed on tables, I'm struck by the amount of people and, especially, the rapid-fire tastings that I can see from across the room.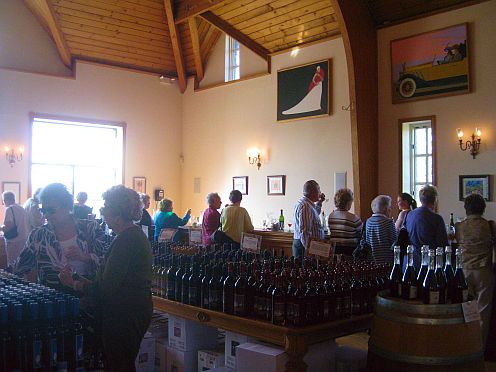 From the size of the group that is lined up at the counter in front of the spittoons, I can only assume that they have arrived on a tour bus, and so I peruse the selection of wines—there are quite a few—and wait for the group to disperse and the bar to be left nearly empty before I approach to begin my own Duck Walk Vineyards experience.
It's close to closing time, but the friendly girl at the counter, who introduces herself right away as Amy, is happy to serve us one more tasting. She turns on some music and jokes with her co-workers behind the bar as we peruse the menu, choosing our five wines to taste.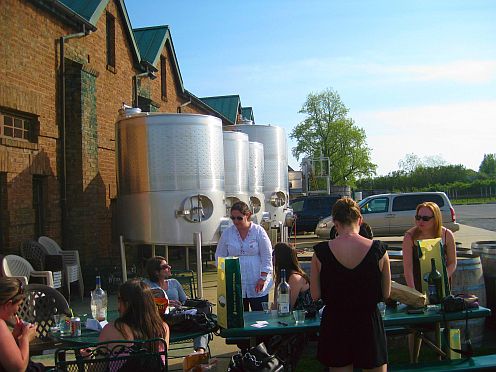 Amy seems to approve of our choices as she reaches for the first bottle. I immediately feel at home here at the bar, where I get to witness the back-and-forth amongst the staff: it makes me feel like part of something instead of just another tourist. It's a very good atmosphere for tasting wine, and I soon turn my attention to the glass of Pinot Grigio that she's poured: I'm immediately struck by the difference between the aroma and the taste. Though the scent is floral, the taste is very fruity, and the contrast is interesting and much more complex than I'm used to in white wines. It goes down dry, but not too dry: all in all, I judge it to be the perfect, refreshing summer beverage, but Amy has different plans for us.
She reaches for a bottle of Sauvignon Blanc. We haven't requested it, but she insists that it's her favorite and tacks a glass onto our five-wine flight. I take a sip as she rattles off tips that she's memorized—it's apparent how well she knows what she's talking about as she makes suggestions about wine storage and serving. She tells us to freeze green grapes and use them as ice cubes to keep the dry white wine cold. I may save the trick for other whites, but I don't agree with her on this particular glass—I'm all for dry whites, but this is almost too dry, and I find myself puckering and waiting for the next thing we're ordered: the Windmill Blush.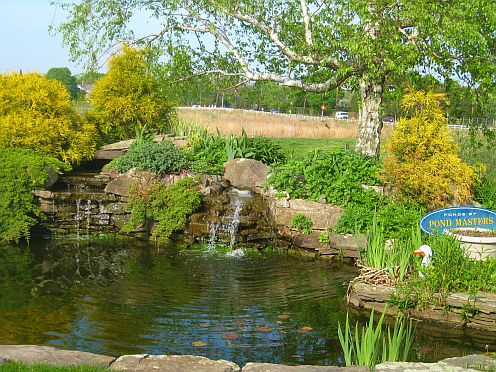 Amy pours the glass, and I take a sip: it's fruity, but still dry, almost like a journey in your mouth from sweet strawberry to cool, crisp acid. It's perfect, and I hang onto the glass a bit too long for a tasting. Part of it must be the atmosphere.
"It feels almost like a bar in here," I say to Amy, finally voicing the idea that's been floating around in my head since I walked in. She chuckles.
"We turn into a club at night," she jokingly replies, as she reaches for the next bottle: the Duck Walk Vineyards Windmill Red. The cabernet franc grape brings a smooth finish to the otherwise fairly simple but very drinkable red wine.
The next red is a bit more complex: the Pinot Meunier is smoky from the oak barrels with a peppery finish. I take a deep whiff before I taste, and I'm surprised to discover that it tastes exactly the way it smells, the smokiness even stronger in the mouth than it was in the nose. It's not unpleasant, but it's definitely unusual—the sort of thing that would be perfect to bring out amongst wine connoisseur friends, but perhaps not the bottle I would choose for a regular dinner.
As a dessert wine, we had settled on the boysenberry wine, but Amy convinces us to try one more first: she pours us a glass of the blueberry port, which she says Duck Walk Vineyards is famous for. She's brought our total up to seven as opposed to the five we're supposed to receive, so I assume it must be worth tasting. I reach for the glass, but she's not done: in what feels like a parlor trick, she produces two purple foil-wrapped dark chocolates and instructs us to take one sip of the port, then a bite of the chocolate, and then a second sip of port. We do so, and the effect is amazing: it reminds me of descriptions I've heard of the magic berry that changes your taste buds. The chocolate brings out the deep richness of the port; what had started as something that tasted pleasantly of sweet, acidic blueberries became something far more complex and dark.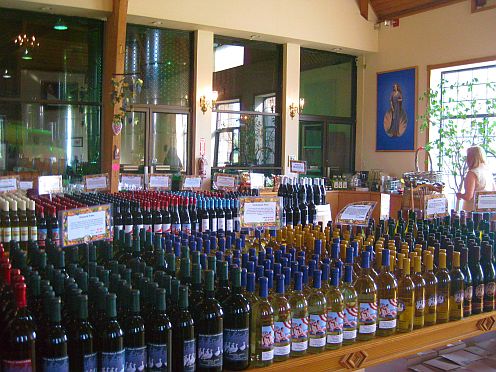 We put the glass aside, though, for a taste of the boysenberry wine we had selected. "It's like a SweetTart in a glass," Amy claims as we take our first sips, and I'm bowled over by how spot-on her description is: I couldn't have described it better myself.
Almost too perfectly to be real, the clock hits five, and Amy's coworker smiles. "The countdown begins!" she shouts playfully, and the rest of the staff laughs. It's apparently nearly time for Duck Walk Vineyards to close, and so I quickly pay for my personal selections—a bottle of the Windmill Blush and one of the sweet and tart boysenberry fruit wine—and we climb back into the car to drive away.
As I look back over my shoulder at the giant building that looms, a busload of tourists that had been sitting on the outdoor patio listening to live guitar music as we'd journeyed through the wines of Duck Walk Vineyards, I counted myself lucky, not only to have been able to experience this winery, but to have been made to feel so at home by the staff who ran it.
Additional Information
---
Duck Walk Vineyards
231 Montauk Highway (Rt 27)
PO Box 962
Water Mill, NY 11976
Phone: 631-726-7555 x4
Return from Duck Walk Vineyards to Vineyard Directory.
More about Long Island wine tasting
Take a tour of Long Island Wine Country