BrickHouse Brewery & Restaurant
A Long Island Brewpub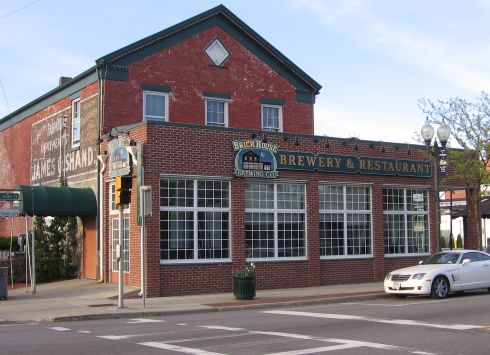 In spite of its name the BrickHouse Brewery in Patchogue is technically a brewpub.
Beer, carefully crafted by brewmaster Mark Burford, is served along side standard pub fare and nicely prepared specialty dishes in a comfortable setting.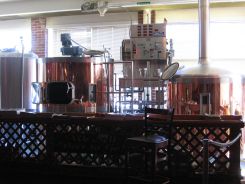 Echoes of the 1850's former general store BrickHouse Brewery occupies are seen throughout the pub giving it a warm, nostalgic charm.
Copper brewing equipment in full view of the bar completes the picture.
A bumper sticker pasted near the brew kettles, "Save the Ales" made me smile.
BrickHouse Brewery is also a venue for live music with a regular act appearing on Fridays, karaoke on Thursdays and a variety of bands on weekends.
As someone who spends a significant amount time in Long Island bars and restaurants I've experienced my share of good service.
Left: Ann Marie pours a cold one.
But, I was more than pleasantly surprised during my first visit to BrickHouse Brewery when the bartender welcomed us in, politely introduced herself and then asked our names.
All afternoon it was, "Bill, what can I get you?" And "Karilyn, do you want a refill?" Ann Marie made us feel like royalty. And she was endearing too, taking a genuine interest not only in us, but the rest of her customers as well.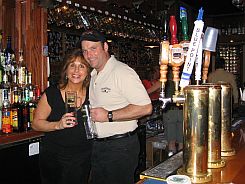 The cynical might say she's just doing that to assure a good tip. Sorry. It's hard to fake thoughtfulness and those who have to fake it can't do a convincing job.
Right: Ann Marie and Mike with beer mugs ready to fill.
Besides, I take good service at face value without analyzing it. If the service is good, who cares what the motivation is? I certainly don't.
While Ann Marie was working our end of the bar, her husband, Mike was working the other. I've never experienced husband & wife tag team bar tending before, but this was great. The two of them made our day.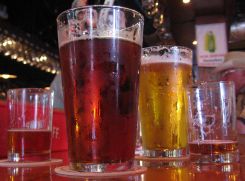 BrickHouse Brewery offers half a dozen varieties of their own beer plus one or two from the nearby Blue Point Brewery.
Left: Pints of Boy Red and Peggy's Pislner with some sample glasses on the side.
On this particular day the selection included several ales, a pilsner and a stout. The brews were all well made, clear and with nice heads.
On tap from Blue Point were Toasted Lager (one of my personal favorites) and Blue Point Blueberry, a dry fruit beer made seasonally.
After sampling all of them I settled in for a pint of Boy Red, a hearty, but nicely balanced red ale while Karilyn committed to Peggy's Pilsner, a brisk, clean thirst quencher.
Although I usually go with high alcohol, heavily hopped IPAs, todays choice was made primarily for food. I wanted something that tasted good, had reasonable body but not too malty, and wouldn't overpower my meal. Boy Red was the perfect choice.
The food was good, presented well and served in ample portions.
Right: That bowl of back bean soup is a lot bigger than it looks.
I ordered the Brewer's Sausage appetizer along with Manhattan clam chowder and the BrikHaus salad (hold the walnuts please).
Karilyn had the Black bean soup and the BrickHouse Nachos. Of course, we shared everything.
The clam chowder and black bean soups were excellent. The Brewer's sausage (a knockwurst and a bratwurst) were served on dark, slightly sweet sauerkraut that was mild enough to actually eat. The sausage and sauerkraut were great with the beer.
The salad was good, but don't ask me why I ordered it. Beer, nachos, soup, sausage. A salad? Was I trying to save calories or save room for desert?
Never mind, I'll just have another beer…
Billy Joel, Crop Circles & Pumpkin Ale at the BrickHouse Brewery
I made another visit to the BrickHouse Brewery last night to sample some of their pumpkin ale and ended up meeting Long Island celebrity, Billy Joel.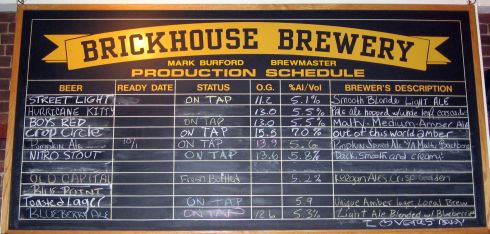 What's on tap now at The BrickHouse Brewery
Pumpkin Ale
BrickHouse's pumpkin ale is served in a glass rimmed with sugar and pumpkin pie spices much like a margarita is served with salt. The ale is seasoned in the serving tank with more of the same.
As I brought the glass to my nose I was overwhelmed by the aroma. It smelled like a mouth full of Red Hots. Fortunately, the pumpkin ale tastes a lot better than it smells, but once I was done licking the sugar off the glass there really wasn't much left to support the spicy fragrance.
As beer writer Donavan Hall noted in his review, this is way too much spice and little of anything else.
Crop Circle
What I really enjoyed last night was Crop Circle, BrickHouse's "Out of this World" amber.
Crop Circle is made from an old recipe developed by a family in Ireland and produced by BrickHouse Brewery under license.
Left: Karilyn playing in the crop circles.
Crop Circle is an excellent cold weather brew; dark and rich with a hearty mouth feel and an almost sweet, chocolate finish. This is a beer you can eat.
It reminded me a little of Blue Point's Oatmeal Stout only thicker and not quite as burnt.
I savored every sip of the three pints I consumed.
Billy Joel
While I had my nose in my beer the ever observant Karilyn spied Billy Joel walking in to BrickHouse.
Billy Joel had just been inducted into the Long Island Music Hall of Fame and stopped in at the BrickHouse after the ceremony was over.
Speechless, she tapped my leg frenetically as he walked by, but I didn't look up in time and missed him. Lucky for me, he had to use the men's room. I positioned myself strategically for an interception on his return trip.
My heart was pounding and I almost chickened out, but I got up the nerve and asked for a photo. He said it would be fine and he'd do it on his way out.
Well, on his way out my nose was in my glass again. Billy Joel actually tapped me on the shoulder to let me know he was leaving. He could have walked right by and forgot all about it, but he didn't.
Thank you, Mr. Joel for not forgetting about me. I am a devoted fan and you made my night.
I want to thank Karilyn for taking this picture. One of us had to stand behind the camera and she made the sacrifice for me.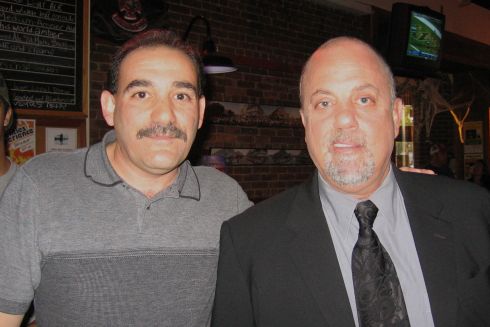 Do I look like a deer in the headlights or what?!
The Brickhouse Brewery
67 West Main St.
Patchogue, NY 11772
631-447-BEER (2337)
Fax: 631-447-6532

Open 7 days a week

Lunch (11AM-4 PM)
Dinner (4PM-10PM)
(Fri & Sat. to 11PM)

Takeout Available
Return to Long Island Restaurants