Virginia Beach
Yes, I know, Virginia Beach has nothing to do with Long Island...But I had a great time on this vacation and just wanted to pass the info along.
Yes, even this loving Long Islander steps off the Island every now and then. Not on my own accord of course, I would never do a thing like that (grin). I made this trip at the gentle urging of my girlfriend who was going with or without me.
What would you have done?
So, last Sunday my modus operandi went from loving Long Island to leaving Long Island.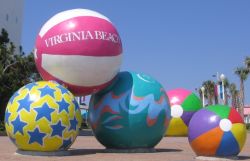 All packed and prepped we began our 7 hour journey—Karilyn, myself, and our two teenage girls, Amanda and Caitie.
All the while I'm thinking to myself how silly it is to drive 7 hours to visit Virginia Beach when Long Island has the best beaches in the world all within a 30 minute car or ferry ride from my house.
Jones Beach, Robert Moses, Fire Island, the Hamptons, Montauk Point—take your pick, but 7 hours in a car full of teenage girls to visit a beach? The things we do for love…
The drive down was uneventful and we arrived on schedule. Although our hotel, The Diplomat Inn Oceanfront was spartan, it was clean and relatively inexpensive which suited our taste just fine.
Most importantly, our rooms were on the ground floor which meant we had very easy access to the beach. A mere 400 foot walk from our back door and our toes were in the surf. It couldn't be better.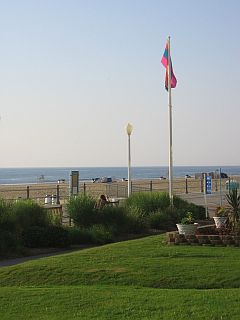 As a first time visitor to Virginia Beach I had no idea what to expect. A beach, a hotel room, shops, restaurants, what's the big deal?
What I discovered is a community extraordinarily proud of their beautiful oceanfront seascape, maritime heritage and military affiliation.
Left: The boardwalk and bike path from our hotel room patio.
A community where people understand and use the words excuse me and thank you; where every road, sidewalk, building, shrub and flower is meticulously maintained; where litter and graffiti simply do not exist.
Obviously the city council and local residents take pride in their town and go to great lengths to keep it beautiful. And, they know how show the tourists a good time…
We started each day at sunrise enjoying a slow, 4 mile hike on the board walk. Well, they call it a boardwalk but this one is really a concrete seawall and as utilitarian as that sounds it is, like most everything else in Virginia Beach, thoughtfully designed and really quite attractive.
Along the way we'd stop at one of the many beachside restaurants and pickup some coffee to go. Our daily stroll took us past a giant statue of Neptune (which we never got tired of looking at), an old Coast Guard station and an outdoor military history exhibit with text and photographs etched in granite.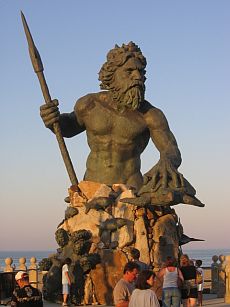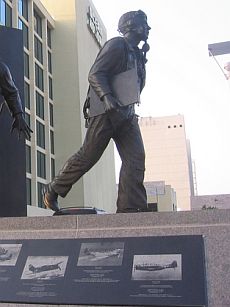 Running next to the boardwalk and separated from it by flower beds is a two lane bike path, which is another example of how perfectly designed this place is.
The boardwalk is very wide and could easily accommodate the volume of pedestrian and bike traffic I saw. But keeping them separate is the safest thing to do and the conscientious City of Virginia Beach wouldn't have it any other way. I watched bikes and surreys travel this path from daybreak until I went to bed at night.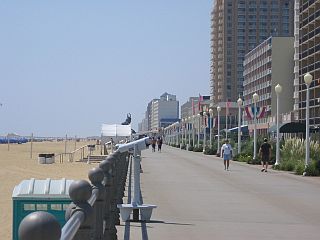 After our hike we'd wake up the girls and head out for breakfast.
Right: Boardwalk and hotels. The bike path is behind the shrubs just right of the street lamps.
We usually ate at Pocahontas, a pretty good diner, but on our last day we went to one of the beachside breakfast buffets.
It was less expensive, less crowded and the food was just as good. Next time I visit Virginia Beach I'll have breakfast at the buffet more often.
After breakfast it was back to the hotel to pack for the beach.
Poke around this website a little and you'll find out just how much I love beaches. Each day I couldn't wait to get down to the water.
I was surprised at how similar the sand and surf are to Long Island beaches. The sand color and composition look just like what you'd find on Fire Island or Jones Beach only the dark bands of garnet and magnetite are missing.
The water color was exactly the same as Long Island's ocean water and although at first I thought the water was warmer; my son who stayed on Long Island told me the water at Robert Moses was also exceptionally warm.
The surf itself was rather gentle for the first few days and I could barely hear it from the hotel room. About midweek a tropical storm came within 100 miles of us and really kicked up the waves. After about 20 minutes in that surf we were exhausted, exhilarated and maybe even a little scared.
While sunning ourselves on the beach we watched dolphins play, fighter jets scream past overhead (there's a base nearby), tour boats float by and parasailors get dunked after their flights. Does it get any better?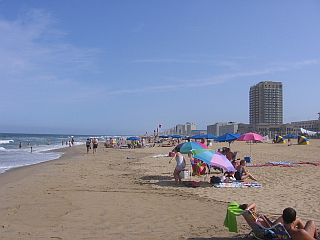 The city of Virginia Beach seems to understand the value of a visitor and goes far and above to assure tourists enjoy their stay.
Left: Hotels on Atlantic Avenue line the beach.
For example, running parallel to the beach is Atlantic Avenue.
For roughly 2 1/2 miles or 40 blocks there are hotels, shops and restaurants. And, amazingly, on every block there is a live act paid for by the city.
We saw solo musicians, bands, magicians and jugglers performing every night. They all had sign on the sidewalk, Sponsored by the City of Virginia Beach. No tipping allowed. There are even a fireworks shows on the weekends.
Next to the boardwalk there's a large, open air pavilion on a close cropped lawn. This is the site of special exhibitions and live music on the beach. Every night a different band played. No admission charge, just show up and enjoy.
And show up is really all you have to do in Virginia Beach. You don't have to look for anything because everything is everywhere. Take one step outside your hotel room and the fun finds you.
On our last day in Virginia Beach we took the girls parasailing. This was a little on the expensive side, but the memory will last a lifetime.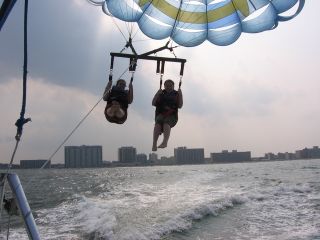 Parasailing these days is done a little differently than it is on some of those blooper videos you may have seen circulating around the Internet.
Instead of launching from a beach or a pier, passengers are launched right from the boat.
This makes the dangerous running take off a thing of the past.
At the end of their flight the captain asked us if we wanted them dunked. At first we said no because the girls were fully dressed, but then we decided that after entertaining them for a week, we're entitled to a little entertainment of our own.
Dunk'em!
After parasailing we had a very nice dinner at Rudee's, a waterside restaurant serving steak and seafood.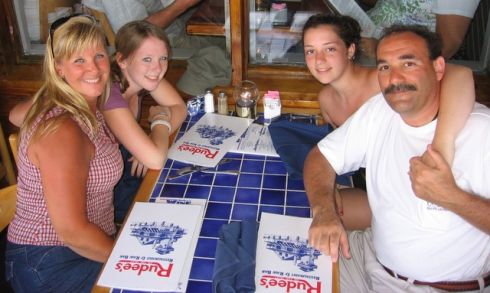 Next time my girlfriend wants to take me to Virginia Beach will she have to twist my arm as hard as she did this time?
She sure will. I can't let her know how much fun I had; I'll never hear the end of it.
Return to Loving Long Island Home