Saved by my Grandfathers Ghost May 2nd 1968 at Battle of Dai Do (Vietnam War)
by Audie (nickname)
(Long Island New York USA)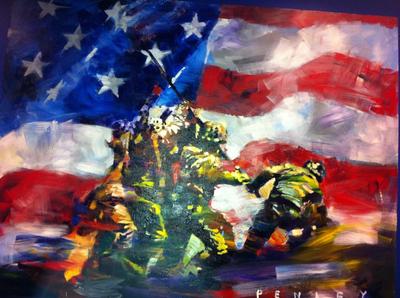 This did not happen on long Island, but that is where I am from and live now.

It was back in May of 1968 on my birthday which is the 2nd. Myself and a handful of Marines found ourselves smack in the middle of an NVA attack. Their troops were trying to open an invasion corridor into South Vietnam.

Our outfit was under the command of Lt. Col. William Weise. Our job was to make sure that this attack failed and we were to kill as many of those little bastards as we could and send the rest running back home!

We were backed by heavy artillery and air strikes and had the help of the Army. The fighting was heavy. Rounds were flying everywhere. Guys that were like my own brothers were getting killed. Our position was in danger of being overrun. They just kept coming at us and coming at us. Looking for weak spots to pour into. I was thinking to myself that today I was 20 years old and it was going to be my last day on Earth.

We were forced to pull back and look for a new position to hold. As we were running through the thick brush I thought I saw a man in a WWI Uniform pop out of an opening in the tree line. He was waving us on to follow him. I froze for a moment, but the NVA was almost on us. No time to think, I bolted toward the figure followed by my buddies. When we made it to the spot the soldier was gone, but we could not have asked for a better position. Plenty of cover to fight behind. We held fast and were soon joined by other Marines.

We were able to open up Hell on those little bastards. When it was all over I remember looking to my left and there was my Grandfather Dressed in his WWI Uniform with a smile on his face! Startled I closed my eyes and shook my head. When I opened them up again He was gone. My buddies thought it was the heat of battle that had rattled my cage and I did not dare say otherwise, but I knew that My dead grandfather gave me the gift of life for my birthday!