Oysterman's Restaurant and Pub
Sayville, Long Island, NY
Editor's note: Oysterman's has re-opened under new ownership and is now Bistro 25. The follwing review of Oysterman's will remain here for historical purposes.
I've been a regular at Oysterman's since it opened roughly a year ago and it has been rising steadily on my list of favorite Long Island restaurants.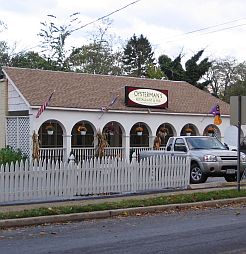 What keeps me coming back?
Their food, prices, and service are excellent.
What's more, it's been like this consistently since my very first visit.
When I go to a restaurant, if there's a nice bar, that's where I'll sit. It's more comfortable for me to have something to lean on and I don't have to wait as long for a refill when my glass is empty.
Sitting at the bar gives me a chance to do some people watching and, if I'm in the mood, a little socializing too.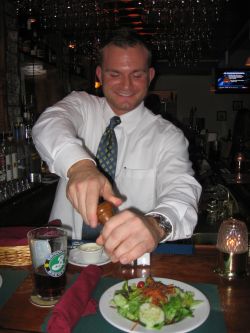 Oysterman's has one of those bars...
It's long, thick and just the right height. If I get my favorite spot at the far end, I can observe goings on in the entire restaurant.
The bartender is social, knows how to pour a Guinness and makes an outstanding Old Fashioned.
Right: Co-owner/Bartender extraordinaire and grand master of the pepper mill, Rob Cook.
He not only keeps everyone well fed and watered, he makes us feel right at home too.
The bar crowd is a healthy mix of well mannered couples and singles of all ages, but leaning towards the younger side of 40.
Another thing I enjoy at Oysterman's is the live music.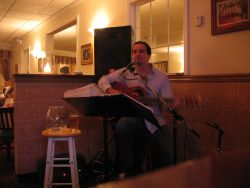 They have a knack for hiring talented performers and keeping the volume at just the right level—loud enough to encourage conversation, not inhibit it.
Left: Acoustic Steve is one of the many talented musicians you'll hear at Oysterman's.
If it's peace and quiet I'm after the main dining room is behind a wall well away from the music.
Outside, Oysterman's features a large dining area sheltered under a decorative, arched façade. A popular spot in the summer, it's also a great place for those stormy weather cigarette breaks and for the family to stay dry while you get the car.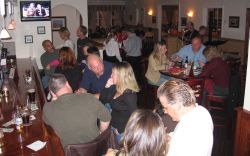 Inside, there are three distinct dining areas in addition to the bar.
Right: A typical Friday night crowd.
Old photos of Long Island's baymen decorate the walls giving Oysterman's a sense of nostalgia while connecting with Sayville's maritime history.
The bar itself is classic dark wood with racks of sparkling glasses overhead.
The overall feel at Oysterman's is warm and inviting. And that feeling is not only in the décor, it comes from the staff as well.
When I walk in I'm greeted with a smile no matter who sees me first; hostess, waitress, bartender or busboy. I'd like to think it's my charm and good looks, but let's get real here folks…
The food at Oysterman's is excellent, much better than the prices suggest (there are only 4 items over $20 on the menu.) I'm a big seafood lover and I've become quite fond of Oysterman's tuna specials. They use high quality fish, cook it to your taste (in my case, rare), and make it look good on the plate.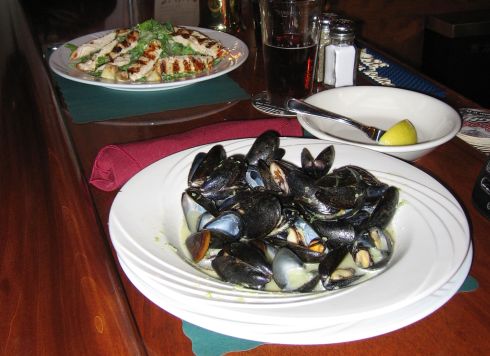 A delicious grilled chicken salad and mussels appetizer.
My girlfriend is more of a meat and poultry lover, and thankfully doesn't mind my fork in her plate. I've sampled some of the chicken dishes she's ordered as well as the salads and prime rib specials. They were all excellent.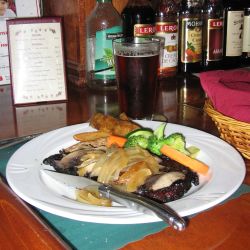 Another thing I love about Oysterman's is, I can get away cheap when I have to with a pint of beer and plate of tasty Buffalo wings not costing me much more than $10.
Left: Juicy prime rib covered with onions. 
But again, don't let the prices fool you. The food here is excellent.
Tap beer at Oysterman's is always fresh, and even with just a handful of taps the selection is good.
Thankfully, only one of the taps carries megabrew. The others flow craft brews such as Bluepoint, Sam Adams, Sierra Nevada, Brooklyn, etc. To compliment the taps Oysterman's offers a selection of premium bottled beer.
A while back we organized a reunion party for about 20 people. Now organizing parties is not something I like doing. There's that never ending stream of "helpful" suggestions and after the party someone always complains about something.
After considering a number of Long Island restaurants, we chose Oysterman's. The price was reasonable and it was the one place we had enough faith in to please everyone.
When the party was over and for several days after, we received a lot of compliments on our choice.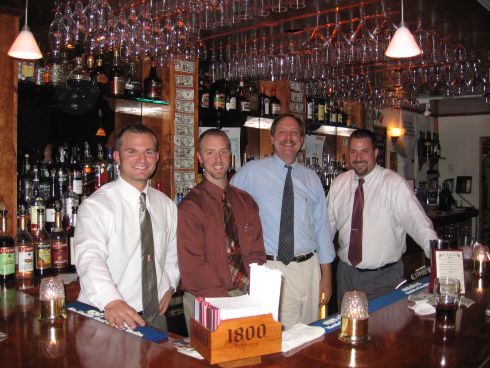 Owners Robert Cook, James Gilroy, Dennis Bennett, and Mike Doherty
I really can't say enough about this place. Oysterman's Restaurant and Pub has set a standard of quality, price and service I wish more Long Island restaurants would follow. I congratulate the owners on a job well done and wish them continued success in the future.
Directions
Located on Foster Avenue between Montauk Highway and Middle Road (S. Main Street) Oysterman's is easy to miss, but worth seeking out.
From points west of Sayville:
Sunrise Highway East to Lakeland Avenue South.
Continue for 1.9 miles.
Turn left on Main Street.
Bear left at fork.
Quick right on to Foster Avenue.
From points east of Sayville:
Sunrise Highway west to Johnson Avenue south.
Continue for 1.15 miles.
Turn left on to Lakeland Avenue. Continue 0.7 miles.
Turn left on Main Street.
Bear left at fork.
Quick right on to Foster Avenue.
Oysterman's Restaurant and Pub
45 Foster Avenue
Sayville, NY
631-589-7775
---
Return to Long Island Restaurants