Flo's Famous Luncheonette
Bluepoint, Long Island
Flo's Famous Luncheonette has been a summertime favorite since 1926. The food is good and there are a number of specialties unique to Flo's, but ask anyone why they eat here and that's when things get interesting.

Place your order here, in the front of the building
With a pea stone parking lot, slapdash construction, and a beach right down the block, the nostalgia at this Long Island restaurant runs as thick as their shakes. People come here because they love the place and the feelings it gives them. 
For those who have been coming here all their life, it's tradition and childhood memories. For others, like me, it's the smells, sights and sounds of summer—something I never get tired of.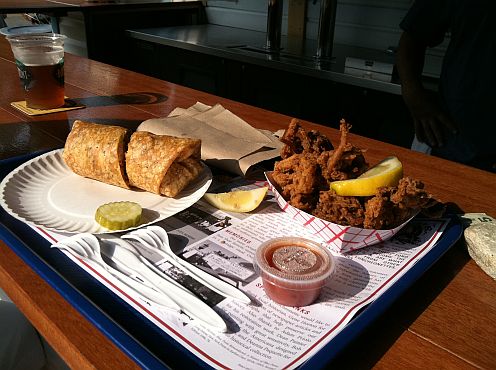 An excellent buffalo chicken wrap and some fried calamari at the bar at Flo's.
On the menu you'll find a nice assortment of seafood, burgers, hot dogs, wraps, salads, sandwiches and sides. The burgers, served on grilled potato bread are always good, but I almost always order something from the sea (their lobster rolls are a favorite of mine). The desert menu offers floats, smoothies, sundaes, Italian ices, and frozen candy bars, all at very reasonable prices.

Fried clams, fries, and a cheeseburger with a giant onion ring on hearty toasted white bread.
The Ipswich style clam strips are coated thick and served golden brown. The fried squid has a lighter coating and you get tentacles (thankfully) as well as rings. The wraps are very good too. They are stuffed beyond expectation and many times we end up eating only half and bringing the other half home.
Flo's lobster rolls are outstanding. There's no skimping here; you get a boat load of fresh lobster on a nicely toasted bun with a side of fries. Flo's uses dill in their recipe which is unusual in lobster rolls. I wasn't sure if I liked it at first, but now I'm practically hooked on these things.

The bar is small but comfortable and the service is always great.
The outdoor bar is a nice touch and serves up a small, but good selection of tap beer, single serving bottled wines, and homemade sangria. Seating at the bar is limited, so sometimes there's a wait, but the service is always great. The picnic tables are nice, but the bar is my favorite place to sit.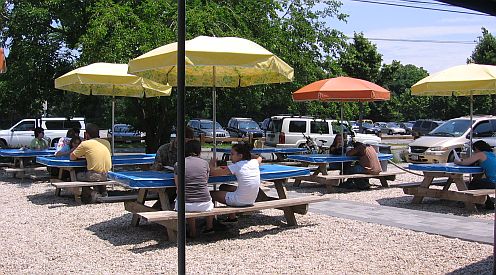 Ample seating, but never enough room in the parking lot.
If you can't make it to Bluepoint see if you can catch up with the Flo's on the Go lunch truck. The truck visits various locations throughout Long Island bringing Flo's great food far and wide. Check Flo's Facebook page for locations.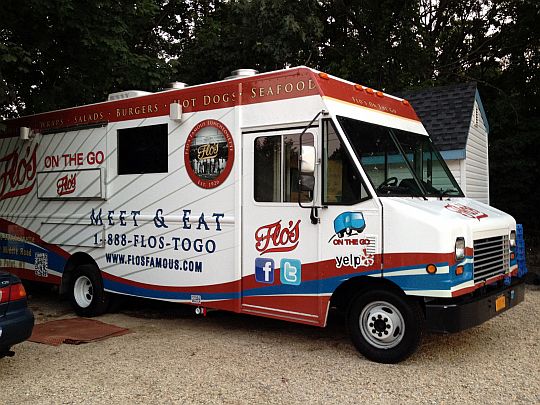 Flo's lunch truck serves nearly everything on the menu.
One summer evening Mother Nature treated us to a short thunderstorm and a beautiful rainbow. I was sitting under the awning at the bar just inches from the rain and that was very cool.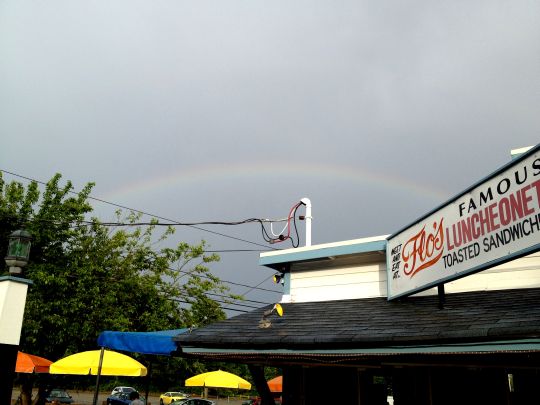 The camera can never capture the beauty of a rainbow.
I really can't tell you how much I love coming here. The staff is great and the food is better than you'd expect from a roadside stand. Since the bar opened I've been here a little more often than usual and really enjoy it.
Flo's is the perfect escape from the ordinary. Forget about the fast food drive through. Come here instead and enjoy a little fresh air with your food, maybe even take it to the beach next door.
---

Open 10am to 10pm daily (weather permitting) from Memorial Day to Labor Day.
1 block south of Flo's is Corey Beach. Order by phone from the beach and Flo's will deliver your food to the beach by bicycle.
View Larger Map
---
Return to Long Island Restaurants