Lieb Family Cellars
Mattituck, Long Island
By Michael Perlmutter
When one thinks of vineyards and wine-tasting tours there is a certain unadorned simplicity that is almost invariably attached. The mind draws up pastoral landscapes, perhaps worked by pleasant and simple people with quaint rural demeanors.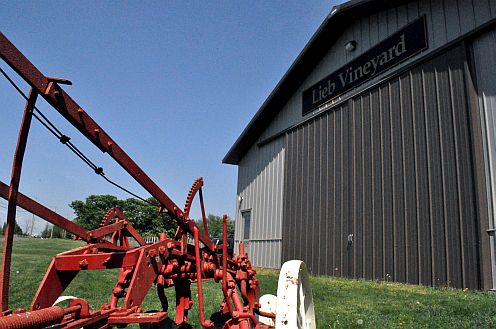 Old fashoned values blend with modern efficiency at Lieb.
Then you have the other side of that same coin: the industrial, sterile, and sometimes faceless conglomerations. Somewhere wedged between the two you have a company like Lieb Family Cellars, a winery that borrows from both categories and successfully mixes efficiency with responsibility.
First a bit of history: In 1983 a selection of Pinot Blanc made its way from the Alsace region of France all the way to Mattituck, Long Island, where it would be grafted to 15 acres of vineyard. These grapes were sold off to wine makers for production until 1992 when Mark and Kathy Lieb, with a twinkle in their eye and a dream in their heart, decided to buy the whole vineyard.
It was then that Lieb Family Cellars was born. In 2000 Mark Lieb became one of the founding members of the Premium Wine Group, an industrial wine production company that specializes in "custom-crush" procedures. Since its inception multiple local vineyards have made use of the ease of their facility for crushing and production. Lieb now owns 55 acres of vines, and on average makes 8,000 cases of wine per year.
Lieb's strengths do not stem from attempting to make their facility what one might expect from a vineyard in a classical sense. Instead Lieb has streamlined the entire process, making its mission to produce quality wines using capable methods.
Gone are the ancillary elements: the idyllic open ranges, the southern French châteaux façade, the quaint and warming images often associated with wine country. Lieb has cut the process of production down to its bare bones and in doing so doesn't hide behind the traditional concepts typically married to the industry; instead reliant on the strength of their product.

Tasting room manager Melissa Flatt.
Right from the get-go the experience seems very professional. The tasting room is right off of Sound Avenue, a major road through the north fork, which remains clearly visible from the facility. The tasting room itself is just a small chamber lodged in what is otherwise a large industrial building for the Premium Wine Group.
The tasting room is very lovely on the inside, offering a uniquely designed bar with very pleasing décor. The staff, in this case the tasting room manager Melissa Flatt, was extremely welcoming, helpful, and insightful. Customer care definitely is a strong priority within the Lieb organization.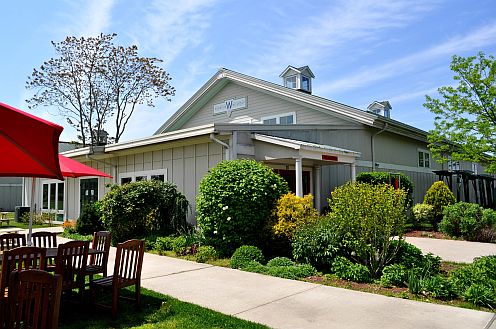 An attractive and well maintained tasting room.
Another strong priority within the company is that of responsibility. Lieb has taken immense steps in their production to make sure their vineyard is ecologically friendly and sustainable. Lieb proudly promotes its adherence to herbicide-free growing practices, as well as taking additional steps to insure that their production does not lead to detrimental effects down the line.
A top cover is added to the soil to help prevent any additional erosion, as well as the use of organic fertilizer to help minimize nitrogen seepage into the water. They also engage purely in hand-tending and harvesting of their vines, allowing for much cleaner and greener results. The hard work did not go unnoticed as the USDA issued a $23,185 10-year grant in Lieb's name for their conservational efforts. In addition to that Lieb also has 3 charity wines in which a portion of the proceeds go to a charitable organization.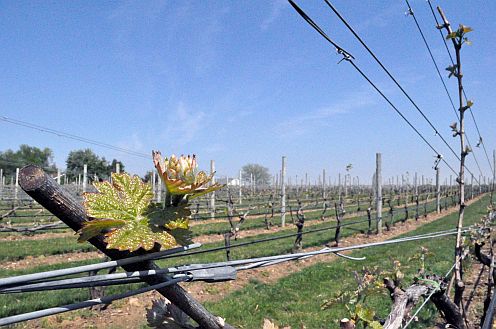 Vines just starting to spout in early spring.
And, of course, there is the wine itself. The lineup over at Lieb is noticeably well rounded. Lieb's wines tend to be fairly balanced, lighter, and with high acidity that is more or less customary to the vine yields of Long Island. As I ventured through the tasting experience it was obvious that the quality of Lieb's product is extremely consistent across the board, with very few falters along the way, and with a surprisingly vivacious array of Sparkling Wines.
The Whites:
2008 Reserve Pinot Blanc

($) – This is Lieb's self proclaimed "Signature Wine." This wine is made from the imported Pinot Blanc from Alsace, France, and has its roots tied to the foundations of the entire Lieb operation. This wine is very well balanced with a noticeable crisp and clean taste. The hints of fruit open into a floral finish. This was named one of the "Top American Value Wines" by the NY Times, as well as taking the silver at the 2010 Finger Lakes International. Moving 1,800 cases of it a year, having it served in CitiField, and the rich history it has to the vineyard, it's little surprise that this is their flagship wine. Definitely a must try at Lieb.
2006 Reserve Chardonnay

($) – This steel/barrel blend was awarded 88 points by Wine Spectator. Overall a well balanced wine with most of its finer points understated. A nutty flavor and high acidity with a lingering expressive finish.
The Reds:
2005 Bridge Lane Merlot

($) – Made from a blend of 88% Merlot, 7% Cabernet Sauvignon, 3% Cabernet Franc and 2% Petit Verdot, the Bridge Lane Merlot has a very agreeable nose and a deep purple color. With a strong berry start which fades into a very noticeable oak finish.
2004 Reserve Merlot

($) - Aged for 18 months in oak barrels, the '04 Reserve Merlot has a subtle enticing start that leads to very well rounded palate.
2008 Syrah

($$) – Created in honor of Syrah, a dog owned by Gary Madden, the general manager of Lieb, this syrah is another of Lieb's charity wines, with 20% of the proceeds going to the Animal Medical Center in New York City. A medium bodied wine with assailing, yet tasty, spice and a pleasurable oak finish.
2005 Meritage

($$$) – Made with 70% Merlot, 13% Cabernet Sauvignon, 9% Malbec, 5% Syrah, and 3% Cabernet Franc, this Meritage is built to last. With the predominance of the Merlot really shining through, with a very strong floral nose and a particularly complex taste.
Sparking Wines:
2005 Blanc de Blanc

($$)– Perhaps the most celebrated of the Lieb lineup, the Blanc de Blanc is an amazing success. Featured in the 100-Mile Menu at the plaza hotel for "POMONA Cocktail," a combination of the Blanc de Blanc, American Fruits' Black Currant Cordial, and local honey from the North Fork. The POMONA Cocktail was also featured on the Today Show in July of 2009. The Blanc de Blanc itself is an extremely impressive sparkling wine. With medium dryness and very well balanced light consistency perfectly inter-mingled with the micro-bubbles which are signature of the Blanc de Blanc. The entire production is an unbelievably light and crisp concoction.
Bridge Lane Bubbly

($$) - Made from 60% Pinot, and 40% Chardonnay, the Bridge Lane Bubbly may not have all the fanfare of the critically received Blanc de Blanc, but from this humble reviewers perspective it is unmatched in taste. With an uncharacteristically heavy and creamy taste for a sparkling wine, I believe that dollar-to-donuts the Bridge Lane Bubbly truly shines for its price-point just as much as the Blanc de Blanc. I would go as far to say that I enjoyed it more than its high-end contemporary.
Above all else: Lieb makes wine for wine drinkers. If you're the kind of wine enthusiast who wants a no frills experience and an overall quality product then Lieb most likely will appeal to your sensibilities.
Members of the winery also praise Lieb's ease of membership, allowing for swapping of wine club bottles to those of preference, a courtesy not normally extended to members of other wineries.
Plus, seriously, try their sparkling wines.
Lieb Family Cellars
35 Cox Neck Road
Mattituck, NY 11952
Telephone: (631) 298-1942
Open Daily 11:00 – 5:00 during the spring.
---
Back to Long Island wineries