Legends Restaurant
New Suffolk, Long Island
Legends Restaurant is slightly off the beaten path, but worth the extra few minutes it takes to get there. The food and service are excellent, the prices are reasonable, and the beer/wine selection is exceptional.
Atmosphere
With hockey sticks, boxing gloves, baseball, football and other sports memorabilia adorning the walls and ceiling it's easy to see that the name of this restaurant refers to sport's heroes and not urban myths.
The décor is tasteful, interesting to look at, and not over the top. You'll love it even if you're not a sports fan.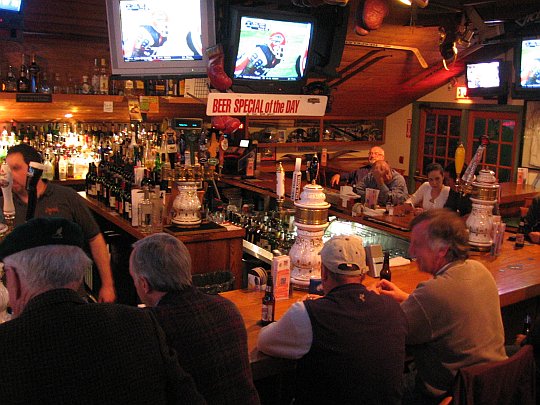 Behind these men are tables and a lower level with even more tables.
You have your choice of two distinct dining areas; an actual dining room, and the bar. The dining room is quiet and comfortable. A huge window lets in natural light and offers views of a small park on Cutchogue Harbor across the street.
The bar is a mirror image of the dining room with the same huge window. A bi-level floor plan separates the bar tables from the actual bar itself and makes for comfortable dining in a bar style environment.
The bar is where I sit most of the time. I don't have to whisper, I don't have to shout, and with multiple television screens on each wall I can eat, drink, and watch several games at once.
Service
A small vestibule separates the dining room from the bar. This is where a polite hostess will greet you and guide you to your table. In my experience the wait staff has always been efficient, polite, and accurate whether I'm in the bar or the dining room.
Food
Legends Restaurant uses fresh, local, high quality ingredients to create dishes that reflect America's regional tastes and styles. This is called New American Cuisine, which in many cases just means high prices and small portions, but not here. I've never left hungry or felt that I paid too much for what I got.
The menu is varied and includes some classics, so when I'm not in the mood to experiment with things like Red Incan Quinoa or Egyptian Style Pecan Dukkah Crusted Shrimp I can fall back on my old favorites: fried oysters, an 8oz burger, a nice steak, some short ribs, or a personal pizza. (Kid's menu available too.)
On a recent visit we enjoyed an Asian style crab cake appetizer, broiled Peconic Bay scallops, fried calamari, and short ribs. We washed that down with some local craft beer (there over a dozen breweries on Long Island) and all was well.

There were 2 crab cakes on this plate. I forgot to take the picture before eating one of them.
The Asian style lemongrass and ginger crab cake appetizer was delicious. Made with fresh crab and served with edamame and shredded carrot, these delicate cakes fell apart as soon I touched them with the fork. The flavors were well balanced and a welcome departure from the typical Maryland style crab cake that is so easy to get wrong.

Fried calamari, vegetable medley, and fries. Have a pint with this and you can't go wrong.
The fried calamari was good pub style fare. You get exactly what you'd expect. No unusual ingredients or flavors. I've been eating the fried calamari here for years and it's a reliable dish. I like it.

These are the best short ribs I've ever had.
The short ribs were excellent. The gravy was light, but not thin and the meat was melt-in-your-mouth tender. The ribs were served with haricots verts and mashed potatoes. The potatoes had a little horseradish in them which was a nice touch and helped refresh my taste buds in between bites of beef.
My favorite dish of the evening was the Peconic Bay Scallops. North Fork Gold as they are called on the menu. This is a special that's only available during scallop season (November -March), so get it while you can.
I eat a lot of scallops and I know how to cook them, so when I tell you these were perfect you can believe me. Now let me tell you what my idea of perfect is...

Peconic Bay Scallops (North Fork Gold) at Legends Restaurant.
Scallops should be barely cooked and barely seasoned. They have plenty of flavor on their own, so they don't need to be coated and fried, or drowned in some ridiculous sauce. Just toss them around in a pan or throw them under the boiler for a few minutes and you're done. You can even eat them raw if you want (I do frequently).
Of course these weren't raw, but they were cooked just the way I like them and they were served with a very mild lemon sauce which brightened the scallop flavor instead of competing with it. Served on the side was my favorite vegetable, asparagus. This dish scored a 10 in my book.
Beer & Wine
Legends Restaurant has over 200 bottled beers representing 34 countries, and about a dozen brews on tap. If you're not overwhelmed by the choices, you'll easily find something you like or are at least familiar with.
The wine list offers 40 wines covering the major wine producing countries. I was happy to see Long Island well represented with over a dozen choices on the list.
Dessert
Are you kidding? I've never have enough room for dessert. I don't even know what's on the menu. Sorry.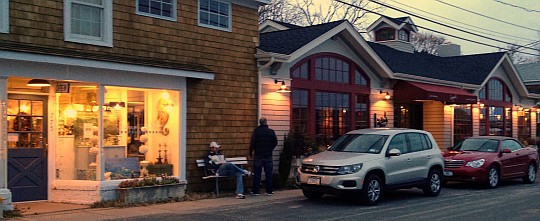 Legends Restaurant (right). On the left is a cute little shop called Summer Girl. Women love it.
Legends Restaurant
835 First Street
New Suffolk, NY 11956
631-734-5123
Nearby Destinations
Return to Long Island Restaurants.