Down the Rabbit Hole
A unique Long Island wine boutique
In the heart of Sayville, right there on the sidewalk, is a rabbit hole. If that in itself weren't unusual enough, this one's filled with wine.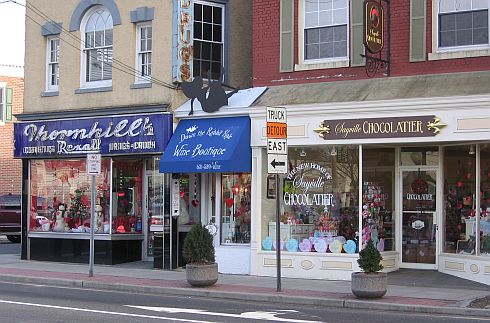 On the corner of Main St. and Gillette, snuggled between the drug store and the chocolatier is Down the Rabbit Hole Wine Boutique
Think I'm joking? Better check with Suzanne McDonald, founder and proprietor of Down the Rabbit Hole wine boutique. An attractive young woman of some talent, Suzanne felt frustrated that the wines she enjoyed while traveling the country as a competitive figure skater were hard to find here on Long Island. Sensing the opportunity to fill a niche, Down the Rabbit Hole was born.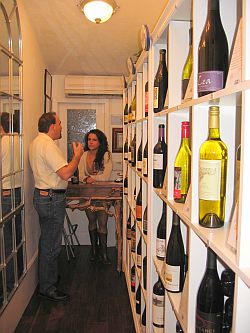 So what do rabbit holes have to do with wine? Not a lot in fact, but take one step through the door and you'll understand the name.
Down the Rabbit Hole's most obvious feature is its incredibly small size. Tucked in an old alleyway between two buildings, the shop is not much wider than its front door and barely a school bus in length. You are indeed, in a rabbit hole.
In spite of its size the space is comfortable and inviting. Mirrors on one wall give the illusion of space. Shelves on the opposite wall house Suzanne's inventory of unique artisinal wines.
At the far end, serving as the tasting bar, sits a small, but beautiful table made of grape vines.
There's something very artsy about Down the Rabbit Hole and I had one of those, "I knew it" reactions when I found out that Suzanne was a figure skater. She's been training and competing since the age of 8, and the same level of commitment and expression required of a figure skater is apparent in everything she does in her wine shop.
Suzanne feels that buying wine should be as much fun as drinking it and has gone far to remove the intimidating barriers that prevent most of us from really feeling comfortable around wine.
Organizing the wines by flavor rather than region for example, makes finding what you like that much easier. And Suzanne's tasting/pairing notes, written in plain English and placed next to each wine, are another big help.
Right: Whimsical portraits and signs hand painted by Suzanne.
But the best part about buying wine at Down the Rabbit Hole is the experience itself. You'll feel welcome immediately and before you know it Suzanne will have a glass of wine in your hands.
Her conversation is easy, informative, and she's always happy to answer your questions.
The wines available at Down the Rabbit Hole are hand crafted and in limited supply. "These wines do not come off of a conveyor belt. They are crafted with love, heart, and soul," as Suzanne will tell you.
That doesn't mean expensive though. Prices start at around $12 and most bottles I saw were in the $20 to $30 range—right in line with what you'd expect to pay for decent bottle of wine.
Limited production means limited availability so, when something runs out it may not be back until next year's vintage is released. Fortunately, that leaves room on the shelves for more of Suzanne's taste tested favorites.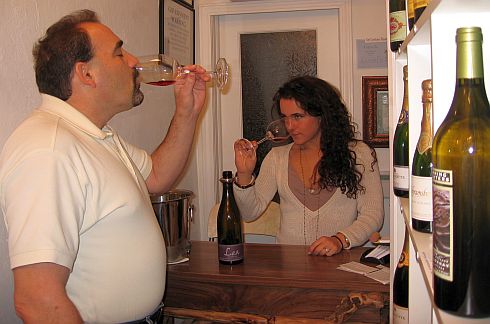 At the grape vine table I taste and learn about a syrah rose from California.
You'll find all the standard varieties here as well as some unusual wines not easily found elsewhere. Jumilla from Spain, and roussanne from California for example. Last time I was here I tasted a syrah rosé, something I've never had before. I enjoyed it, but I'll leave the tasting notes to Suzanne who can tell you far more about it than I can.
A far as regions go, you won't see a lot from Europe as Suzanne is presently more focused on new world wines from the United States (yes, Long Island too), Australia, and other non-traditional parts of the world.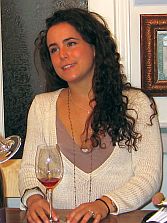 Suzanne's wish for Down the Rabbit Hole is, "that people can come in and converse, enjoy the atmosphere, taste wine and share their individual interpretation of what they have tasted, and leave with a great experience."
And that has been my experience each and every time I've been here.
So next time you're in Sayville stop in and say hello. Taste some wine, chat with Suzanne. I'm willing to bet you don't leave empty handed, and even if you do, I'm quite certain you'll be back.
Down the Rabbit Hole
4 Main St.
Sayville, NY 11782
631-589-WINE
---
Return to Long Island Wine Tasting