Black Forest Brew Haus
A Long Island Brewpub
By Michael Yohe
I took a trip to Black Forest Brew Haus in Farmingdale with a friend of mine and highly recommend you do so, too. They can serve up some mighty good German and American cuisine in a friendly and rustic atmosphere. Top that off with a beer from their in-house micro brewery and you've got yourself a worthy destination for lunch or dinner.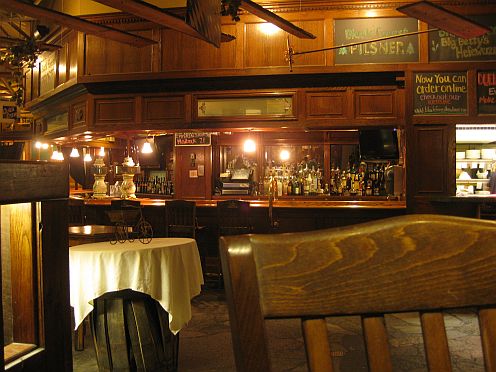 The first thing I noticed when entering it was the decor. There was a lot of wood and stone and very little plastic which already set the restaurant apart from most American eateries. At the front a hostess greeted us promptly and showed us to our seats. Our waiter was over quickly with menus and to ask for our drink orders.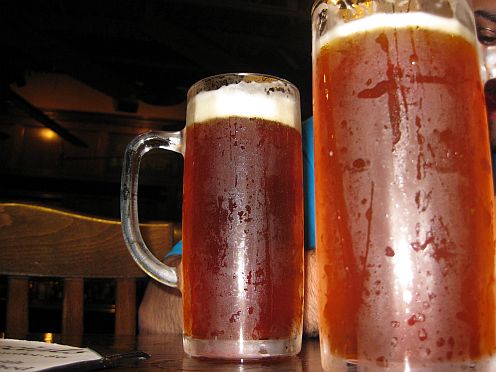 Black Forest Amber - An award winning Märzen/Oktoberfest style lager.
We took a look at the beer menu and decided on two amber beers. Other beers on the menu include a pilsner, hefe-weisen, maibock, and imperial stout. All of the beer is Black Forest's own brew, and you can even enjoy a view of some brewing equipment depending on where you sit.
This doesn't give off an industrial feel, but rather is tastefully set to one side of the restaurant and reminds you that the beer is fresh and local. If you like the beer (we sure did) you can purchase a growler full of your favorite brew and bring the spirit of Black Forest Brew Haus home.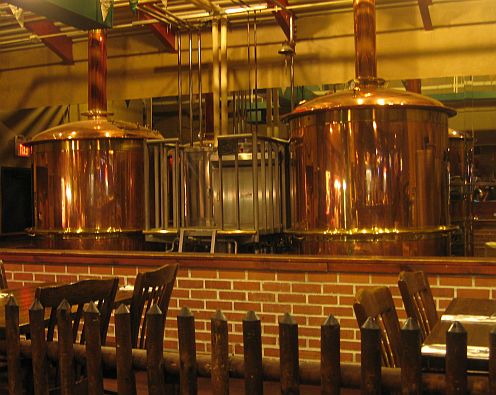 Nicely polished copper kettles give the Black Forest Brew Haus a warm, hearty feel.
They quickly brought us our beers and a loaf of sour rye bread with butter. The beers were good but the bread was great. It was warm and fresh and I honestly had to stop myself from eating too much of it. For a moment I forgot I was dining with someone else.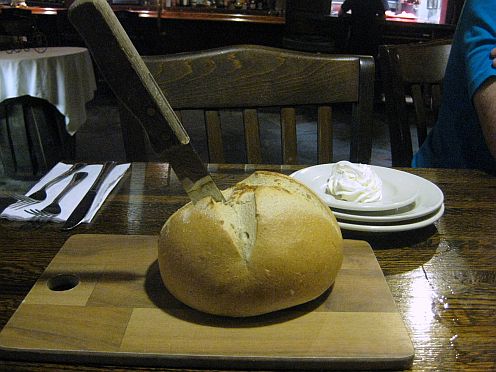 Excellent sour dough rye.
The full menu has an assortment of appetizers and meals that hail from both American and German kitchens. Like some other German-based restaurants, many sandwiches are available on pretzel bread as an alternative. I highly recommend trying it, as it produces a taste and texture that goes wonderfully with most sandwiches.
Overall, their menu is the kind I like to see. We all have picky friends and some people just don't like to try new foods. A menu that implements standard American cooking like this can accommodate most eaters and allow everyone to enjoy their experience.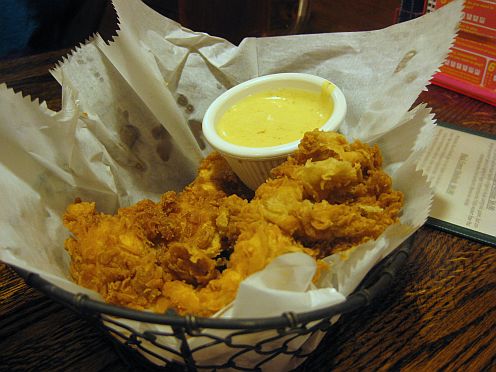 The best chicken tenders I've ever had.
We ordered our meals and continued to enjoy our beers. I ordered a "Brew-ben" (which is just a Reuben sandwich that comes on pretzel bread) and a side of German potato salad, while my friend ordered a standard cheeseburger and fries. We decided on a sort of fail-safe appetizer of beer battered chicken tenders.
From late night runs to 24-hour diners and many Superbowl parties, I can say that I have had a lot of chicken tenders in my life. Easily these are the best I have ever had. The batter was amazing, the chicken was juicy, and the honey mustard sauce was perfect. We finished those quickly and ordered two more beers (hefe-weisen and pilsner) that were cold and tasty.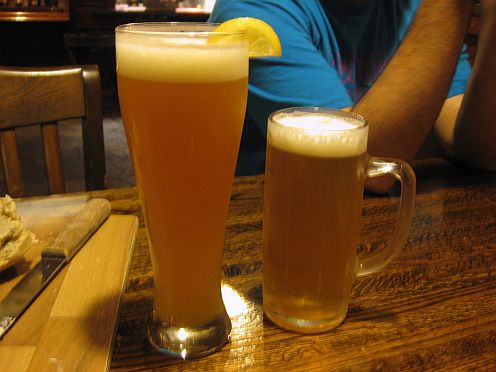 A hefe-weizen (wheat beer) and pilsner.
Our food came at a reasonable time and was prepared as we had ordered. The fries were crispy and not too greasy, and the potato salad was amazing. It wasn't overloaded with bacon like some I've had before. The cheeseburger was rather standard, though. Nothing made it particularly special, but it wasn't bad either.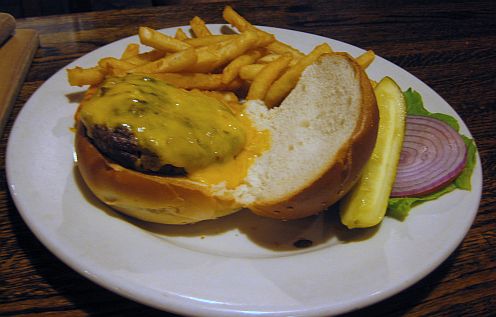 A standard cheeseburger for the gastronomically challenged.
I was quite happy with my "Brew-ben". I prefer a Reuben that is able to be eaten like a sandwich, and not with utensils. Sometimes the sauerkraut and dressing is piled so high that it physically can't be picked up. This one was an actual sandwich and was quite delicious. The pretzel bread did make it very filling, though, and I had to take a third of it home with me.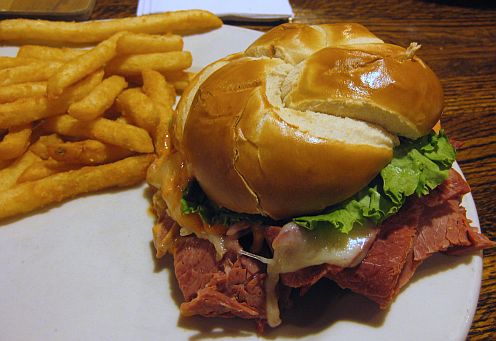 The "Brew"ben is Black Forest Brew Haus interpretation of the classic Reuben sandwich.
The presentation of our meals should be spoken for, too. At some restaurants you'll be handed a sandwich or platter that looks like it was prepared with a baseball bat. This was not so. Our plates showed off a level of care that I appreciated. Little things like proper presentation are signs of a proud chef, and proud chefs are usually good ones.
You'll find the menu at Black Forest Brew Haus reasonably priced with most sandwiches in the $9-$13 range, and platters closer to the $17-$22 range. Beers were standard pricing, too, either being $5 or $6. The check was perfectly acceptable for the level of quality. I've spent more money on lower quality food at some chain American eateries.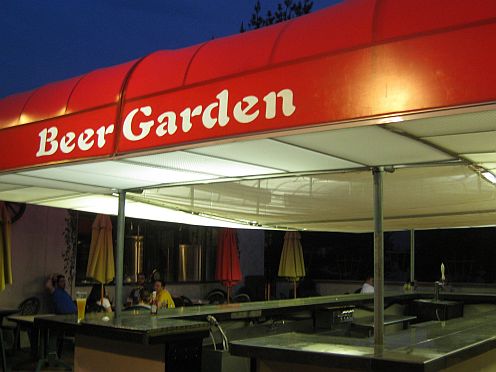 A little too early in the season perhaps for any excitement here.
After we finished our meals we took our remaining beer in to the beer garden. The garden is raised above the parking lot, which unfortunately doesn't make for a great view. There were some other people outside, but there was nothing else to speak of there. There were tables and chairs, and a central bar that was empty. I'm sure that when events are held it's much more vibrant, but unfortunately I was unable to witness that.
I can say with certainty that I will be back to the Black Forest Brew Haus whether it be for their Dueling Pianos on Friday nights, a great dinner, take-out, or just a couple beers. I truly had a fun time there and would recommend it to any friend of mine.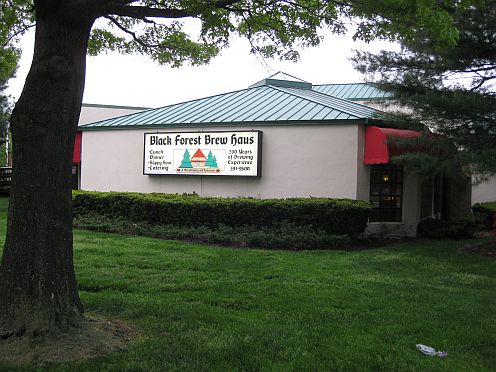 Black Forest Brew Haus
2015 New Highway
Farmingdale, NY 11735
631-391-9500
Additional Information
Right around the corner is Kedco/Brews Brothers, a wine storage system and beer making supplier: 564 Smith Street, 516-454-7800.
Back to Long Island Beer, Breweries, and Brewpubs.
More great Long Island restaurants.