Enjoying All That Long Island Has To Offer
---
The Loving long Island Newsletter brings you the latest additions to my experiences on Long Island.
If you like this e-zine please do a friend and me a big favor and "pay it forward."
If a friend did forward this to you and if you like what you read, please subscribe by visiting the Loving Long Island Newsletter subscription page.
Or...
Follow Loving Long Island on...



---
February 29, 2012
Issue #16
Well, we made it through February without snow. Most of us are quite happy about that, but there are a few (like me) that missed getting that one big snowfall. Winter is not over yet, so it can still happen, but it really doesn't look like it will. We're probably in the clear and can start making our summer plans.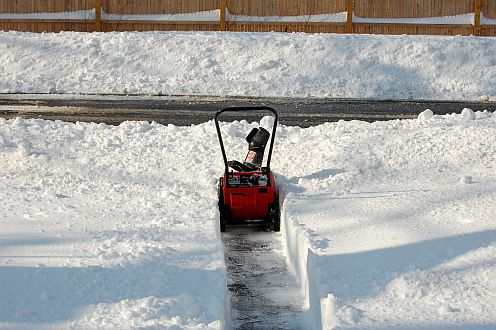 What my driveway looked like last winter. Maybe I really don't miss the snow...
Long Island really comes to life during the summer and beginning on Memorial Day Weekend there are so many things to see and do that it can be hard to fit them all in without making definite plans for each and every weekend. Come April I think I'm going to mark up my calendar with a master plan for the summer.
What I'm looking forward to this summer is a little more time on Fire Island. In particular there are a few restaurants in Ocean Beach that I haven't tried yet, and there's a new (to me ) place in Kismet that I'd like to try. And for a day at the beach nothing beats Sailor's Haven. I hope to get there at least a few times before summer is over.
Freeport's Nautical Mile. It's a great place for an afternoon stroll on the waterfront, a little live music, and some great food (There are more restaurants on the Nautical Mile than anywhere else on Long Island.)
Have you been thinking about summer? Dreaming about warm weather, sunny skies, and good times? What's your idea of a good time on Long Island? Share your thoughts on our Facebook Page.
Your Privacy
2 weeks ago I sent out a special edition of this newsletter asking you to sign a petition protesting Google's new privacy policy. To all that signed, thank you! We now have Attorneys General in 36 states investigating the matter. How's that for results?
A hearty thank you to all my new Facebook fans! I really appreciate your support and participation. For those of you that haven't clicked the Like button yet, but want to why not do it now? Thanks again!
Events
Hamptons Restaurant Week - For one week only, Sunday March 18 through Sunday March 25, some of the East End's best restaurants are offering a three course prix fixe for $24.95.
I do this every year and am looking forward to it again this year. It's a great chance to try a restaurant or 2 without breaking your budget. Even though it's called Hampton's Restaurant Week many of the restaurants are on the North Fork.
The Spring Craft Beer Festival - March 10 at the Nassau Coliseum
50+ Brewers & 100+ Beers! This short video will give you an idea of what the beer festival is all about.
Long Island Winterfest is in full swing with only 3 weeks left. Get there while you can before it's too late!
From the website:
JAZZ ON THE VINE returns as the theme of the 2012 Long Island Winterfest for the fifth consecutive year. From February 11 to March 18, 2011, the East End of Long Island will offer 6 great weekends of truly exceptional jazz performances in winery tasting rooms for only $15 per person.
Here's the Jazz on the Vine Calendar
New Stuff
The Long Island Chowder Contest took place as it has every year for the past 13 years at the Snapper Inn in Oakdale. I was there and it was fun for all.
I had a great dinner on my birthday at Legends Restaurant in New Suffolk. It's a great restaurant. Check it out.
2 readers sent in their ghost stories:
Andrew tells a story about his encounter with Jackson, a deceased school janitor.
Alex, a night watchman is sure that ghosts are following him as he makes his rounds at Splish Splash.
--
That's all for now...
Best regards,
Bill
Loving-Long-Island.com home page
P.S. If you are having trouble viewing this newsletter use the back issues link below to open it in your browser.
---