Enjoying All That Long Island Has To Offer
---
The Loving long Island Newsletter brings you the latest additions to my experiences on Long Island.
If you like this e-zine, please do a friend and me a big favor and "pay it forward."
If a friend did forward this to you and you like what you read, please subscribe here.
---
September 8, 2009
Volume 3, Issue #08
Well, another summer has come and gone and I can't help feeling just a little disappointed. We got off to such a slow start that I'm just not ready for fall yet.
But are we ever? Nope. Everyone dreads Labor Day except perhaps parents who can't wait to get their kids back to school. I can't blame them, but the rest of us just want a few more weeks of summer.
Fortunately, I'm not the only one who feels this way so, even though Labor Day is the unofficial end of summer, and even though September 22 is the first day of fall, many Long Islanders do hang on to summer until the second Monday in October, Columbus Day.
And many of the things we associate with summer stay open to accommodate us. So, if you haven't done so already now's your chance to check out Fire Island, The Nautical Mile, Greenport... You get the idea.
Have you seen my Labor Day video?
Photo of the Month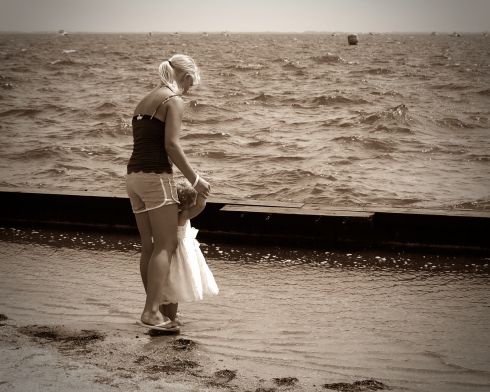 Remembering the Future
I took this picture at the Battle of the Bay boat race in Patchogue last month.
This is how many Long Islanders, including myself, grow up. A gentle introduction at an early age imprints us with an indelible love of all things sand, sea, and sky.
We pass this on to our children as this young mother is doing here. As this little girl will do in 20 or so years. And so it goes, as far into the future as Long Island will exist.
Your Stories
Mark shares his haunting experience on Sweet Hollow Road in Mount Misery.
Events
HarborFest 2009 - September 11, 12, 13.
A weekend long celebration of Sag Harbor and it's maritime heritage. Events include whaleboat races, clam chowder and clam shucking contests, live music, and way too much more to list here.
For more information contact the Sag Harbor Chamber of Commerce at 631-725-0011 or by email at info@sagharborchamber.com.
The Long Island Blog
August was a busy month on the blog. The snappers came in, the Greenport Harbor Brewery opened, Battle on the Bay took place in Patchogue, and Hurricane Bill kicked up the surf.
Read all about it and see the pictures on The Long Island Blog for August.
Until next time...
Best regards,
Bill Drago
Editor & Publisher
Loving-Long-Island.com
P.S. If you are having trouble viewing this newsletter use the back issues link below to open it in your browser.
---